When he's not home in Hawaii, independent Howard Salmon focuses on costs and services to produce a healthy income. He also shares his musical passion along the way.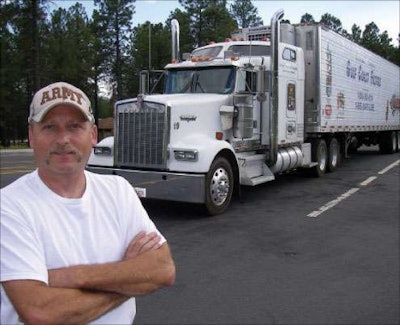 Howard Salmon, 49, is among rare company: He's one of very few continental U.S. truckers to call Hawaii home. "I live in Haleiwa," he says. "It's on Oahu – I have to work over here for most of the year, park my truck in wintertime and spend the winter out there. The way I look at it is you only live one time."
The drive to make the most of his time helps his business, too, where he nets $75,000 to $80,000 yearly hauling specialty foods, produce and other refrigerated freight in a long-paid-for and somewhat modified 1999 Kenworth W900L and Great Dane spread-axle reefer.
That drive also feeds a growing passion for music. This year, Salmon released his first country music record and shipped 600 copies to U.S. troops with the Owner-Operator Independent Drivers Association's Truckers for Troops program.
The roots of his trucking and musical interests run to his own military service. His first driving job was in the late 1970s as a tow-truck operator while stationed with the U.S. Army in Kansas, Korea and Oklahoma.
He followed his army term as a driver stationed at Travis Air Force Base closer to his childhood home near Sacramento, Calif. "I drove anything they had," he says. His mother first inspired the interest in music that blossomed while he was stationed at Travis. There, he "sang in the church with my friends and started to play the guitar," he says.
His first trucking job was as a company driver for Morris Claiborn's small fleet hauling brokered freight for Silva Bros. Orchards and Trucking of Sebastopol, Calif. Starting out in a 1976 Peterbilt cabover, "I had to open both windows and kick the door vent open just to try to stay cool," he says.
"He was one of the tops," says Bill Silva, who jumped at the chance to hire Salmon when Claiborn moved to North Carolina. "He never argued about what he did or didn't want to do. He just went ahead and did it." In 1985, the Silvas invested in a brand-new 1986 Pete to reward Salmon for his effort.
"I hated to see him go," Silva says. "He was no dummy. He put [the specifics of the business] together pretty much on his own, and knew he could make it."
Salmon utilized Silva Bros. for brokered freight early on, and his wife, Mary, urged him on from the get-go. Salmon had tried his hand at local work in Santa Rosa, Calif., when he met her; they were married a year later.
As he tells it, "She said, 'I'm tired of your boss driving a new car while you're running around in that old pickup truck. Why don't you buy your own truck?'"
Mary "always took care of my paperwork" in the early days of the business, Salmon adds, as he hauled in a 1990 Kenworth T600 he bought used in 1995. The two proved an excellent team, with Salmon trading up to a new 1999 W900L he runs to this day.
A valve in the original engine recently gave up the ghost after nearly 1.5 million miles and was rebuilt at a Caterpillar dealership near Raleigh, N.C., while Salmon was on a run through the Tar Heel state. To help him run as efficiently as possible, Salmon uses several "little things that are out there to help save a few dollars," he says. Among other cost-cutting measures, he's installed Gulf Coast Filters' oil bypass filtration system, Centramatic tire balancers and the Right-Weigh Load Scales onboard weigh station.
"I never give up," he says. "I will find a way to make my business work." Dennis Duffy, agent for broker Titan
Transportation, says Salmon applies that same diligence to customer relations. "It's pretty fortunate when you have somebody you don't have to worry about. When you have a shipper who is funny about how they do things – Howard goes in there and works with the shipper on what they do."
In August, Duffy scheduled a multiple-stop load for Salmon. "I think he had four picks, a drop, five more picks, and then he's dropping here on the West Coast," Duffy said in August. Even with complex maneuvers, "he's always on time or ahead of time – he's the 'ever-ready trucker,' and he represents trucking well."
Finding similarly honest and straightforward business partners in brokers has been key through the years, Salmon says. It's also enabled his move farther west.
When he and his wife vacationed in Hawaii last year, Mary liked it so much she booked a flight back as soon as they returned to California. She reminded him of her dream to live by the ocean, Salmon says. "All these years, she helped me pursue my dream. I told her, 'I want to help you pursue your dream, too.' "
Howard Salmon
Christmas, 1958: Born in Richmond, Calif.
1977: Joined the U.S. Army as a wrecker operator
1984: Got first trucking job, with Silva Bros.
1991: Drove local for McPhale's Ready-Mix (now NorCal) in Santa Rosa, Calif.
1992: Hired on with Trans Systems
1993: Named Trans Systems Driver of the Year
Mar. 1994: Went to work for Wheeler Zamaroni
March 1995: Married Mary Harris
Sept. 1995: Bought first truck, a 1990 Kenworth T600
1998: Traded T600 for 1999 Kenworth W900L
2006: Performed "Soldiers and Truckers" song on Truckin' Bozo cruise
2009: Moved with Mary to Sunset Beach, Haleiwa, Hawaii and released "These Trucks Are Made of Gold" with trucker-poet Ron Terry
Trucker trivia
MUSICAL PARTNER Ron Terry – poet and former trucker – met Salmon through XM Radio on Marcia Campbell's show. The duo paired on two tracks of "These Trucks Are Made of Gold" (www.howardsalmonmusic.com).
SALMON'S FIRST SONG – "Who Would They Look Up To?" – was recorded with second graders at Anderson Heights elementary in Anderson, Calif., part of the Trucker Buddy program. For a video incorporating a public radio interview he did about the project, visit https://www.youtube.com/HowardSalmon
WATCH Howard Salmon at youtube.com/OverdriveMag. Or visit OverdriveDigital.com and click on the video link in the Trucker of the Month story.
DO YOU KNOW an exemplary owner-operator with 15 years of trucking experience and an excellent safety record? Write to Lucinda Coulter, Overdrive, P.O. Box 3187, Tuscaloosa, AL 35403, or e-mail lcoulter@rrpub.com. Honorees are considered for Trucker of the Year. n