Rolling the dice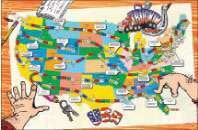 A board game designed by Blackfoot, Idaho, resident and potato hauler Randy Cox, My Truckin' Luck, has players seeing how far they can advance their rigs from Washington state to Florida, making money along the way.
The game retails for $29.95 at mytruckinluck.com, and play includes log books and other over-the-road realities. If you advance on the board to lay over in Las Vegas or Atlantic City, you can try your truckin' luck at the casino. Cox rolled the dice, too, with a reported $45,000 investment in the game.
A stop of his own
Of the founding of Pilot Travel Centers in 1958, James Haslam II recently told Overdrive that the company name had "the feeling of strength and taking people where they needed to go." It's certainly taken Haslam's son and current company CEO James Haslam III on the road to success. While truckers stop at the many Pilot locations to recharge and refuel, Haslam III's second home in Nantucket, Mass. – featured in the June/July Traditional Homes magazine – serves a similar purpose for the executive. It commands a spectacular view of a colonial lighthouse, cranberry bogs and more. No word on how good the coffee is. – Lucinda Coulter
A placemat of honor
Independent Amarillo, Texas-based owner-operator Buster Beverly Jr. designed this placemat after he and High Plains Tire & Diesel in Amarillo turned his trailer into a rolling "thank you" to U.S. war veterans. He tells the story of a man who commented while at a fuel island: "He says, 'I'm a Vietnam veteran. I saw the sign on the back of your truck and the POW sign struck a chord with me.'" In all such cases, as in this one, Beverly then proffers the placemat, which describes his effort. "Every one of them comes back with a smile," he says. Write him at http://www.beverlystrucking@sbcglobal.net. n
From the Channel 19 Blog
Into the light
The July Good magazine – a publication that matches subscription prices with a contribution to the charity of your choice – featured photographer/artist John Bakos' series of truck stop portraits, taken mostly in the Northeast. "While ground shipping is indeed a cornerstone of American industry, it's a slice of life that, for many of us, is witnessed only in the passing periphery of highway travel," note the folks at Good. For samples of Bakos' portraits, visit jonbakos.com.
Quick thinking
A four-wheeler who had "just received his license in May" was doing 70 mph around a bend with a 50 mph suggested safe speed on I-75 in Detroit and triggered a nasty wreck, reported the Detroit Free Press. It destroyed the car, a tractor pulling a fuel tanker and another tractor-trailer. A subsequent fire caused a bridge to collapse. But it wasn't exactly a miracle that both truckers escaped unscathed, and that the auto driver received only slight injuries. Police told the Free-Press that 38-year-old Jody Cicero, driving a Meijer tractor-trailer, saw the crash developing and took corrective action to lessen the damage.
For your daily dose of trucking humor, oddities and coverage in the media, visit:
http://www.channel19.blogspot.com
SEND US STUFF: Overdrive, 3200 Rice Mine Road N.E., Tuscaloosa, AL 35406, or e-mail tdills@rrpub.com.