Independent Tim Costen holds out for the best rates and delivers service that's worth it.
When you call Tim Costen's cell phone, behind the twang of a steel guitar a soulful tenor sings, "Take this job and shove it. I ain't workin' here no more." These lyrics of country singer Johnny Paycheck's 1977 hit are Costen's choice ringback.
"Those words apply to so many days," says the 43-year-old owner of Starbuck Enterprises, a mostly less-than-truckload service.
Though Costen says he's more polite than the song's bluster, he often turns down loads that promise little revenue. Last September, a broker asked Costen to pull a full load of avocados from California to Atlanta for $3,600, but Costen refused to take the job for less than $5,000. The trip was 2,500 miles, and at the time Costen was not driving for less than $2 per mile.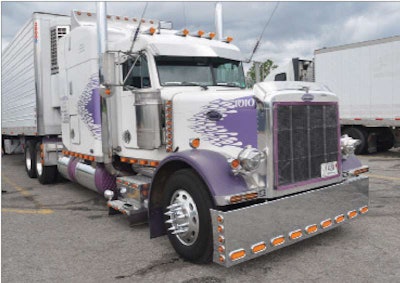 "He said no way," Costen says, sporting blue jeans and cowboy boots. "So I said, 'OK, bye!'" Without another word, he was gone.
With a gritty self-determination, Costen has acquired the skills and sense to choose the loads that benefit him most in his 22 years' trucking, first as a company driver and then as a leased owner-operator.
In 1987, as a 21-year-old chemical plant worker in Ontario in Canada, Costen got his CDL after he noticed the truckers hauling chemicals were pocketing more than he was. He drove a dump truck and equipment for KW Paving for three years.
"I liked driving, anyway," says Costen, who was already driving 26 hours straight to the ski town of North Bay, Ontario, for weekends on the slopes.
For the next decade, he held a variety of trucking jobs, hauling flatbed, reefer, oversize loads, dry vans full of footwear and a scrap wagon.
In 1999, after relocating to Illinois, Costen became a company driver for Christensen Transport. Soon after, he lease-purchased the company truck he was driving at the time, a 1999 Peterbilt 379. He continued at Christensen as an owner-operator until January 2004, when he made his last payment on the truck, leased a reefer trailer and got his own authority.
The truck has five Nathan air chimes, a fully chromed dash, a 72-inch sleeper with a kitchenette and a flip-up front bumper. He had the wheelbase stretched from 245 to 287 inches in 2007 to accommodate extra fuel tanks. Now four fuel tanks hold 480 gallons.
He says the extra capacity saves money because he can make one stop where fuel is cheapest. Hauling the extra weight is worth what he saves by avoiding fill-ups in states like Nevada and California, where costs are high.
The trailer, a reefer that also functions as a dry van, makes him versatile as an independent, especially when hauling LTL. He can pick up a half-load of refrigerated freight, cap the trailer with a bulkhead and fill the rest with dry freight.
For the first few months under his own authority, Costen shared loads with best friend and fellow independent Kent Keeler.
"In some instances it's a good thing," Costen says about working for somebody, "because you may not know enough about the business to do it on your own." But Keeler says it only took Costen about nine months to learn the ropes. Costen began hauling as an independent when he started Starbuck Enterprises later that year.
Though in leaner times his hard-and-fast rate of $2 per mile has become more flexible, Costen still sets his own standards. Two of the most important: "I still will not drive for less than $1.50 per mile," he says, and "I will not stay gone for more than two weeks at a time."
Living by these rules, Costen says he netted about $50,000 last year running from Texas to Mississippi, then to Georgia hauling produce and back home for most weekends in Jacksonville, Ala. Last September, loads that he hauled with refrigerated T2 freight from California to the East Coast helped.
"It's unpredictable," Costen says of the pay. But one way to ensure stability is to know several agents and brokers, and he has a long list of people he calls each week.
As an independent, limiting yourself to one broker is "like putting all your eggs in one basket. You're bound to get in trouble," he says.
His success also hinges on an accountability that Joanna Wright, an agent for Landstar, says she can take to the bank. "He does not rest until he gets his work done," she says, noting that he has never delivered one of her loads late. "I guess he's going to sleep when he's dead."
When a broker in Texas he hauled for regularly dropped his rate by one-third last year, Costen stopped driving for him. Three customers Costen lost last year due to disagreements over rates have come back, he says. One had four reefer loads that were delivered too warm in two months by another driver. All four times, the temperature-sensitive foods had spoiled.
"He'll come back," he says of the Texas broker. "They always do." n
TIM COSTEN
Oct. 8, 1966: Born in Brantford, Ontario
1987: Received CDL
1987: Started first trucking job at KW Paving
1998: Moved to Illinois
1999: Began working for Christensen Transport
2000: Leased first truck, a 1999 Peterbilt 379, and became an owner-operator
2004: Gained operating authority
Trucker trivia
NASCAR RACES at Talladega, Ala., prompted Costen, a native Canadian, to make his home in nearby Jacksonville, Ala. He's missed only two of the Nascar races held there in the last 10 years. "Everybody sees me there year after year," Costen says, "and they know the truck."
HAVING MAINTENANCE skills saves Costen time and money. When a local repair shop told him it would take a day and a half to fix a broken a rear-end gear, Costen bought parts and repaired it in the parking lot. "It took me eight hours," he says, and he made his delivery on time.
WATCH Tim Costen at OverdriveOnline.com.
DO YOU KNOW an exemplary owner-operator with 15 years of trucking experience and an excellent safety record? Write to Lucinda Coulter, Overdrive, P.O. Box 3187, Tuscaloosa, AL 35403, or e-mail lcoulter@rrpub.com.