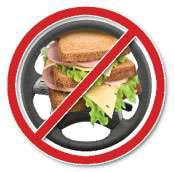 Drivers getting all choked up
As the U.S. Department of Transportation announced it would levy fines of up to $2,750 on commercial drivers caught texting behind the wheel, three truck wrecks pointed to the dangers of another activity behind the wheel: gobbling down food. Lexington, Ky.'s WTVQ reported Jan. 27 on trucker Brian Allen, who choked on a sandwich, passed out and rolled off of I-64 into an adjacent neighborhood. Lumber hauler Eric Gremm, Associated Press reported, choked on a small chili from Wendy's and crashed into a home in Lowell, Mass., on Jan. 29. And on Jan. 14, Oregonian Hard Drive blogger Joseph Rose sagely pointed out a legal irony after trucker Andrew Quintero had his own choking incident on I-5: "Holding a cell phone and texting while driving in Oregon: Illegal. Chomping away on chicken while steering a big rig along Interstate 5: You can still do that." No one was injured in the three crashes.
" With this ban in place, there's pretty much nothing to do while driving but daydream and rear-end the car in front of you "
– Fictional trucker quoted in The Onion's (theonion.com) satirical man-on-the-street column of responses to the U.S. DOT's ban on commercial drivers texting while driving.
Have truck, won't hunt
Truckers bear all manner of annoyances, but Billings [Montana] Gazette reporter Brett French uncovered a silly, if not unjust, one. Trucking team Joyce and Bob Davis of Shepherd, Mont., were told by Montana's Department of Fish, Wildlife and Parks that their hunting and fishing license was not valid because they were home only around 75 days a year, not the required 120 days. Exceptions are made for "members of the military and those in federal service," wrote French. Joyce joked about moving to Wyoming, "where there is no state income tax," French wrote, and using extra income to buy out-of-state licenses to hunt within their current home base.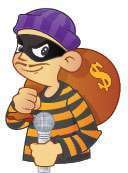 'Idol' contestant's past not idyllic
January American Idol auditions in Orlando, Fla., included 25-year-old Matt Lawrence, a manager with his father's trucking company in Starke, Fla. Lawrence breezed past the judges with a soulful rendition of Ray LaMontagne's "Trouble," though his background didn't breeze past the press. News reports described him as an "ex-con," having done time for bank robbery.
Trucking exec tries air delivery
You might say this fleet safety vice president was testing the limits of his field when he stepped out of a plane at 10,000 feet. But Randy Cornell, of Joplin, Mo.-based Con-way Truckload, was simply answering a challenge from his driving force. He went skydiving after drivers and owner-operators lowered the carrier's accident rate by 34 percent in five years. Visit YouTube.com/ConwayInc for the six-minute video of the stunt shown at a driver recognition event. Bruce Stockton, now maintenance VP, started the trend back in the '90s, saying he'd shave his head if drivers shaved the accident frequency. In January 2009, Cornell took a jolt from a Taser after drivers improved ratings in 2008. n
For your daily dose of trucking humor, oddities and coverage in the media, visit: OverdriveOnline.com/channel19
Send us your stuff
Overdrive, 3200 Rice Mine Road N.E., Tuscaloosa, AL 35406, or e-mail tdills@rrpub.com.