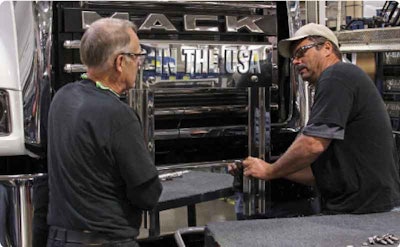 "I won't say buy our products just because they are made in America. But all things being equal, I think it's important to put your thumb on the scale for this country."
— Mack President and CEO Denny Slagle, right, working at the company's truck assembly plant on CBS' "Undercover Boss." Posing as a building contractor making a job transition, Slagle was presented with rumors among Mack workers that production plants were moving south of the border.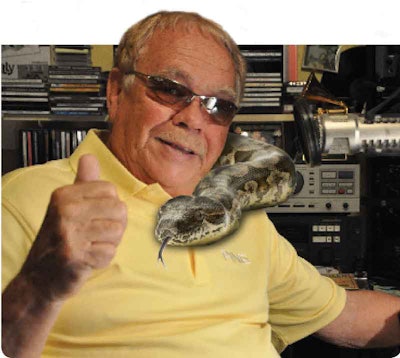 Bill Mack's Live Necklace
Legendary trucking radio host Bill Mack recalls a visit he received from some truck-driving fans, bearing a special gift, years ago during a remote broadcast from the Ft. Worth Stock Show and Rodeo. When Mack went into a commercial, "All of a sudden they came up behind me and… I felt this thing going around my neck." Check the Overdrive videos at www.overdriveonline.com to hear Mack's account of getting up close and personal with a boa constrictor.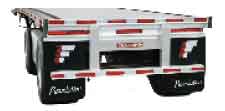 Take a test, win a flatbed
Fontaine is giving away a new Revolution 52 aluminum flatbed on Labor Day weekend. Just who gets it will depend in part on CDL holders' ability to master online "training." That includes completing a quiz on the Revolution's engineering, including questions such as: Did engineers eliminate cross-members in the Revolution to reduce weight? Enter the contest at fontainetrailer.com/revolution
Channel 19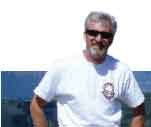 'A situation of heroic proportions'
Long Haul Trucking owner-operator John Crozman, of Blackhawk, S.D., has seen his share of highway rescue action, the most recent of which involved a treacherous South Dakota blizzard on I-29. "We are writing to advise you of a situation of heroic proportions," wrote Thomas and Mary Lynne Fischer. The retired teachers from Winnipeg, Manitoba, wanted Long Haul CEO John Daniels to know of Crozman's efforts on Feb. 3 to rescue them from an off-ramp in 50-mph winds at temps well below zero. They were trapped for hours in their car, with their heat failing. "We have always had the utmost respect for those individuals involved in the trucking industry," they wrote, "and now we owe our lives to one of them." For the full story, see the Feb. 17 entry on the Channel 19 blog.
Lives lost during driver strike
Striking truck drivers in South Africa attacked fellow haulers who continued running during a weeklong work stoppage during February, which ended with an agreement to boost union driver wages. Broker Robert Olivier, who was a driver there until a knee injury took him off the road in 2005, noted among factors contributing to the violence a deteriorated sense of camaraderie among racially diverse haulers in a country with 11 official languages. After "a whole lot of lives have been lost, many trucks burnt to the ground, stonings, beatings and damage to private property," he said, "if I ever returned to the road I would keep to myself and only mix with people I already knew." For the full interview with Olivier, see the Feb. 21 entry on the Channel 19 blog.
"As a driver who owns his big rig, I am frequently frustrated, amazed, disturbed or just plain ticked by those who are uninformed, misinformed, opinionated or just clueless."
— New Cumberland, Pa., resident Tom Bowers in a letter to the editor of the Harrisburg, Pa., Patriot-News. Bowers was responding to a reader blaming the bulk of energy inefficiencies in transportation on big rigs. For links to Bowers' letter, as well as a commentary on truck efficiency per pound by Overdrive 2007 Trucker of the Year Henry Albert, see the Dec. 10, 2010, entry on the Channel 19 blog.
For more of the interesting and odd parts of trucking, visit Senior Editor Todd Dills' Channel 19 blog at OverdriveOnline.com/channel19
Help with lodging
Sometimes you need better accommodations than what lies behind your driver's seat. Hotels4Truckers.com has details on lodging that accommodates truckers and their rigs. It's free for drivers to use the site, and a $10 per year membership fee provides discounts. Read more at Hotels4Truckers.com
BETTER HEALTH
PREPPING FOR THE DAY

Use natural light for energy boost
Whether at home or in your sleeper, fling open any window coverings as soon as you wake up to let in sunshine. "You want to use light and stimulation to wake you up for the daytime, then use dark and quiet at night," says Joyce Walsleben, Ph.D., of the New York University Sleep Disorders Center. "If you can go outside within 15 minutes of waking for 20 minutes and face east, even on a cloudy day, you'll get enough light to energize yourself for the day."

The cereal rule of 5
Breakfast is an important meal, so don't fill up on sweet cereals or pastries. When choosing cereal, remember the number 5. Don't get a cereal unless it has at least five grams of fiber, and don't get a cereal that has more than five grams of sugar.

Pack snacks
Have healthy snacks like raw nuts and dried and raw fruits on hand between meals to prevent hunger pangs, curb your appetite – preventing overeating at meal times – and help keep your metabolic processes at work throughout the day. Snacks high in protein and fiber will satisfy your hunger more than processed snacks.
GAUGES
Record high cargo theft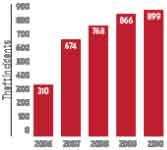 Incidents of cargo theft rose 4 percent in 2010 to an average of 75 thefts monthly, the highest ever reported, says security logistics firm FreightWatch International.
The total value of the thefts dropped, with 21 percent of the heists involving foods and beverages. Nineteen percent of heists were electronics. For the second consecutive year, the most commonly stolen freight was televisions.
.
.
TRUCK GALLERY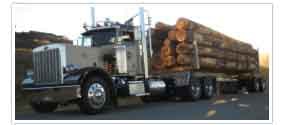 Prison 359
Jeffrey Groat says his 1981 Peterbilt 359 extended hood is a "simple classic working Pete." The truck is equipped with a 450-hp Caterpillar and a 15-speed transmission. Groat, a resident of Coeur d'Alene, Idaho, says because he averages more than 30 off-road miles per day, "it's a never-ending nightmare to keep it looking sharp." He named the truck the "Prison 359" simply because he "can't get away from the darn thing. I never do anything else but sit in the truck." Groat says he's wanted an extended-hood 359 since he was a kid and plans to tear it down and restore it.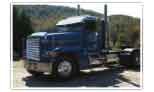 Ole'Blue
This '99 Freightliner FLD120 hauls logs and logging equipment in North Carolina. Owner David Miller of Millers Creek, N.C., accessorized the truck with a 16-in. visor, louvered grille, lights, horns and 6-in. straight pipes. The truck is powered by a 500-hp Detroit Diesel and an 18-speed transmission. Miller says he personalized the truck to "have something different [from] what everybody else has."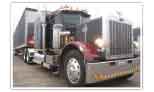 Aggie's Pride
Jeff Hardage of Garland, Texas, owns this 1986 Peterbilt 359, a truck he rebuilt in 2001. The 359 is powered by a 638-hp Caterpillar and a 13-speed transmission. Hardage hauls general commodities nationwide and named the truck in honor of his alma mater, Texas A&M. The truck won Best of Show Working Combo at the 2007 Pride & Polish at the Great American Trucking Show in Dallas.
SUBMIT YOUR PHOTO: To display your truck online and have it considered for Overdrive's Truck Gallery, go to the Reader Truck Gallery at www.OverdriveOnline.com.

Crowning best of the best
Top truck beauty show winners from across the country will meet this August to compete for the ultimate prize: the Custom Rigs Pride & Polish National Championship. Best of Show winners from the prior four Pride & Polish events will be invited, expenses paid, to the first-ever National Championship competition at the Great American Trucking Show. It will take place Aug. 25-27 at the Dallas Convention Center, where the fifth Pride & Polish event will conclude the series. Visit prideandpolish.com or customrigsmag.com for the full details.
This 2004 Peterbilt 379 and Mac dump combo, dubbed "Widowmaker" by its owner, Dennis Chupron of Clean Slate Environmental, won Best of Show Working Combo at the 2010 Pride & Polish at 75 Chrome Shop. Don't miss this year's event April 8-10 in Wildwood, Fla.
CALENDAR
APRIL 15-16: OLD TRUCK SHOW of ATHS Wheat State Chapter, Newell's Truck Stop, Newton, Kan., (316) 283-0130.
APRIL 23: ATHS NORTHWEST ANTIQUE TRUCK SHOW, Harold E. LeMay Marymount Museum, Spanaway, Wash., (360) 866-7716.
APRIL 30: TRUCK SHOW & BBQ of ATHS Central California Chapter, Kirkland Ranch, Plymouth, Calif., (916) 381-6063.
MAY 6-7: MIDWEST PRIDE IN YOUR RIDE TRUCK/TRACTOR SHOW, Tri-State Raceway, Earlville, Iowa, (560) 580-8200.
MAY 21: ANTIQUE & WORKING TRUCK SHOW, ATHS Music City Chapter, Ward Agriculture Center, Lebanon, Tenn., (615) 330-0475.
MAY 21: ANNUAL TRUCK SHOW, ATHS Greater Cincinnati Chapter, Howard Trucking Co., Fairborn, Ohio, (937) 878-6154.
MAY 21: LESTER J. BROWN MEMORIAL SHOW of ATHS Piedmont Carolina Chapter, North Carolina Transportation Museum, Spencer, N.C., (336) 431-6824.
MAY 21: TRUCK/TRACTOR SHOW of ATHS Shenandoah Valley Chapter, Lawn Party Grounds, Bridgewater, Va., (540) 292-1058.
MAY 21: ATHS NORTHWEST ILLINOIS TRUCK SHOW, Route 39 and Baxter Road, Rockford, Ill., (815) 734-4529.
MAY 26-28: ATHS NATIONAL CONVENTION & ANTIQUE TRUCK SHOW, St. Joseph County 4H Fairgrounds, South Bend, Ind., (816) 891-9900.
JUNE 9-11: GREAT WEST TRUCK SHOW, Las Vegas Convention Center, (888) 349-4287, www.greatwesttruckshow.com.
JULY 14-15: WALCOTT TRUCKERS JAMBOREE, Iowa 80 Truck Stop, I-80 Exit 284, Walcott, Iowa, www.iowa80truckstop.com.
AUG. 25-27: GREAT AMERICAN TRUCKING SHOW, Dallas Convention Center, (888) 349-4287, http://www.www.prideandpolish.com.
.