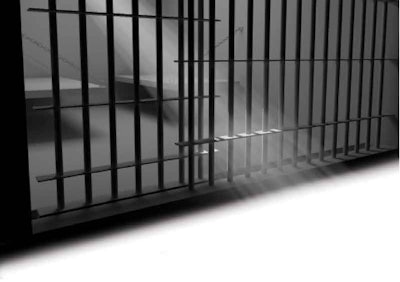 Chinese play hardball with toll cheat
A gravel and ag hauler evaded $560,000 worth of road tolls and got handed a life prison sentence. No, it wasn't another scam to avoid the $4-plus per-mile charge to cross the George Washington Bridge into Manhattan, where a trucker in 2009 was caught using custom-rigged flip-up plates to avoid automated tolls. Rather, in China's Henan province, Shi Jianfeng, according to Associated Press, ran two trucks with fake military license plates that avoided tolls more than 2,000 times. After public outcry over the severity of the sentence (and the high tolls), the central government reportedly revisited the sentence and put court officials who delivered it under investigation themselves.
Giving Back
A $5 million gift from the Cymbaluk family of Everett, Wash., owner of the Motor Trucks dealerships, made possible a new medical tower at Providence Regional Medical Center in the Cymbaluks' hometown. The center thanked them for what ranks as the largest philanthropic gift Providence Everett has ever received by naming the tower after them. The family business has a three-location International dealership in western Washington state and Kenworth Northwest, with six locations in Washington and Alaska.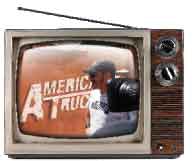 "When I was born, in the 1960s, both my grandfathers were driving, one for Yellow, the other in an old twin-stick Mack daycab running Schlitz beer around Milwaukee. I was into it from the time I could page through his Overdrive magazine."
— Robb Mariani, host of the "American Trucker" TV series on the Speed Channel, crediting much of his obsession with trucking to early fascination with the longtime Voice of the American Trucker. The half-hour series premiered Feb. 24 and runs at 10 p.m. and 10:30 p.m. Thursdays.
Freight stabilizes as conditions brighten
Miles peaked in the second quarter of 2010 and then fell across segments, due, in part, to rising fuel costs, but are still higher than most of 2009, according to client data from financial services provider ATBS. Except for a drop of 3 cents in flatbed income for the fourth quarter of 2010, incomes remained level. Trucking revenues and rates are expected to flourish this year, says consulting group FTR. Its Trucking Condition Index reflects tightening conditions for hauling capacity.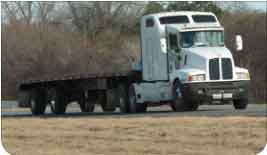 Going independent
Overdrive Senior Editor Max Kvidera writes about getting your own authority in the March edition of sister publication Truckers News. Look for the full story on truck stop racks or read the digital edition at www.truckersnews.com, but in the meantime, here's why going independent can be a great thing — for certain operators:
Pros
• MORE MONEY Running under your own authority can open the door to added revenue. You'll keep more of every load's revenue for yourself, particularly if you're working directly with shippers and receivers rather than brokers.
• MORE FREEDOM You'll work where and when you want. That flexibility can be rewarding, but too much time off and you won't generate necessary revenue.
• GROWTH POTENTIAL If you manage your business well and find there's more demand than you can handle, you'll have the opportunity to add trucks and drivers.
Cons
• HIGHER COSTS Leased operators are usually not responsible for liability and cargo insurance. As a carrier under your own authority, you're on the hook for all coverage. Likewise, independents sometimes lack common carrier perks like fuel and parts discounts.
• MORE TIME SPENT FINDING LOADS If you're leased, loads are typically provided for you. As an independent, you'll have to build shipper and broker relationships for loads.
• ADDED COMPLIANCE RESPONSIBILITY You'll get your own plates, arrange drug and alcohol testing, and compute and pay all fuel taxes on your own, or pay someone else to do it.
Attention shoppers!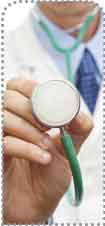 Check our health care specials
You may soon be able to roll into Walmart for groceries and walk out with a trucking-specific weight-loss management routine in hand, thanks to the Healthy Trucking Association of America's new initiative. The new program will highlight services customized for drivers, including DOT physicals, treatment of acute illnesses, chronic disease management, smoking cessation and weight loss management. The services will be offered at Convenient Care Association member clinics nationwide in retail outlets like pharmacies and supermarkets. Visit healthytruck.org for details.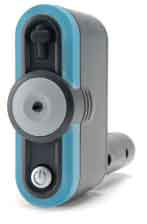 Positively clean air from negative ions
The AirTamer uses advanced electrostatic purification technology to create cleaner air. Its maker says it works by producing negative ions that force airborne pollutants away from your breathing space. It operates in total silence, without filters, and comes with attachment for a vehicle's air vent, allowing harnessing of the fan's power. Retail: $49.99 at www.airtamer.com or via (866) 625-3218.
CALENDAR
MARCH 13: DAYLIGHT SAVING TIME BEGINS Move clocks forward one hour.
MARCH 31-APRIL 2: MID-AMERICA TRUCKING SHOW, Kentucky Exposition Center, Louisville, www.truckingshow.com, (502) 899-3892.
APRIL 2: TRUCK SHOW of Yellow Rose Chapter of Antique Truck Historical Society, River Bend Par, Smithville, Texas, (830) 743-3179.
APRIL 8-10: 75 CHROME SHOP ANNUAL TRUCK SHOW, Wildwood, Fla., www.75chromeshop.com, (866) 255-6206.
APRIL 15-16: OLD TRUCK SHOW of ATHS Wheat State Chapter, Newell's Truck Stop, Newton, Kan., (316) 283-0130.
APRIL 23: ATHS NORTHWEST ANTIQUE TRUCK SHOW, Harold E. LeMay Marymount Museum, Spanaway, Wash., (360) 866-7716.
APRIL 30: TRUCK SHOW & BBQ of ATHS Central California Chapter, Kirkland Ranch, Plymouth, Calif., (916) 381-6063.
MAY 6-7: MIDWEST PRIDE IN YOUR RIDE TRUCK/TRACTOR SHOW, Tri-State Raceway, Earlville, Iowa, (560) 580-8200.
JUNE 9-11: GREAT WEST TRUCK SHOW, Las Vegas Convention Center, (888) 349-4287, www.greatwesttruckshow.com.
JULY 14-15: WALCOTT TRUCKERS JAMBOREE, Iowa 80 Truck Stop, I-80 Exit 284, Walcott, Iowa, www.iowa80truckstop.com.
AUG. 25-27: GREAT AMERICAN TRUCKING SHOW, Dallas Convention Center, (888) 349-4287, www.prideandpolish.com.
TRUCK GALLERY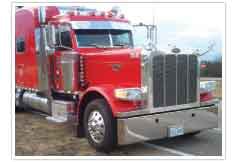 James Loot, an Oklahoma City, Okla., resident, owns and operates this 2008 Peterbilt 389, making weekly reefer runs between Denver and Port Allen, La. The truck is powered by a 550-hp Caterpillar and a 13-speed transmission. Loot says he's added more than 100 LED lights, hardwood flooring and stainless and chrome accents. The truck's name, 99 problems, springs from the sentiment common to drivers – "I've always got 99 problems," he says. "I don't need any more."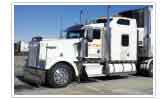 Hit Man
Shane Wood uses his 2000 Kenworth W900L to haul sod and potatoes nationwide. The truck is equipped with a 550-hp Caterpillar and a 13-speed transmission, and Wood says he spends a good chunk of his spare change to keep the truck looking good. The name Hit Man stems from one of Wood's beverages of choice, he says: "I got it off of a Monster energy drink can. I thought it'd be a cool name for a truck."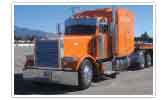 No. 33
Chris Governo of Downey, Calif., hauls mostly forklifts and other off-highway construction equipment around Southern California in this 1996 Peterbilt 379. The truck is equipped with a 500-hp Caterpillar.
SUBMIT YOUR PHOTO: To display your truck online and have it considered for Overdrive's Truck Gallery, go to the Reader Truck Gallery at www.OverdriveOnline.com.
Channel 19
Hands-off inspections
If you think Big Brother is flexing his muscle with the proposed mandate for electronic onboard recorders, consider Bro's less-heralded wireless snooping. At Tennessee's Greene County scale house on I-81, troopers recently concluded a long-running test of wireless roadside inspection technology. WRI allows an inspection to be logged instantly as it captures truck registration and driver hours and credentials, and potentially other information. For it to work, the truck must be outfitted with certain technology.
Social Network, meet Shipping Network
UShip.com began in Austin, Texas, where cofounders were business school graduates and friends. Today, it enables shippers worldwide to post loads that transporters bid on. Company staff put together a parody movie trailer based on "The Social Network," the film about Facebook founder Mark Zuckerberg. "The Shipping Network," produced for uShip's 2010 Christmas party before being posted to YouTube, garnered nearly 10,000 views in two to three weeks, says company spokesman Dean Jutilla, as well as the attention of other media, including the New York Times. CEO Matt Chasen, playing the Zuckerberg part, gets accused before the DOT of "holding carriers accountable for service quality and intentionally breaking down barriers for entry for new truckers." Check out the original film's trailer and the parody in the Jan. 7 entry on the Channel 19 blog.

Waiting for an encore
On Feb. 1, Willie's Place truck stop in Carl's Corner, Texas, changed ownership as SBL Capital Funding foreclosed on the property and closed it. Missouri owner-operator Steven Abell, leased to Greentree Transportation, reflected on the change: "I hate to see truck stops that have a good thing going change owners, because the fast food restaurants are popping up everywhere, and your old sit-down restaurants are disappearing way too fast." Whether the former Willie's will be resurrected as such a stop is uncertain. For more detail, including interviews with a former Willie's waitress and a regular driver customer, see the Jan. 27 entry on the Channel 19 blog.
Chasing the sun
Household haulers, take heed. Penske Truck Rental notes the trend of household moves going toward the bottom of the compass. "There is a continued heavy migration out of the Midwest and Northeast and into sunny markets," said Don Mikes, a vice president.
Seven of the top 10 destinations on Penske's list are in the Southeast or Southwest:
1. Atlanta
2. Dallas/Fort Worth
3. Phoenix
4. Orlando, Fla.
5. Chicago
6. Houston
7. Seattle
8. Denver
9. Sarasota, Fla.
10. Charlotte, N.C.
BETTER HEALTH

Go with the grain
Super-enriched carbohydrates in white bread not only lack the nutritional benefits of whole grain bread, but they send blood sugar for a rollercoaster ride. When possible, choose whole grain bread to keep blood sugar steady and your body feeling fuller through the day.

Look in the mirror
When trying to lose weight, numbers on a scale may be discouraging if you're putting in big effort but seeing little progress. Take time to look in the mirror and see the difference in the way your body looks. Sometimes you can see the good effects of exercise there before you see it in the numbers.
For more of the interesting and odd parts of trucking, visit Senior Editor
Todd Dills' Channel 19 blog at OverdriveOnline.com/channel19.