Power Pickup
Sorry, you can't visit your local Volvo dealership to pick up one of these muscular pickups. But visit the company's New River Valley manufacturing plant in Dublin, Va., and you might get to ride in this severe service model VHD that's been customized to pickup form. The vehicle has five seats, a full-size crew cab and a pickup bed. Volvo plans for the truck to give customers and visitors a first-hand sense of the brand's comfort and performance as they tour the facility or are transported to and from local hotels and the airport, says Volvo Senior VP Ron Huibers. And if you happen to know of a monster truck rally in the vicinity and can convince Ron …
Hats for Heroes
Con-way Truckload driver Bill Compton, 72, greets a wounded warrior at Fort Sam Houston's Warrior and Family Support Center. Compton drove the last leg of a shipment of donated hats for wounded service members at the center in San Antonio, Texas. With the help of a Trucker Buddy liaison to a group of Special Olympians in Grand Island, Neb., and the local American Legion, a record 1,500-plus caps were collected. The program, in its fourth year, is the brainchild of Marten Transport hauler Candy Bass. "I want to let them know we didn't forget them," she says.
HEALTH TIPS
CHIP LOVERS, GET BAKED. Leaving junk food behind can be hard. Start with an easy step: Replace your normal potato chips with baked potato chips. Cut the calories, not the crunch.
FIND YOUR PACE AND GROOVE WITH IT. Create on an iPod or other device a 30-minute exercise playlist of songs whose rhythms match your speed of walking or other workout. Studies show that exercise comes easier when done to music.
SHIFT THE BRAIN TO IDLE. Set the parking brake, relax, close your eyes. Picture yourself in a serene setting. Just five minutes of daily meditation can make a dramatic difference in your energy level.
Flying Fingers
Think watching a fifth wheel being taken apart is like watching paint dry? Think again. As part of Rush Truck Centers' fifth annual Tech Skills Rodeo in San Antonio, Texas, in December, Jost fifth wheels reps put technicians to the test in their "Fastest Hands" fifth wheel disassembly/rebuild competition. The winner, Jerry Carpenter (pictured) of Rush's Charlotte, N.C., International Trucks facility, completed the job in just under 100 seconds, taking home $500. For a video of the first competitor and more scenes from the rodeo, see the Dec. 22 entry on the Channel 19 blog.
"Back then the trucker was King Kong. By that I mean he was a powerful giant in the eyes of truck stop operators, who did everything they could to please him… He bought lots and lots of diesel fuel, and we appreciated it."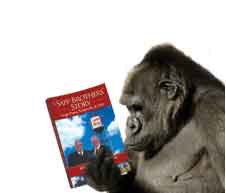 – Bill Sapp, in "The Sapp Brothers' Story," from Addicus Books. The Sapps built their first truck stop before Interstate 80 through Omaha was finished. To read more about the book, marking the 39th anniversary of that first stop, see the Dec. 17 entry on the Channel 19 blog.
'The source of aggravation'
MSN Autos' correspondent Charles Plueddeman isn't shy about his knee-jerk perceptions of highway safety. He wrote that trucks "are frequently the source of aggravation and even fear."
He composed a list of what exactly annoys four-wheelers most about truckers, drawing on the expertise of Dr. William Van Tassel, AAA driver training programs manager. Here is the wisdom of Plueddeman:
1. A trucker tailgates.
2. A truck's tires seem to explode when driving down the road [producing gators].
3. Big trucks spray water all over the place, blinding everyone around them.
4. One truck pulls over to pass the other, and then they run together, blocking two lanes.
5. Trucks don't slow down when it's snowing.
How to prevent electrical system corrosion
• Use anti-corrosive sprays/dielectric grease to keep system components clean, but don't use power washers or soap.
• Eliminate moisture build-up in all areas. Keep a keen eye on holes in wiring jackets and non-sealed connectors, which can allow moisture in.
• Take on the road a repair kit with appropriate sprays and grease.
• Make sure ground power source leads directly to the negative battery post, not to the chassis or engine.
For more of the interesting and odd parts of trucking, visit Senior Editor Todd Dills' Channel 19 blog at OverdriveOnline.com/channel19.
Tunes for cruising
Pioneer Electronics asked its customers for the best "Road Trip" song and then matched results with demographics. Guys were most likely to be looking for adventure with the No. 2 track, "Born to be wild." Unmarrieds, male or female, seemed to have a death wish in choosing No. 5, AC/DC's "Highway to hell." Overdrive's informal survey revealed some lesser-known classics, such as Golden Earring's "Radar Love," Led Zeppelin's "Carouselambra," and Jimmy Buffett's "Fins," best heard during a winter whiteout.
Top 'Road Trip' songs
1. "On the road again," Willie Nelson
2. "Born to be wild," Steppenwolf
3. "Take it easy," Eagles
4. "I get around," Beach Boys
5. "Highway to hell," AC/DC
6. "Free falling," Tom Petty and the Heartbreakers
7. "Riders on the storm," Doors
8. "I wanna rock and roll all night," Kiss
9. "Wanted: Dead or alive," Bon Jovi
10. "Free bird," Lynyrd Skynyrd
Pioneer Electronics
Prevent identity theft
The nature of trucking, especially long-haul, makes you particularly vulnerable to identity theft. Here are tips for cutting your risk:

• DON'T LET MAIL PILE UP AT HOME. If you do, it not only signals that you're absent, inviting thieves to make themselves at home, but the mail itself often contains key personal information. Make alternate arrangements for mail delivery, such as a post office box. Take steps to stop junk mail by calling (800) 567-8688 or by visiting www.optoutprescreen.com

• AVOID SHOWING YOUR LICENSE. As a truck driver, you have to show your license more often that most any driver. Minimizing its exposure — particularly avoid photocopies being made of it — will minimize opportunities for identity thieves.

• PURGE YOUR WALLET. Don't carry your Social Security number and other important personal data that you don't have to. If you need remote access, arrange for a spouse or someone else at home to have the data, or store it online.

KEEP A LOCK ON DIGITAL DATA Your laptop computer can be a huge treasure trove of information about you. Where possible, store sensitive data on a secure website instead of your hard drive. When you sell any computer, wipe out all personal data — though simple file deletion isn't enough to thwart experienced data thieves. Visit wipedrive.com or datakillers.com to learn how to do it right.
• WATCH YOUR BACK AT ATMs. Make sure no one's hovering too close when you use an ATM. Crooks can use cell phone cameras to capture PIN keystrokes, then lift your wallet to get the card.
GAUGES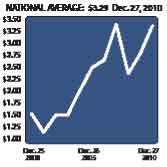 December diesel
Year-end diesel prices spiked to their highest level since October 2008, according to U.S. Department of Energy weekly averages.
Rates drop at year-end

After rising in the fall, flatbed freight rates resumed the second-half decline that all major sectors experienced as the economic recovery sputtered.
CALENDAR
FEB. 4-5: MID-WEST TRUCK SHOW, Peoria Civic Center, Peoria, Ill., www.midwest-truckers.com
MARCH 8-10: THE WORK TRUCK SHOW, Indiana Convention Center, Indianapolis, www.ntea.com, (800) 441-6832
MARCH 13: DAYLIGHT SAVING TIME BEGINS. Move clocks forward one hour.
MARCH 31-APRIL 2: MID-AMERICA TRUCKING SHOW, Kentucky Exposition Center, Louisville, www.truckingshow.com, (502) 899-3892
APRIL 2: TRUCK SHOW of Yellow Rose Chapter of Antique Truck Historical Society, River Bend Par, Smithville, Texas, (830) 743-3179
APRIL 8-10: 75 CHROME SHOP ANNUAL TRUCK SHOW, Wildwood, Fla., www.75chromeshop.com, (866) 255-6206
APRIL 15-16: OLD TRUCK SHOW of ATHS Wheat State Chapter, Newell's Truck Stop, Newton, Kan., (316) 283-0130
MAY 6-7: MIDWEST PRIDE IN YOUR RIDE TRUCK/TRACTOR SHOW, Tri-State Raceway, Earlville, Iowa, (560) 580-8200
JUNE 9-11: GREAT WEST TRUCK SHOW, Las Vegas Convention Center, (888) 349-4287, www.greatwesttruckshow.com.
JULY 14-15: WALCOTT TRUCKERS JAMBOREE, Iowa 80 Truckstop, I-80 Exit 284, Walcott, Iowa, www.iowa80truckstop.com.
AUG. 25-27: GREAT AMERICAN TRUCKING SHOW, Dallas Convention Center, (888) 349-4287, www.gatsonline.com
Easy on the Pedals
Decreasing your acceleration rate will consume less fuel and be easier on your engine, driveline and tires. Getting up to speed slowly on hills or in the mountains is especially important. Conversely, hard and frequent braking converts fuel to wasted energy. Anticipate stops and other traffic developments as early as possible to prevent having to react at the last second.

This tip comes from the Partners in Business program, produced by Overdrive and ATBS, the nation's largest owner-operator business services firm. It's sponsored by Schneider National and Freightliner Trucks.
Back maintenance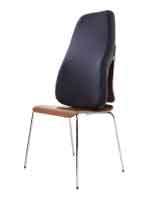 Unless you've got a moonlighting masseuse for a driving partner, Body Essentials' Portable Shiatsu Back Massager could be just the ticket to ease out the back strain of a long day over the road. It can transform any chair, including the passenger seat of your Class 8, into a powerful massage-therapy seat. The massager utilizes four rollers that stretch and relax muscles. It's programmed with eight massage sessions to allow for full or targeted massages. It retails for $200 at bodyessentialsforyou.com.
Truck Gallery
Evil Mistress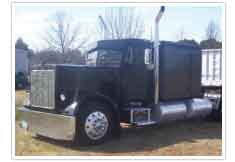 This dark horse 1978 Peterbilt 359 belonging to Wesley Guest of Comer, Ga., who hauls tombstones nationwide, was found as a "stripped-down mess." Guest gave it a nearly complete makeover, including a rebuilt 350-hp Cummins. Guest had a bit of flattener added before painting on the semi-gloss enamel. "I didn't want it to be flashy or stand out too much," he says. "I didn't want the DOT messing with me."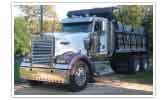 Wild ride
Aggregate hauler Roger Welch, of Mauk, Ga., "takes sand and gravel on a wild ride," he says, and tries "to look good doing it." A 445-hp Caterpillar and 8-speed tranny power the 2001 Kenworth W900L.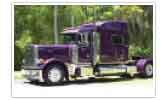 Daddy's Toy
This 2005 Peterbilt 379 owned and operated by Nelson Breaux of Pierre, La., is furnished with a 70-inch Unibilt sleeper, TV, DVD player, microwave and refrigerator. Breaux hauls plastic pellets nationwide in a dry bulk tanker. Equipped with a 475-hp Cummins and a 13-speed Eaton, this is the first truck Breaux says he's owned that wasn't blue.
SUBMIT YOUR PHOTO: To display your truck online and have it considered for Overdrive's Truck Gallery, go to the Reader Truck Gallery at www.OverdriveOnline.com.