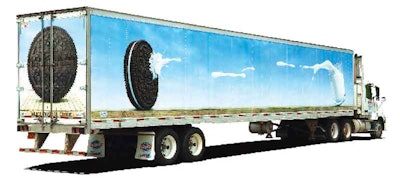 Oreo design hits the spot
Kraft Foods/Oreo got a treat as sweet as the classic cookie-and-milk pairing when it received the top award in the annual Five Flashiest Fleets competition, which recognizes equipment graphics. The competition is sponsored by Overdrive sister publication Commercial Carrier Journal.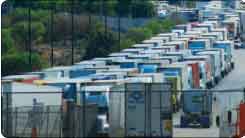 18 Wheels of Contraband
Drug trafficking into the United States is moving from remote routes more commonly used by legitimate carriers, reports National Public Radio's John Burnett. A whopping 78 percent of all security breaches to the Customs-Trade Partnership Against Terrorism this year, Burnett reported, could be linked to Mexican trucking companies. Many drivers are unaware of what they're hauling.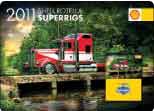 12 beauties, one county
This 2007 Kenworth W900L owned by Myerstown, Pa.-based Scott Diller graces the cover of the 2011 Shell calendar. Its tranquil setting is Mateer Bridge in Rockbridge County, Va., where the 12 trucks were photographed. Visit rotella.com and search for "superrigs calendar" to check out all 12 photos. The calendar was available through December at participating Rotella locations; ask around this month to see if any are left.
At Home with Mugsy
While a majority of truckers don't view carriers' pet policies as lease dealbreakers, owner-operator Larry Leckrone, of Colville, Wash., is one who does. His 1962 C523 Model Kenworth is effectively the home of his pet, Mugsy.
The macaw was potty-trained before Leckrone took him out on the road almost 20 years ago. That habit was instilled by Leckrone's wife, Tina, who today runs a bird raising and rescue operation. Mugsy was their first macaw, Larry says. "My wife trained him to a trash can," but today Mugsy's private john is a floormat.
For more images of Leckrone and Mugsy, see the Nov. 23 entry of the Channel 19 blog.
Would you choose a carrier based on its ride-along pet policy?
Yes — 32%
No — 68%
Diabetes and Deception
The tale of a diabetic trucker is part of a new book A Life of Control: Stories of Living With Diabetes, published by Vanderbilt University Press. The now-retired driver, who had an impeccable safety record, for years falsified his medical certification to get around the blanket ban on licensing insulin-treated diabetics. For an extended excerpt, see the Nov. 8 entry on the Channel 19 blog.
The land of fruits and nuts
Where should you be most on guard for drunk drivers? California, according to Insurance.com data. Among the nation's major cities, four of the top 10, based on percentage of drivers with alcohol-related driving convictions, are in the Golden State. To be fair to Californians, the high rankings probably are at least partially due to what any trucker knows — the state's aggressive enforcement of all highway laws.
CITIES WITH THE MOST DRUNK DRIVING OFFENDERS
1. San Diego
2. San Jose, Calif.
3. Charlotte, N.C.
4. Phoenix
5. Columbus, Ohio
6. Indianapolis
7. Los Angeles
8. San Francisco
9. Austin, Texas
10. Jacksonville, Fla
Devoted to diesel
Leonard Roberson says he loves the smell of diesel engines. He loves their power. He loves the machines they power.
"For me, trucks and trains run hand in hand," says Roberson, an owner-operator leased to Tuscaloosa, Ala.-based Barnett Transportation, "Both of them have that power and that torque, and they both run on diesel engines."
He's been driving for nine years, three of them as an owner-operator, but his true love is model trains. Roberson's parents gave him a train set as a child, and he expanded his hobby until he was in his teens. In 1994, after losing his collection to a house fire, he "just sort of let it go."
When he moved to Northport, Ala., in 2006, Roberson says he resumed collecting when he discovered the Northport Train Depot. That's where he and about 25 others in the Black Warrior Model Railroad Society build and maintain an elaborate model train track and village in the converted building. Roberson has gathered more than 40 train engines and more than 200 cars from hobby shops and the Internet.
"As I got older, I wanted to get back into it," he says. "So that's what I ended up doing."
James Jaillet
Better health
STAY HYDRATED
Your body needs a lot of water to perform its daily functions, and drinking plenty of it can make you feel more energetic. Keep water with you at all times.
PREPARE FOR SLEEP
Make your night's rest more effective by developing a routine of relaxing activities. Taking a warm shower or reading a book should help your mind and body wind down.
EXPLORE FOR FITNESS
If you have extended downtime in a strange city, go for a walk. Local tourism agencies often have information on walking tours. Many urban trails can be found at traillink.com or americantrails.org.
ENJOY BEING ACTIVE
When choosing physical activity, set yourself up for long-term success by doing something you enjoy. Mix activities for variety and more comprehensive conditioning.
GAUGES
Flatbed shows some strength
The housing crisis took its toll on flatbed hauling in late 2008 and much of 2009. However, income improved for flatbed owner-operators in recent quarters, according to financial services provider ATBS. The Institute for Supply Management, which says manufacturing expanded in November for the 16th consecutive month, notes that housing still lags: "Manufacturing continues to benefit from the recovery in autos, but those industries reliant upon housing continue to struggle."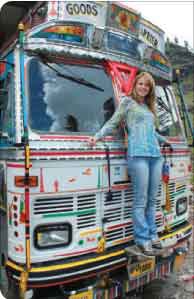 "Trucking to me was a career and a way to get out of gas station and food service jobs… I knew that if I became a trucker, I could get a job anywhere, anytime."
– Lisa Kelly, in the Anchorage Daily News. She's pictured with the truck she drove in the IRT: Deadliest Roads series, on the History Channel.
Q What maintenance practice yields the most cost savings?
AIronically, maintaining correct tire inflation is free and one of the quickest and easiest tasks, yet it's the highest-saving maintenance you can perform. Improper inflation wastes fuel, your biggest expense. Improper inflation also is by far the greatest reason why tires —— your second biggest expense —— fail or wear out prematurely.
For each pound of air pressure a tire loses, its temperature rises about 2 degrees, and hot tires are prone to failure. A tire underinflated by 10 percent, about 10 psi, will rapidly experience about 10 percent to 15 percent tread loss. A tire underinflated by 20 percent should be dismounted and inspected for damage.
Don't overinflate, either, assuming it's an easy way to avoid unnecessary tire costs. An overinflated tire suffers rapid and irregular wear and is more susceptible to damage from running over debris and scrubbing curbs.
Q How can I guard against loss of air pressure?
ANeglecting the compressor can lead to loss of air pressure. Most often, however, air pressure problems are elsewhere, usually a valve on the trailer or truck. Leaky connections also are common. To prevent air problems:
• Be thorough with pre-trip and post-trip inspections of hoses.
• Listen for high-pressure leaks, audible even with the engine on. If a hissing sound persists, don't drive until you've stopped the leak.
• Investigate any automatic warnings about the compressor. Don't wait.
CALENDAR
JAN. 29-30: PAPAGO MILITARY VEHICLE SHOW, Arizona National Guard Building, Phoenix, (480) 497-9722.
FEB. 4-5: MID-WEST TRUCK SHOW, Peoria Civic Center, Peoria, Ill., www.midwesttruckers.com.
MARCH 8-10: THE WORK TRUCK SHOW, Indiana Convention Center, Indianapolis, www.ntea.com, (800) 441-6832.
MARCH 31-APRIL 2: MID-AMERICA TRUCKING SHOW, Kentucky Exposition Center, Louisville, www.truckingshow.com, (502) 899-3892.
APRIL 2: TRUCK SHOW of Yellow Rose Chapter of Antique Truck Historical Society, River Bend Par, Smithville, Texas, (830) 743-3179.
APRIL 8-10: 75 CHROME SHOP ANNUAL TRUCK SHOW, Wildwood, Fla., www.75chromeshop.com, (866) 255-6206.
APRIL 15-16: OLD TRUCK SHOW of ATHS Wheat State Chapter, Newell's Truck Stop, Newton, Kan., (316) 283-0130.
APRIL 30: TRUCK SHOW & BBQ of ATHS Central California Chapter, Kirkland Ranch, Plymouth, Calif., (916) 381-6063.
JUNE 9-11: GREAT WEST TRUCK SHOW, Las Vegas Convention Center, (888) 349-4287, www.greatwesttruckshow.com.
AUG. 25-27: GREAT AMERICAN TRUCKING SHOW, Dallas Convention Center, (888) 349-4287, www.prideandpolish.com.
SEPT. 30-OCT. 1: GUILTY BY ASSOCIATION TRUCK SHOW & Customer Expo, Joplin, Mo., www.chromeshopmafia.com, (888) 875-7787.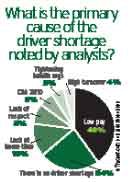 "While it's getting hard to hire a qualified driver, everybody's still getting by. But if we get a significant increase in freight tonnage, there will be a scramble for drivers like we've never seen."
— Gordon Klemp, principal of the National Transportation
Institute, which surveys fleets to produce the quarterly National Survey of Driver Wages. Most carriers last year said they expected to raise pay and more had begun offering bonuses.
TRUCK GALLERY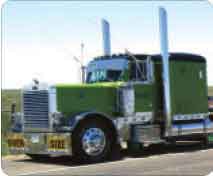 Blood, Sweat and Tears
Caleb Eilers of Odessa, Texas, bought this 2000 Peterbilt 379 in 2006 and has repainted it and added chrome and wood accents. Eilers hauls oil field equipment with the Pete, which is powered by a 550-hp Caterpillar. He says the truck is dedicated to his dad, who died in 2006 "He drove for 25 years and always enjoyed having a nice truck," Eilers says.

Captain America
This 1990 Peterbilt 379 hauls aggregate products and heavy equipment for construction and logging companies in Washington. Owner Jimmy Severson says the truck's name came from a friend who said it looked like Captain America. The truck is powered by a 450-hp Caterpillar.

Log Hauler
Stuart Lowen of Quincy, Calif., owns this 1996 Kenworth W900L, which he uses to haul logs. The truck, equipped with a 550-hp Caterpillar, has an 18-in. custom bumper, custom cut lights, painted emblems, flattop stacks and many other modifications. n