Crude talk, low rates
After a combined 15 years as a truck owner, I started hauling under my own authority four years ago. I'm baffled by the bitterness and coarseness of the language I hear over the CB. I encourage truckers to think about the overall impact of hateful talk versus the power of constructive suggestions.
I'm also dismayed, now that I'm hauling my own products, to find the low per-mile pay in for-hire freight. I know that most full van loads from shippers go for $3,000, but truckers get less than a third of that. History holds constant: It is the middle man who really gets the better deal.
LINN PRUDHOMME | Opelousas, La.
"The only guys making money are the plow operators."
– Tandem driver Don Lanphere, 51, to Associated Press Dec. 2 after heavy snow buried I-90 in New York for 14 hours.
CSA should help enforce existing regs
According to the new CSA, problems with equipment or driving while sick will reflect on the driver before it penalizes his or her carrier, seeming to make the drivers look bad. That is actually good news because the CSA is protecting drivers by weeding out companies that are unsafe or mistreat their drivers by insisting that they drive while they are sick or have equipment violations.
If drivers refuse to drive while sick or coping with broken equipment, OSHA and the DOT should back them up. CSA is trying to enforce such policies.
As an owner-operator who had to retire due to medical reasons, I encourage truckers to follow simple guidelines: If you're sick or have equipment problems, don't drive.
JOE WALSH | Rotterdam, N.Y
How would Obama's plan to reduce greenhouse gas emissions up to 25 percent on 2014 model medium- and heavy-duty trucks affect you?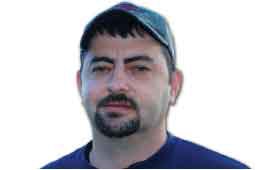 "Anything that could possibly help the environment isn't a bad thing."
ROBERT ARNETT
Werner Enterprises
Pine Bluff, Ark.

"There's so much hype about emissions, the trucks don't even perform like they should. They never look at other vehicles on the road – they just pick on us."
ROGER RICE
First Fleet | Sweetwater, Tenn.

"It's all a scam to get more tax dollars."
STEVEN TURNER
Bynum Transport
Lakeland, Fla.

"They're going to do what they're going to do. We just have to smile and go with it."
RIGO RAMIREZ
Leased to TransAmerica
Fontana, Calif.

"It won't bother me at all. I don't really think anyone will be able to see the effects."
JOHN ACKERS
Sunbelt Transportation
Brownsville, Texas