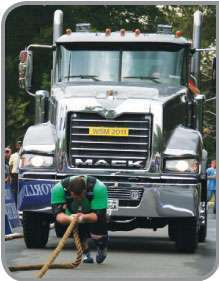 File under 'don't try at home'
It wasn't a bad injector or cracked cylinder head that put this truck out of operation. Rather, the 2011 Mack Titan was the truck of choice for part of the 2011 World's Strongest Man competition, held in Charlotte, N.C. Competitors acted as if roadside assistance was not available and pulled all 22,000 pounds of the Titan – a truck Mack calls the "most powerful" it's ever built – for almost 30 yards. The contest was won by Hapfor Julius Bjornsson of Iceland.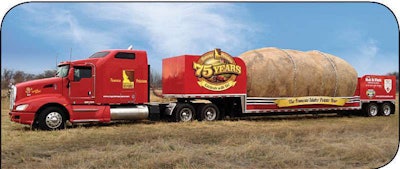 Six tons of potato pride
Set on a trailer and pulled by a Kenworth T660, this 6-ton, 28-foot-long potato was unveiled at the Dec. 17 Famous Idaho Potato Bowl. This spud stud has since set off on a national, yearlong tour in honor of the Idaho Potato Commission's 75th anniversary. To learn more about the tour, go to bigidahopotato.com.
Better health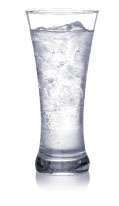 Burn extra calories, reduce intake
• Drinking ice water with your meal helps you feel fuller and eat less food. Order extra ice with your drink and you will burn more calories as your body expends energy heating up the water.
• Chew each bite 40 times instead of the usual 15 most people average. Extra chewing may result in eating fewer calories per meal. The chewing motion helps fight hunger by reducing your appetite.
• Pack your daily snacks before you hit the road to avoid the need to spring for unhealthy convenience items. Put in reusable Ziplock bags and keep handy for snack attacks.
The above tips are part of our sister magazine Truckers News' Daily Health Tip offering. Get them delivered daily via truckersnews.com/healthtips.
GAUGES
A weak second half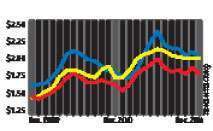 After a strong start in 2011, the economy continued to sputter and rates fell during the second half.
Forecast: Rising rates
Last year through November, contract rates rose an average 6.5 percent compared to year-ago figures, while spot market rates increased 7.4 percent, load matching service TransCore says. Spot market rates rose unevenly in 2011, especially for vans, says TransCore analyst Mark Montague.
Rates are likely to climb as carriers' costs increase, and especially if the economy improves. "Expect rates to head up as soon as mid-March," Montague says.
Monthly truck loan payment

The highest owner-operator truck note was $3,575 in a recent study done by the Mack-Blackwell Rural Transportation Center at the University of Arkansas.
* Percentages do not add to 100 percent due to rounding
Jan. 9, 2012 diesel price averages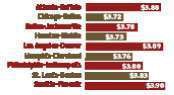 FUEL SURCHARGE INDEX (www.FuelSurchargeIndex.org) prices are collected daily from more than 5,500 truck stops and averaged along specific routes.
Creature Comforts
Fifth-generation driver Ronnie Graves has put his own stamp on his family's trucking tradition ever since he first sat in a truck cab as an infant in his father's lap. Graves, a native of Sumter County, Fla., lost his left leg as a youth, but the loss served as a challenge, not a detriment, to work hard and help those in need, such as 9,700 animals in the last two years alone.
He was a long-haul trucker until 1979, when he became a full-time prosthetist and orthotist, though he kept his CDL. In 1998, after a series of devastating wildfires in Florida, he was enlisted to haul animals for the first time. He and 15 friends built compounds to house the rescued animals, and soon the State Agriculture Department and the Humane Society become involved. Graves and his wife started the Sumter Disaster Animal Response Team in 2004 after rescuing animals in Punta Corda, Fla., in Hurricane Charley's wake.
"I had a garage full of Ford Mustangs and sold all but one," he says, to finance the rescue equipment, including two tractor-trailers. One 53-foot trailer has 84 stainless steel kennels, four heating and cooling units, oxygen monitors, carbon dioxide monitors, living quarters for a handler and other custom features.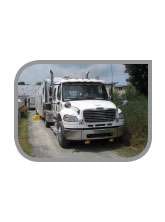 Graves' rescues include dogs and cats after Hurricane Katrina and pelicans following the BP oil spill. "I transported 232 rabbits once," he says. "Thank goodness they were all fixed."
Those interested in being a part of the operation can find information at sumterdart.org. — Elizabeth Manning
TRUCK GALLERY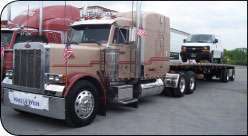 Make a wish
Leola, Pa., resident Lamar Buckwalter, former flatbed hauler and now dispatcher for JRC Transportation, uses his 2000 Peterbilt 379 in Make-a-Wish Foundation events, including a Mother's Day convoy in Lancaster County each year. Buckwalter worked the truck full-time before retiring two years ago. The truck is powered by a 500-hp Caterpillar and an 18-speed transmission.
Port Orange special
This 1990 Peterbilt 379 hauls produce and seafood weekly between Florida and New York. The pride of owner-operator David Adorno Jr. of Port Orange, Fla., it's equipped with a 400-hp Cummins and a 15-speed transmission. Adorno's rig also has a pair of train horns, installed by its previous owner. Accordingly, it boasts the tag "Gone Like a Freight Train" on the back of the sleeper.
Hot Wheels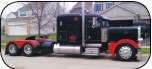 "I just wanted something different," Midwest flatbed hauler Rich Carlson says of his 2005 Peterbilt 379's aftermarket touches. "I wanted to make the job a little more fun." Carlson, of Bolingbrook, Ill., has added 7-inch stacks, a 22-inch flip bumper, flamed fenders and lowered the truck's suspension. It's powered by a 475-hp Caterpillar and an 18-speed transmission.
SUBMIT YOUR PHOTO To display your truck online and have it considered for Overdrive's Truck Gallery, go to the Reader Truck Gallery at www.OverdriveOnline.com.
CHANNEL 19
Reactions to news of the handheld cell phone use ban ranged from muted support to the most common theme – that the safety problem handheld phones represent might be better addressed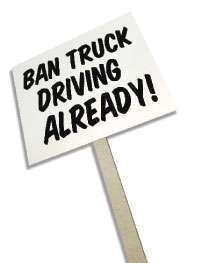 via an act of Congress aimed at all drivers. Nabisco company driver Buddy Wenners resorted to satire in the form of a dare. He urged regulators to impose an outright ban on truck driving. Sound absurd? Well, be thankful, Wenners says, that he waited till he got home from a long run to cool down before he wrote his proposal and posted it to Overdrive's Facebook page. "Otherwise it would have been longer and a little 'crazier,' " he says. Check out his truck ban proposal on the Dec. 9 Channel 19 blog entry, plus responses it spawned from readers in the entries for Dec. 12 and Dec. 15.
Who got occupied at the ports?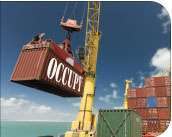 The Occupy Wall Street movement claimed solidarity with West Coast port owner-operators in early December during protests blockading ports. But some news reports told a different story, with truckers voicing frustration with the blockade at Oakland, where a reported 600 protestors converged Dec. 12. One independent noted occupiers "should be targeting the offices of corporations and politicians, not blocking independent truckers such as himself from doing business at the port," wrote Jeff Shuttleworth of Bay City News. For links to Shuttleworth's reporting, the open letter and more, check out the Dec. 13 entry on the Channel 19 blog.
Trucking's top troubadour
Among today's trucking songwriters, Leland Martin brings a lifetime of guitar picking, with no shortage of truck driving, to boot. His new "Workin' Class" record is inspired in part by specialized owner-operator Colin Stuart's "Working Class" work and show rig. Stuart and Martin met at the 2010 Walcott Truckers Jamboree and have been talking since – many of the "Workin' Class" songs are direct descendants of those conversations. For links to a longer feature

about the record, visit the Jan. 5 entry on the blog, where you'll also find the title track's video, shot at the Iowa 80 Truck Stop in Walcott. Smartphone users, scan the QR here to pull up the video.
For more of the interesting and odd parts of trucking, visit Senior Editor Todd Dills' Channel 19 blog at OverdriveOnline.com/channel19.
CALENDAR
MARCH 6-8: THE WORK TRUCK SHOW, Indiana Convention Center, Indianapolis, www.ntea.com, (800) 441-6832.
MARCH 11: DAYLIGHT SAVING TIME BEGINS, Move clocks forward one hour.
MARCH 22-24: MID-AMERICA TRUCKING SHOW, Kentucky Exposition Center, Louisville, www.truckingshow.com, (502) 899-3892.
APRIL 13-14: ATHS CHAPTERS SOUTHEAST REGIONAL TRUCK SHOW, I-40 exits 392 or 394, Knoxville, Tenn., (865) 789-7771.
APRIL 27-29: 75 CHROME SHOP ANNUAL TRUCK SHOW, I-75 exit 329, Wildwood, Fla., www.75chromeshop.com, (866) 255-6206.
APRIL 27-29: TRUCK SHOW & BBQ ATHS Central California Chapter, Kirkland Ranch, Plymouth, Calif., Dennis Chan, (916) 381-6063.
APRIL 28: ATHS NORTHWEST CHAPTER ANTIQUE TRUCK SHOW, Harold E. LeMay Marymount Museum, Spanaway, Wash., Roy Friis, (360) 866-7716.
MAY 4-5: MIDWEST PRIDE IN YOUR RIDE TRUCK/TRACTOR SHOW, Tri-State Raceway, Earlville, Iowa, Eldon Jaeger, (560) 580-8200.
MAY 6: ATHS SOUTHERN CALIFORNIA CHAPTER ANTIQUE TRUCK SHOW, Orange Empire Rail Museum, Perris, Calif., Ken Lund, (909) 790-7707.
MAY 19: ATHS SHENANDOAH VALLEY CHAPTER TRUCK SHOW, Lawn Party Grounds, Green Street, I-81 exit 240, Bridgewater, Va., (540) 478-4389, https://www.yahoo.com/.
JUNE 10: ATHS METRO JERSEY CHAPTER, Automatic Switch Co., Florham Park, N.J., (973) 726-4586, https://www.msn.com/.
JUNE 14-16: GREAT WEST TRUCK SHOW, Custom Rigs Pride & Polish, Las Vegas Sands Expo & Convention Center, (888) 349-4287, www.greatwesttruckshow.com.
JULY 12-13: WALCOTT TRUCKERS JAMBOREE, Iowa 80 Truck Stop, I-80 Exit 284, Walcott, Iowa, www.iowa80truckstop.com.
AUG. 11: BROCKWAY TRUCKS 100th ANNIVERSARY, Cortland, N.Y., www.brockwaytrucks.org.
AUG. 23-25: GREAT AMERICAN TRUCKING SHOW, Dallas Convention Center, Dallas, www.gatsonline.com.