Watch your roof
The driver of this rig was fueling at a Laredo, Texas, truck stop when a fellow hauler saw his extra passengers and attempted to locate the rig's driver. The trucker approached someone else who was fueling – owner-operator Henry Albert, Overdrive 2007 Trucker of the Year. Albert took this photo, later posting it on his blog, of a young man and woman (pictured) crouched on top of the U.S.-bound sleeper behind the high roof fairing. The truck's driver called police. The stowaways realized the jig was up and climbed down, running off before police arrived.
Hope for the next generation
Jeff and Lynette Lynd of Ft. Collins, Colo., say the favorite magazine of their 6-year-old great niece, Zoe, is Overdrive. "She had to read it while she was eating her cereal and said, 'I love my trucking magazine,' Lynette says of Zoe's interest in our 50th anniversary issue.
"We have People magazine, nature magazines, and she picks up Overdrive every time," Lynette says.
Jeff, too, is no stranger to Overdrive. He's trucked for two decades, today as company driver for JPS Trucking, before that as an owner-operator.

When Zoe moves on with her family from the Lynd home, Lynette adds, "we're thinking of getting her a subscription of her own." With fans like this, the next 50 years ought to be easy.
Joint pain PM
Long hours behind the wheel with little exercise can lead to chronic joint pain.
People with sedentary lifestyles and those who are overweight are more likely to experience some type of arthritis. Dr. Ronald Rush of Highway Healthcare in Texarkana, Texas, says truckers might notice degenerative osteoarthritis — where bone rubs against bone — in joints they use often, such as shoulders, lower back, arms, wrists and fingers.
What can you do to treat or prevent joint pain?
• Move around. "You might think of it like the fluids in your engine or wheel bearings," says Rush. "On a cold day, the fluids are thick and slow to move but after a few miles the fluids thin out and the engine and bearings run smooth. The fluids in the joints, when not in motion, stiffen the joint." Yoga and other exercise regimens have worked for some haulers.
• Try medication. Non-steroidal anti-inflammatory drugs, known as NSAIDs, can be effective. Some, such as Ibuprofen or Naproxen, are available in different brands over the counter. You need a prescription for others, such as Celebrex.
Find more about arthritis prevention via Overdrive sister magazine Truckers News at truckersnews.com/a-joint-problem. – Kathleen Buccleugh
GAUGES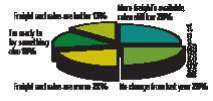 Truckers: freight holding
More than 60 percent of owner-operators say their businesses are steady, with more than 10 percent saying freight and rates have improved.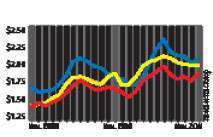 Year-end van rates spike
Dry van rates jumped a dime from October to November while reefer rates recovered 6 cents during the same period, both due, in part, to seasonal holiday demand. Flatbed rates dropped 1 cent.
Dec. 7, 2011 diesel price averages
FUEL SURCHARGE INDEX (www.FuelSurchargeIndex.org) prices are collected daily from more than 5,500 truck stops and averaged along specific routes.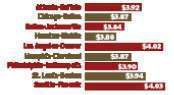 Anger Management
"A good reason to start a business is because you're mad," says Scott Bawcom of his four-year-old hotshot trucking business, Dream Time Transportation. In 2007, Nashville, Tenn.-based Bawcom bought a 1940s Ford coupe street rod in Dallas. The 700-mile haul to Nashville took weeks. He decided he could do better, and he did.
The business that he and his wife run is one of five selected to be featured in the Shipping Wars reality-TV series, premiering Jan. 10. It will have back-to-back episodes at 9 and 9:30 p.m. ET and PT and running every week thereafter. The show follows the A&E network's success with Parking Wars, about Philadelphia towing companies, and Storage Wars, about the storage auction business.
Bawcom's business has moved upward of 400 total loads since its launch in early 2008, more than half of them secured via the competitive online bidding marketplace uShip.com.
"It's a great menu to get a customer base from," he says. All of his regular direct customers he originally met via the site.
His record should serve him well in the show, where five haulers compete to net the highest earnings after expenses by securing freight in the uShip system. – Todd Dills
CHANNEL 19
Iraq hauling: High miles, high risk
A 1,100-mile convoy in Iraq typically consists of six nights' worth of hauling on city roads and highways both. Every inch of every rural or urban mile is "possibly hiding a bullet, roadside bomb or rock," Air Force reps say, and the year was ending with plenty of miles. The 70th Medium Truck Detachment, after averaging 11 convoys a month last January, was looking at as many as 60 missions in December to meet the year-end military withdrawal deadline. For a fantastic window into stepped-up hauling missions, check out the photo gallery in the Dec. 1 entry on the Channel 19 blog.
You can make a difference
Truckers News Editor Randy Grider said it best in his recent editorial, titled "Your most important call," in reference to the Truckers Against Trafficking hotline number for reporting child sex trafficking information. TAT's recently released training film centers around the story of an Ohio teen who was abducted from her neighborhood and then forced to walk truck stop parking lots. A driver's call to TAT's hotline – (888) 373-7888 – sprung her from that life. For links to TAT's website, where you can watch the film, check out the Nov. 4 entry on the blog.
MISSING
Reward: $50,000
What happens when a herd of 175 cattle goes missing, a man serves time for their theft and the owner receives a theft-insurance payout? Well, heads turned last September when Roholt, S.D., herd owner James Larsen bought newspaper ads offering a $50,000 reward for information leading to the herd's recovery, reporter Mikkel Pates wrote in AgWeek in November. Though the thief pled guilty, he's never come clean about what happened to the herd.
If you hauled a load of cattle from Rosholt between November 2008 and January 2009, the approximate time of the theft, you may want to revisit your records. For details, including links to Pates' full story – exploring the long relationship between Larsen and the thief, who worked under a share-crop arrangement for Larsen at the time of the theft – see the Nov. 29 entry on the blog.
Managing loads via phone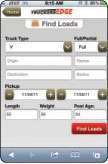 Posting your truck and booking loads via your smartphone got a little simpler with the launch of the TruckersEdge.net mobile site, says Transcore's Scott
McCollister. Above is a screen shot of the load search page on the optmized site that helps navigate the load-search, credit-check and rate-indexing tools there. If you're a small fleet or other carrier, you also can access 3sixty Express and 3sixty Power. Scan this QR code to pull up the site.
TRUCK GALLERY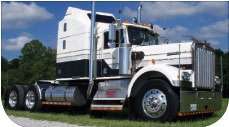 Class of '81
East Bernstadt, Ky., resident Robby Gaines bought this 1981 Kenworth W900A from a former boss after hauling refrigerated loads with it for years. Gaines, a member of the American Truck Historical Society's Bluegrass Chapter, retired the truck after it topped 2.8 million miles, but it's become a fixture at antique shows since. It's equipped with a 340-hp Caterpillar and a 9-speed transmission.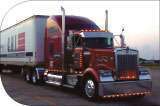 Pet Peeve
James Regalado of Thonotosassa, Fla., drives this 2007 Kenworth W900L for Wurth Brothers Inc. With a 13-speed transmission and a 500-hp Cummins, it hauls electronics, oversize machinery and building kits.

Fine 389
This 2012 Peterbilt 389, owned by Valley Transportation and driven by Grand Meadow, Minn., resident Trever TerMaat, hauls oversize farm and construction machinery in the Midwest. It's powered by a 500-hp Cummins and 18-speed transmission.
SUBMIT YOUR PHOTO To display your truck online and have it considered for Overdrive's Truck Gallery, go to the Reader Truck Gallery at www.OverdriveOnline.com.
"According to FMCSA stats, there are approximately 0.0046 deaths per 100 million miles of vehicle travel as a result of tired truck drivers. About 1/6 of those involved a tired trucker who was in hours violation. And that's good reason to force putting $5,200 EOBRs in every truck, yet allow kids to continue down the highway texting away? Do the math. We're being eliminated by Big Trucking interests. This isn't even remotely about safety."
— Webb Kline, owner of Pennsylvania-based Cream of the CropTransport, at OverdriveOnline.com, about the DOT's ban of handheld cell phone use while driving
CALENDAR
FEB. 3-4: MID-WEST TRUCK & TRAILER SHOW, Peoria Civic Center, Peoria, Ill., www.mid-westtruckers.com.
MARCH 6-8: THE WORK TRUCK SHOW, Indiana Convention Center, Indianapolis, www.ntea.com, (800) 441-6832.
MARCH 11: DAYLIGHT SAVING TIME BEGINS. Move clocks forward one hour.
MARCH 22-24: MID-AMERICA TRUCKING SHOW, Kentucky Exposition Center, Louisville, www.truckingshow.com, (502) 899-3892.
APRIL 13-14: ATHS CHAPTERS SOUTHEAST REGIONAL TRUCK SHOW, I-40 exits 392 or 294, Knoxville, Tenn., (865) 789-7771.
APRIL 27-29: 75 CHROME SHOP ANNUAL TRUCK SHOW, I-75 exit 329, Wildwood, Fla., www.75chromeshop.com, (866) 255-6206.
MAY 19: ATHS SHENANDOAH VALLEY CHAPTER TRUCK SHOW, Lawn Party Grounds, Green Street, I-81 exit 240, Bridgewater, Va., (540) 478-4389, oldtrux4me@yahoo.com.
JUNE 10: ATHS METRO JERSEY CHAPTER, Automatic Switch Co., Florham Park, N.J., (973) 726-4586, thomasmulligan@msn.com.
JUNE 14-16: GREAT WEST TRUCK SHOW, Sands Expo & Convention Center, (888) 349-4287, www.greatwesttruckshow.com.
JULY 12-13: WALCOTT TRUCKERS JAMBOREE, Iowa 80 Truck Stop, I-80 Exit 284, Walcott, Iowa, www.iowa80truckstop.com.