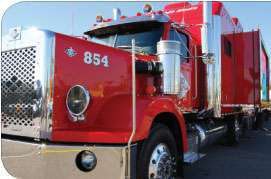 'Red Giant' makes big boast
In addition to being the hauler that carted "Ice Road" Trucker Alex Debogorski on his 2010 book tour, Wisconsin-based owner-operator Bryan Dax bills his "Red Giant" 1990 Diamond Reo as the "largest truck in the world." The 430-inch wheelbase is underpinned by an extra axle and filled out by a mammoth sleeper.
Following the Reo's decades of service hauling refrigerated commodities, it now serves Dax's Reo Mobile Media business, displaying advertising on both sides of the cab. At the Chrome & Class Truck Show in Nashville, Dax said he was planning a nationwide truck stop tour with the truck. Follow Reo Mobile Media on Facebook for more on where to meet the giant in person.
How High Am I
If you've ever asked that question after loading a car hauler or an expensive piece of machinery on
an open-deck trailer, Oregon-based Stephen Rowe has a product for you. His Auto Hauler Supply company's new Life Saver Height Stick responds to customers' requests for a more durable, functional height stick with a bright orange fiberglass construction. It measures up to 15 ft. and is also marked in meters. It collapses to just under 5 feet.
Yes, he's still making music
In 1991, singer-songwriter Tony Justice opened for Charlie Daniels at a music festival. The


veteran player advised him, "I'd tell you to ask yourself one question: If you knew beyond a shadow of a doubt that you'd never make it, would you still be doing it?"
Morristown, Tenn.-based Justice has been driving trucks since 2000, today as company driver for B&B Transport, and he's penned many a tune on the road, he says. One of those, the rockin' country "Peterbilt 379," is on a record available at Pilot Flying J locations. Justice's "On the Road" disc might be a standard-bearer for a new generation of classic country-inflected trucking music. Check out samples via reverbnation.com/truckerjustice and Overdrive videos of Justice in action at overdriveonline.com.
GAUGES
Income goes up in third quarter
Strong freight demand spelled more miles in the third quarter for dry van and reefer owner-operator clients of financial services provider ATBS. Miles dropped only for flatbedders. Income per month rose slightly in all three segments in the third quarter.
Beautify each month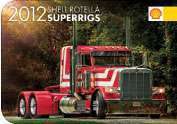 The 2012 Shell Rotella SuperRigs calendar, featuring photos of 12 custom working trucks, is available for $10 plus shipping and handling via www.rotella.com. The cover highlights the 2011 Peterbilt 389 of White Bear Lake, Minn.-based Joe Rondeau. October features Jerry Heiderscheit's 2003 Peterbilt 379, the Best of Show winner from this summer's SuperRigs competition at the Kenly 95 Petro in Kenly, N.C. Mail orders include a mini-calendar for the dashboard.
Loads in your palm
A new freight matching app for Android phones from Anderson Trucking Service's brokerage wing,

ATS Logistics, connects owner-operators to the company's pool of brokered freight. The free app allows load searches based on location, desired search radius and load type, emphasizing van, flatbed, reefer, and specialized and heavy haul. Scan the QR code with your Android phone or search "ATS Freight Match" in the Android market to download the app.
Tools for the road
Since the Truck Stop Coupons app launched for iPhone and Blackberry devices, it's expanded and


changed its name to Trucker Tools. You'll get access to a comprehensive truck stop guide with real-time fuel prices and traffic as well as weather forecasts and a message board. Scan the QR code for the new Android app or search in associated apps markets on your phone. The app (pictured) was created by Overdrive publisher Randall-Reilly Business Media and Information and partners.
A tank to bank on
Single-truck independents are a rarity in tank hauling, partly because of the expense of the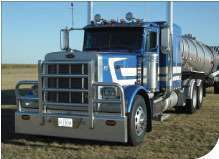 equipment. For example, Kansas-based Dan Bollinger paid $35,000 six years ago for a two-compartment, 6,000-gallon 1999 Polar tank. That was quite an expense for a seven-year-old trailer with more than 700,000 miles on it.
"The barrel itself was in good shape, but some cross-members in the frame were rusted pretty bad," he says. In the first year, he put around $7,000 into refurbishments.
On the bright side, says Polar sales manager Willie Graham, an ex-driver himself, most tanks can be counted on to last. "Vans and flatbed have a seven-year lifespan," Graham says. "Tank trailers better last 20 years. Typically one will outlast five trucks."
Resale values are great, note Graham and Bollinger. Though he's put on 760,000 miles since he bought it, "I could easily get $40,000 in resale out of it today," Bollinger says. "A new Polar like this would be around the mid-70s in price. By the time you got it plumbed and set up to work, you'd have close to $80,000 in it."
Salve for your shifting hand…
And your soul, says the maker of a line of shift knobs built from rocks. "If I'm ever stuck in traffic or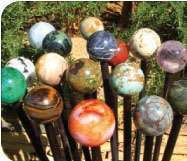 I'm stressed out by circumstances in my life, the mere acts of looking at and touching one of these shift knobs drains away the stress," the maker notes on its website, gemstoneshiftknobs.com. You may never need to buy another, either. About a $209 knob built from petrified 225-million-year-old wood from Madagascar, the maker says it "will match Mother Nature and offer a 225-million-year warranty on it."
Q Do hydrogen-adding technologies work to boost fuel mileage?
A Some research shows hydrogen slightly improves diesel combustion, but the improvement may not be significant enough to warrant all the equipment necessary to separate it and meter it back in. Hydrogen does not add any energy. It only helps the fuel burn a bit faster and more completely. Diesel is two-thirds hydrogen anyway, so the probability that such a system will help the engine to run differently is likely to be small.
Ideally, the maker of such a system — those I've seen separate hydrogen from distilled water and meter it into the intake system — will have had an SAE Type II test to verify any mileage increase. Review the results. Then consider the cost of the system, including installation, and recurring costs, like distilled water and maintenance. You should also find out the system's power draw and evaluate whether you'd need to install a more powerful alternator to handle it without strain. Also, check with your engine manufacturer to make sure doing this won't void your warranty.
Got a vexing maintenance or technology question for Overdrive Equipment Editor John Baxter? Post it in the comments on the Overdrive Extra blog (overdriveonline.com/overdrive-extra) or email to tdills@rrpub.com. Keep tuned to the blog for the response.
CHANNEL 19
The other 'victim' in accident lawsuits
"How many times a day do you hear TV ads from lawyers making statements such as 'big trucks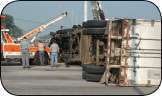 can cause serious injuries?' " asked Bill Hughes, a reader of the Nashville-based Tennessean newspaper. "I think it's high time that these lawyers lighten up on their ads."
One commenter on the letter at the newspaper's website, identified as "Witch_Doctor," said it's a shame such ads don't include testimony from the lesser-known "victim" that can result from such lawsuits, such as: "Due to an accident I was involved in, I received $666,000, and my attorney, Mr. A., received his cut of $333,000 for his/her 85 hours of work, most done by his secretary, while not suffering one ounce of pain." See the Sept. 28 entry on the Channel 19 blog for links to the letter to add your own 2 cents.
For this driver, it's CSA
Think FMCSA isn't serious about added driver responsibility for violations in this Compliance, Safety, Accountability era? During the Truck Driver Social Media Convention in Tunica, Miss., Oct. 15, Trans Products/Trans Services regulatory manager Rich Wilson spoke of a carrier who'd recently undergone a CSA intervention equivalent to a full-blown compliance review. A driver with the carrier was assessed a $1,400 bill from the agency for a 70-hour violation uncovered during the review. Former owner-operator Wilson called the occurrence unprecedented in his many years of dealing with regulatory issues. "I've never seen the drivers" fined so directly after a compliance review, he noted. The carrier passed the compliance review with flying colors. For more from the October meeting, see the Oct. 15 and 21 entries on the blog.
Whoa there, puppy!
Is a television show about truck stop life good for the industry's image?

Absolutely not, says Bruce "Bandit" Wieser, proprietor of the Dispatch Me Home social website. He says the "Truck Stop Missouri" show on the Travel Channel is a "grossly poor supposed look at the trucker and trucking industry" and likened it to a local circus atmosphere. One of a few episodes he watched, Bandit says, focused on the heat and employees' efforts to "curb a dog that felt the need to urinate on the corner of the Travel Stop building."
On the other hand, Joe Bechtold, general manager of the Midway Travel Plaza truck stop that's featured on the show, says it presented a positive image.
Decide for yourself: You can hear more from Bechtold, as well as Weiser's responses, by checking the Oct. 5-6 entries on the blog.
TRUCK GALLERY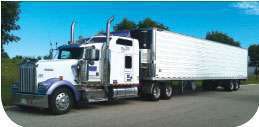 Plum Crazy
Husband and wife Charlie and Jeanetta Wilson of Tamms, Ill., dubbed this 2000 Kenworth W900L Plum Crazy for the touches of purple on its body and on the 525-hp Caterpillar under the hood. With a 13-speed transmission, the engine powers the Wilsons' produce hauls between Michigan and Georgia, Florida and Washington.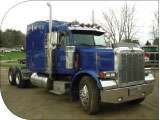 The Young Gun
"I just got my CDL less than a year ago," says owner-operator Jim Pettus of the name of his 2003 Peterbilt 379. After someone called him young gun, "it just kind of stuck." The 21-year-old Reinholds, Pa., resident hauls regional loads with 525 horses of Caterpillar power and a 13-speed transmission.

Rough & Ready
Mercer, Maine, resident Zachary Thompson uses his 2005 Freightliner FLD120 as the cornerstone of his Rough & Ready Trucking. Powered by a 600-hp Caterpillar and an 18-speed transmission, the truck hauls logs, chips and trash intrastate.
SUBMIT YOUR PHOTO To display your truck online and have it considered for Overdrive's Truck Gallery, go to the Reader Truck Gallery at www.OverdriveOnline.com
CALENDAR
FEB. 3-4: MID-WEST TRUCK & TRAILER SHOW, Peoria Civic Center, Peoria, Ill., www.mid-westtruckers.com/mid-west-truck-show.html.
MARCH 6-8: THE WORK TRUCK SHOW, Indiana Convention Center, Indianapolis, www.ntea.com, (800) 441-6832.
MARCH 11: DAYLIGHT SAVING TIME BEGINS. Move clocks forward one hour.
MARCH 22-24: MID-AMERICA TRUCKING SHOW, Kentucky Exposition Center, Louisville, www.truckingshow.com, (502) 899-3892.
APRIL 13-14: ATHS CHAPTERS SOUTHEAST REGIONAL TRUCK SHOW, I-40 exits 392 or 294, Knoxville, Tenn., (865) 789-7771.
Electrical system PM to prevent corrosion
With states boosting usage of magnesium and calcium chlorides to de-ice roads, maintaining brass and copper base materials in the contact pins in your electrical system's plugs in winter has
never been more ugent. Phillips Industries' Qwik Tech Tips newsletter (phillipsqwiktechtips.com) recommends the following steps to clean and maintain the system.
• Apply dielectric grease to every plug and socket to keep moisture out and increase energy flow.
• Change plug ends every six months to even out plug degradation.
• Clean and grease the seven-way plug interface at PM intervals, or every three months – more often with heavy exposure to de-icing chemicals.
• Wash cables, plugs and sockets more frequently in winter, but avoid power washing. If water gets into areas where it can't drain, it can also cause corrosion.
.