Paying too much for too little
"If you looked at each individual 18-wheeler and the taxes that the trucker pays – fuel, tolls, this and that, permits and all the crap they have to put up with – we ought to be able to pave every inch of the U.S. with the money we get from truckers. But … only 20 to 30 cents of each dollar goes toward something truckers need. It's just ridiculous." — Charlie Daniels
Actor with 'square jaw' once wrote for Overdrive
Actor and former Overdrive correspondent Charles Napier died in Bakersfield, Calif., Oct. 5. He was 75.
Napier was in his mid-30s when he worked as a correspondent for Overdrive, a job he took after appearing in the 1970 flick "Moonfire," a trucking-themed movie produced by Overdrive founder Mike Parkhurst. He's perhaps best known for his roles as one of the Good Old Boys in "The Blues Brothers" and the lead intelligence officer in the "Rambo: First Blood Part II."

Keep those thumbs on the wheel
If you've been tempted to text while driving, you'll appreciate the clever message from high school science teacher Marsh Carroll. ZoomSafer, a fleet software provider, commissioned Carroll to do a song and video supporting the anti-texting


message. Carroll, a stand-up comedian in his spare time in Manitoba, Winnipeg, went to his science students, who put together drawings that told of a truck driver's journey through the temptation of texting across the United States. Carroll, with his son Gil on guitar, did the music. Scan this code to view the video on your smartphone, or search "Won't Start Texting" on youtube.com.
GAUGES
Chicago leads nation's bottlenecks
Routes in Chicago, Fort Lee, N.J., and Houston head 2010's worst bottlenecks for truck freight, says the American Transportation Research Institute. With I-290 at I-90 and I-94 in the Windy City being the most congested road, trucks crawled at little more than 22 miles per hour during rush hour. Over last year, 250 locations were monitored to document chokepoints at peak travel times.
"The impact of traffic congestion on truck travel is well-known, but rarely in a fashion where we can pinpoint projects for resource allocation and reconstruction," says Keith Bucklew, Indiana DOT's multimodal planning manager.
Ten most congested highways
Chicago I-290 at I-90/I-94
Fort Lee, N.J. I-95 at SR 4*
Houston I-45 at U.S. 59
Houston I-10 at I-45
Houston I-10 at U.S. 59
Gary, Ind. I-65 at I-80
Austin, Texas I-35
Chicago I-90 at I-94 North
Atlanta I-285 at I-85 North
Chicago SR 60 at SR 57
*State Route
Rates stabilizing
Shipping rates fell by 3 cents and 1 cent in the flatbed and reefer segments, respectively, from August to September, while jumping 3 cents in the dry van markets.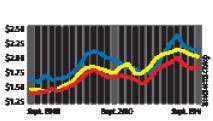 Oct. 3, 2011 diesel price averages
Credit where credit's due
When John "J.W." Jackson joined George Bennett Truckline in 1960, he was part of a five-truck fleet. More than 50 years later, Jackson's still there with what is now Bennett Motor Express and 575 drivers.
Jackson, a McDonough, Ga., resident, was working at Robins Air Force Base with a desire to see the world when George Bennett offered him his first trucking job. He has since driven more than 1 million safe miles. An owner-operator since 1974, Jackson says the key is to take his time and do the best he can.
"I put it in the hands of the good Lord," he says. "Every time I get ready to go somewhere, I ask to get back home."
In 2008 Jackson won the company's J.D. Garrison Commemorative Award, named after J.D. Garrison, who bought Bennett Motor Express in 1974. Jackson is known for loyalty, perseverance and flexibility, says spokeswoman Asia Rambo, adding that Jackson and Garrison "built this company together."
— Christi Cowan
App nails freight location
The developers of the free See It Ship app for the iPhone and Android devices aim to give


independents a way to provide a real-time window into trip progress. The app utilizes the location capabilities of smartphones and the See It Ship app's website (seeitship.com), which receivers/shippers will utilize for tracking your arrival simply by entering the tracking number you provide them from the app.
CHANNEL 19

Don't get burned!
Next time you hear the term "hot load," check out plaintiff's attorney Kent Emison's Aug. 29 story in the National Law Journal. He details how legal teams working truck accident cases have access to vast amounts of data on over-the-road drivers. "Every time that they swipe a card, make a call, an email, a text-message, that is data that goes somewhere," he says. Emison hopes a growing awareness of this will give a driver leverage over a dispatcher who would pressure the driver to work beyond hours of service limits. If you do and an accident happens, "you're going to get caught," he says. For a link to his law journal story, and more about this novel "hot load" strategy, see the Sept. 6 entry on the Channel 19 blog.
Trucking for kids
Need something to help teach the kids about what you do? On Jim Gill's

most recent CD/DVD, "Music Play for Folks of All Stripes," an interactive tune called "Truck Stop" schools listeners in the basics of trucking. As with many of Gill's tunes, adults are coached toward leading kids through imaginative play. In this case, that means pretending to be trucks and drivers. It's better described by a video of Gill and company doing the jazzy tune live with parents and children. Find it in the Sept. 23 entry on the Channel 19 blog, with mini-reviews of a couple classic trucking books for the kids. Or scan the QR code here to bring it up direct on your smartphone.
Dr. Love's prescription for Louisiana roads
"Bad roads tear us up. They make our health bad, our vehicles bad, and the freight we're carrying [bad]. I just want you to see how rough it can be." So goes a piece of Dr. B.G. Love's intro to a new video of a gut-rumbling 15 miles of I-55 South into Hammond, La. In the video, he tries to show the toll bad interstate highways can take on a driver's body. Find the video and links to Dr. Love's blog in the Sept. 12 entry on Channel 19.
For more of the interesting and odd parts of trucking, visit Senior Editor Todd Dills' Channel 19 blog at OverdriveOnline.com/channel19.
Better Health
Right-size your diet
EXERCISE PORTION CONTROL. If you too often wind up with big helpings, invest in a food scale and measuring cups. These tools will teach you the most about sizing your meals to meet your weight loss goals.
ORDER AN APPETIZER. When eating out, order an appetizer and a side dish instead of an entree. Smaller dishes make for a more reasonably sized meal.
COUNT CALORIES. But if you do, be wary of any nutrition labels on restaurant menus. Researchers say more than 20 percent of menu items averaged 100 calories more than what the restaurants claimed. To be safe, cut your meal in half to ensure the healthiest portion size.
INDULGE IN MODERATION. Don't completely give up on your favorite desserts. Just learn to eat them in moderation.
Sign up for daily health tips via Overdrive sister magazine Truckers News at truckersnews.com/healthtips
To Toll or Not
Bad, bad idea. The Northern Virginia corridor is already over-stressed, over-exhausted, with traffic during the morning and afternoon rush hours. Expect U.S. 301, U.S. 1, and other main drags now already full to get even worse.
— William McKelvie on Overdrive's Facebook page in response to news Virginia was pursuing tolling I-95 under a federal pilot program. Pennsylvania tried the same thing on I-80 – three separate times, striking out after wide owner-operator protest.
Connect with other readers on Overdrive's Facebook page at facebook.com/OverdriveTrucking.
CALENDAR
NOV. 4-6: NATIONAL ASSOCIATION OF SHOW TRUCKS MECA SOUTH FLORIDA TRUCK SHOW, Florida 595 Truck Stop, 270 S. Burris Road, Davie, Fla., (305) 884-2028.
NOV. 5: ATHS PIEDMONT CAROLINA CHAPTER TRUCK SHOW, North Carolina Farmers Market, Colfax, N.C., (336) 431-6824.
NOV. 6: DAYLIGHT SAVINGS TIME ENDS. Turn clocks back an hour.
NOV. 8-9: SLEEP APNEA & INTERMODAL TRANSPORTATION CONFERENCE, Sheraton Baltimore City Center, Baltimore, (888) 293-3650.
NOV. 12: ATHS NORTHWEST CHAPTER ANTIQUE TRUCK SHOW, Walrath Trucking, Tacoma, Wash., (360) 866-7716.
MARCH 6-8: THE WORK TRUCK SHOW, Indiana Convention Center, Indianapolis, www.ntea.com,
(800) 441-6832.
MARCH 11: DAYLIGHT SAVING TIME BEGINS. Move clocks forward one hour.
MARCH 22-24: MID-AMERICA TRUCKING SHOW, Kentucky Exposition Center, Louisville, www.truckingshow.com, (502) 899-3892.
JUNE 21-23: GREAT WEST TRUCK SHOW, Las Vegas Convention Center, (888) 349-4287, www.greatwesttruckshow.com.
JULY 12-13: WALCOTT TRUCKERS JAMBOREE, Iowa 80 Truck Stop, I-80 Exit 284, Walcott, Iowa, www.iowa80truckstop.com.
TRUCK GALLERY
Strictly Business
"It's all about going up and down the road," says Ray Crandall of Jefferson, Wis., about this 2005 International 8600 he uses for Milwaukee Delivery Service. "There's no room for toys." Hence the "Strictly Business" moniker. The truck is powered by a 425-hp Cummins and a 10-speed transmission, hauling furniture and mail in the Midwest.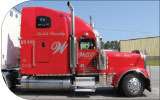 Miss Anna
Owner-operator Butch Weast of Charlotte, N.C., runs the Southeast with his 1999 Freightliner Classic XL, named after his daughter. It has a 500-hp Detroit Diesel and a 13-speed transmission, and Weast says he pulls anything he can put in a 53-foot dry van.

Back in Black
When Scott Gannon of Camden, Ohio, had work done to his truck recently, he gave it a new name. "It used to be red, and we just got it back from the shop from being painted, so now it's Back in Black," he says. The 1994 Freightliner FLD120 has a 425-hp Caterpillar and a nine-speed transmission. He hauls steel in the Midwest.
.SUBMIT YOUR PHOTO To display your truck online and have it considered for Overdrive's Truck Gallery, go to the Reader Truck Gallery at www.OverdriveOnline.com.

MAINTAIN TIRE PRESSURE
To reduce rolling resistance and save fuel, don't neglect trailer tires. The trailer may belong to your carrier, but why pay the extra fuel cost (to say nothing of possible safety risks) of pulling a trailer with under-inflated tires? Check air pressure in all 18 tires and ensure they meet manufacturer's specifications.
This tip comes from the Partners in Business program, which is produced by Overdrive and ATBS and sponsored by Freightliner Trucks, SelecTrucks and Ryder System.