Still truckin' at 82
Dale Tomb, shown with the 1988 Ford L9000 he drove then, was named Trucker of the Month in September 2001 as part of Overdrive's 40th anniversary celebration. The December 1961 cover featured his 1961 Kenworth.
When Dale Tomb's 1961 blue and white Kenworth ran on Overdrive's December 1961 cover, it was one of the first reader rigs to do so. "My secretary told me they were looking for trucks," he recalls. "We took that picture ourselves and mailed it in, and from there on out I guess it was luck."
The Negley, Ohio, resident managed to have seven of his trucks featured in Overdrive, testament to a career that has spanned 67 of his 82 years. But that first Kenworth cabover, his first new truck, still holds a special place in his memory of rigs.
"It was only three months old when the picture was taken," he says, "and the Freuhauf trailer I bought for it had aluminum sideboards. I felt pretty proud when I got that one."
Tomb lived in Western Pennsylvania then. He had been driving since 1944, before he was 16. He saved money he earned cultivating World War II's so-called victory gardens to buy his first used truck. He hauled steel and machinery on a flatbed and later began pulling reefers.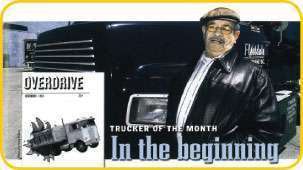 Most of his success as an owner-operator, with more than 6 million safe miles logged and several safety awards, has had less to do with luck than with perseverance and a positive outlook.
"It's such a changing environment, you have to look at it every morning," says Tomb, who for 23 years has been leased to Kandel Transport, based in Akron, Ohio. He says some people describe him as a workaholic, but notes, "Hard work and common sense are two of the main factors that keep you going."
When his wife, Sara, died nine years ago, he decided to continue trucking. "If you keep at it, that's half the battle, and keeping your mind active is important," Tomb says. In late June, he passed a medical exam and had already made plans for the Fourth of July. But he clarified that those plans were not festive: "I'm working!"