The real threat in distracted driving
Distracted driving has become a hotly contested issue and understandably so. In my 40 years of trucking, communication technology has seen dramatic development.
Many proposals have been made in defense of hands-free cell phones, but the real issue is overconfidence: It can be a killer. Whether you're driving an 18-wheel truck or a four-wheel car doesn't really matter. It is a driver's overconfidence in trying to make a left turn while eating a sandwich and talking on a cell phone at the same time – or reading a map and reaching for something else while driving – or any other activity that takes his attention away from driving that creates accidents.
In reality, none of us is capable of doing two or three things at once while driving. Anything else short of just driving is a distraction. I owe it to myself as a professional driver and to my family, my company and the motoring public to give 100 percent to the driving.
STEVE BAUER | Tallmadge, Ohio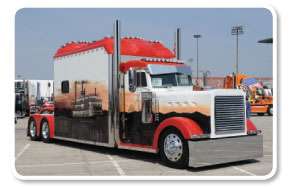 "Someone owes me a keyboard as I've filled mine with drool from this fine piece of iron."
— Bradley Acht, on YouTube.com
in response to watching a video of "The Gambler," Doug Fisher's 2007 Peterbilt 379
What impact did 9/11 have on you or your trucking business?

"Scared me to death… It made me watch out for my fellow drivers."
RODNEY ROBINSON
Calex Express
Lincoln, Del.

"It made me come out of retirement, actually."
MARK SAFLEY
Simon Trucking
Iowa City, Iowa
Responses from Overdrive's Facebook page: facebook.com/OverdriveTrucking

"I was in real estate then. You couldn't give away a house or property. I came into trucking because of that and have been an owner-operator since July 2003. I feel for all the owner-operators who lost business during that time."
MARK W. ARNOLD
Owner, All Ways Trucking | Bells, Texas

"I was pulling a food grade tanker. A lot changed and the cops were looking hard at the tanks. I had to always watch my back to make sure no one was following me or trying to steal my truck. Then I was a company driver in Battle Creek, Mich., which was scary because a federal building is there. Now I pull a hazmat tanker and it is just as bad if not more trouble."
HELEN McILVAINE JOHNSTON
Owner-operator leased to Dana Transport
Freeport, Pa.
Sleep apnea a bigger problem
"I think a much larger problem is sleep apnea. I was diagnosed with it three years ago, got treatment and now I sleep well every night. One large fleet estimates that 30 percent of its drivers have the condition. It that's true, then 30 percent of those drivers will still be fatigued, no matter what hours of service regulations get implemented… Change the direction of the proposed rule to allow and encourage drivers with a sleep problem to get help."
GARY FRAGODT
Sadieville, Ky.
Consider other safety measures
"We have operated under the same rule since it was changed in 2004. The amazing thing is that the safety numbers are better than they have ever been. If safety is important to federal regulators, they should assess automobile motorists, many of whom don't know basic rules of the road; require that new drivers go through more training; and assess time wasted at shippers and receivers."
RANDALL LEE HART
Cedar Spring, Mich.
Economic balance would suffer
"Changing the hours of service regulations would be a very bad idea for these reasons: A reduction in driving time and working hours would result in more inexperienced drivers on the road, and as a result highway safety would suffer. The proposed changes would be hard on the economy. Since the industry would have less capacity to haul freight, rates would rise. My family needs more income, not less.
"Critical parts of the nation's distribution network would be disrupted because current routes and distribution centers are placed for the current hours of service rules. Fewer driving and working hours amounts to a pay cut at a time when drivers' families are struggling to make ends meet."
CHRIS RHODES
Fortville, Ind.