Jamey Johnson will perform in a free concert for truckers sponsored by Mobil Delvac in Dallas. His latest release, Guitar Song, is available at jameyjohnson.com.
Outlaw Riding into Cowboy Country
Rolling Stone called him heir to Waylon Jennings and Merle Haggard, and that only begins to describe him. Mixing funk with a hard-bitten Outlaw Country style — "It might be lonely at the top, but it's a bitch at the bottom," runs a line from his Black Album — Jamey Johnson brings Alabama honky-tonk roots and Nashville swagger to the Great American Trucking Show in Dallas Friday, Aug. 26, in a concert free to CDL holders. Tickets will be available from 9 a.m. same day on a first-come, first-served basis at Mobil Delvac's tent in the lobby. More information: GATSonline.com.
Another dame on the Dalton
The latest season of the History Channel's "Ice Road Truckers" franchise brings stars of last fall's Himalayan adventure – Rick Yemm, Lisa Kelly, Alex Debogorski and Dave Redmon – back to
North America. They're squaring off with others in what the History Channel was promoting as a U.S. v. Canada duel, with U.S. drivers on Alaska's Dalton Highway and Canadian haulers running the Manitoba ice roads. There's a new competitor: ice-road rookie Maya Sieber, a New Yorker with a passion for big rigs (pictured, left, with Kelly) and plenty of pluck to give the vets a run for their money. The show premiered June 5 and airs Sundays at 9 p.m. Eastern and Pacific.
TIP: STOP AT THE TOP
For layovers, fuel-conscious operators try to avoid rest areas and truck stops situated in valleys, stopping whenever possible on hilltops or level ground. If you have to take a steep grade coming out of a truck stop compared to going downhill, the cost of getting up to speed can amount to several dollars.
The Partners in Business program is produced by Overdrive and the owner-operator consultants at ATBS, and is sponsored by Freightliner Trucks. Get a copy of the new 2011-12 edition of the PIB manual for owner-operators at the PIB seminar 2-4 p.m. Friday, Aug. 26, during the Great American Trucking Show in Dallas, or order a copy via piblive.com.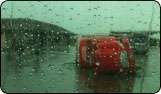 After near miss, a direct hit
Ozark Mountain Leasing driver Todd Arnold and his wife, Jamie, missed by hours the tornado that devastated the Glade Spring, Va., TA Petro on I-81 this spring only to take a direct hit in their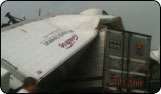 Freightliner Cascadia in Joplin, Mo., weeks later. The Cascadia emerged as one of just five or six rigs at the Pilot Flying J on I-44 that could be driven out, which was not the case for the rigs in these pictures, taken by Todd Arnold in the storm's aftermath. No serious injuries were reported at the truck stop, Arnold says. Read his harrowing account and related reporting in the May 23 and 24 entries to the Channel 19 blog, which links to organizations in local recovery efforts.

Truckers say no to human freight
Coinciding with the Mexican bust of two trailer-loads of would-be migrants to the U.S. in early May, Truckers Against Trafficking announced an initiative that shows headway made on the international issue of human smuggling. Chapter 61 Ministries, which formed the TAT group and also operates mobile chapels (pictured) via the Transport for Christ effort, is expanding its educational outreach. Training materials are being provided to TravelCenters of America to educate its workforce and help raise awareness about TAT's key issues. Find links to the organization's website and more about the initiative in the May 20 blog post.

That's no CB you hear squawking
A flock of geese has been grabbing the attention of drivers stopping at the Ft. Bridger, Wyo., TA on I-80. This photo, taken by Robinson Transport driver Bob McGilvray, was sent to Overdrive sister mag Truckers News' monthly photo challenge in December. Another, taken three months later, was a runner-up in March's challenge. The photographer, Yvonne Allen, runs with her husband, leased to Landstar Ranger. "I've seen birds begging for food at truck stops before, but these geese were a first," she said. "They were not afraid of the big trucks or the noise." Truckers News' challenge this month asks for driver photos on the theme of "summer." Find links to the magazine's Flickr.com group, where it hosts the contests, in the May 19 entry on the blog.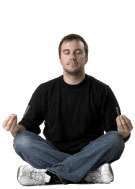 Reduce stress with meditation
Meditation isn't a complicated practice mastered only by a few. Approached methodically, meditation can reduce stress and increase a sense of well-being for anyone, says Elizabeth Harper, a nurse, yoga instructor and author of "Wishing: How to Fulfill Your Heart's Desires."
Meditation can reduce blood pressure, cholesterol, pain and depression. It also can improve concentration, sleep and immunity to infection. Try integrating meditation into your pre-driving routine, and repeat whenever possible:
1. Sit upright in a comfortable position and close your eyes.
2. Empty your lungs, then take a deep breath through your nose and into your belly. Hold this breath for a few seconds and then breathe out through your mouth. Deep breathing will help you relax and go deeper into meditation.
3. Focus on a sound or on your breath. Your breathing should normalize as you begin to feel a sense of peace.
For more of the interesting and odd parts of trucking, visit Senior Editor Todd Dills' Channel 19 blog at OverdriveOnline.com/channel19.
Different strokes
After 18 years out of the water, Indiana resident Siphiwe Baleka could no longer resist a first love: competitive swimming. "It was something I decided: Let me see if I can be a long-haul truck driver and compete," says Baleka, who sought out YMCAs for his training.
Leased to Prime Inc., the owner-operator won championships at the 2011 U.S. Masters Swimming Spring Nationals in Mesa, Ariz., on April 29. Baleka, 40, placed first in both the 50- and 100-yard freestyle events.
At 10, Baleka was already a champion swimmer in his home state, Illinois. In addition to playing multiple sports as a teen, he competed nationally in swimming. In college, he was on Yale University's swim team.
Taking initative is not unsual for Baleka, who changed his name from Tony Blake several years ago after he renewed ties to his African heritage. Consulting firm Fitness Trucking (fitnesstrucking.com), which he started last year, offers advice on nutrition, exercise and weight-loss plans for long-haul drivers. "For most truck drivers to be successful in any kind of nutrition or fitness program, it has to be convenient and it has to take little time," he says. "What I teach most truck drivers is how to do a workout right outside of your truck, because you can do that anywhere."
For starters, Baleka says, replace soda with water, eat every three hours so the body's metabolism doesn't slow down, and exercise at least 15 minutes a day.
Accidents are caused by driver fatigue, Baleka says.
"Just like you have to have a maintenance plan for the truck, you have to have different strategies for how to be a successful businessman," he says. "You have to have some kind of plan for how you're going to stay in shape on the road."
— Katherine Martin
GAUGES
Deadly cities
Premature deaths in 2010 attributed to traffic emissions

Fine particulate matter emissions from traffic congestion in the nation's 83 largest urban areas led to more than 2,200 premature deaths last year and $18 billion in costs. The estimates were made by Harvard University's School of Public Health. Fewer people are dying prematurely in recent years, the researchers say, due to more low-emission vehicles on the roads. Of the cities studied, Raleigh, N.C., is expected to experience the biggest rise in traffic congestion – 54 percent – in the next 20 years.
Reefer rates spike
Spot market rates for reefer segments gained 19 cents from April to May, an increase analysts
attribute in part to seasonal produce demand. Dry van rates rose 6 cents and flatbed increased 3 cents during the same period, according to Internet Truckstop. In mid-May, freight capacity reached its highest volume for one week in the last six months, TransCore says.
May 31, 2011 diesel price averages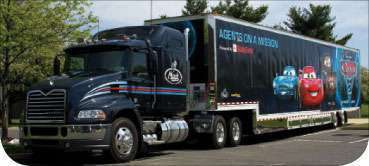 A Mack on a mission
What's 15 feet long, seven feet high and upward of 2,000 pounds heavy? The Mack Pinnacle tractor leading State Farm's Spring "Agents on a Mission" tour for the Cars 2 movie surely beat those dimensions when it stopped in Allentown, Pa., to show off life-size models of three of the film's main characters. Lightning McQueen, Mater and British super spy Finn McMissile were quite the attraction at Mack's Allentown Customer Center for dealers, customers, local leaders and their families. The Pinnacle subsequently took the tour to Los Angeles for the film's red-carpet premiere on June 18, stopping in more than two dozen U.S. cities.
CALENDAR
JULY 14-15: WALCOTT TRUCKERS JAMBOREE, Iowa 80 Truck Stop, I-80 Exit 284, Walcott, Iowa, www.iowa80truckstop.com.
JULY 15-16: ATHS CENTRAL COAST CHAPTER OF CALIFORNIA TRUCK SHOW, Trinity Hall, San Luis Obispo, Calif.
JULY 16: ATHS STEEL VALLEY TRUCK SHOW, Kenworth of Pennsylvania, I-70W exit 26, New Stanton, Pa., (412) 287-2110.
JULY 16-17: ATHS LONG ISLAND CHAPTER ANNUAL TRUCK SHOW, Hallockville Farm Museum, Riverhead, N.Y., (631) 821-4845.
JULY 17: ATHS UPPER DELAWARE VALLEY CHAPTER TRUCK SHOW, Green Acres Field, Honesdale, Pa., (570) 937-4162 or (570) 253-3564.
JULY 22-23: OLD TIME TRUCKS NATIONAL SHOW & EXPEDITE EXPO, Roberts Convention Center, Wilmington, Ohio, (765) 935-5301.
JULY 23: ATHS HIAWATHALAND CHAPTER TRUCK SHOW, Nuss Truck & Equipment, Highway 63 South, Rochester, Minn., (507) 421-3697.
JULY 23-24: ATHS PINE TREE CHAPTER TRUCK SHOW, Owls Head Transportation Museum, Owls Head, Maine, (207) 582-3224.
JULY 24: ATCA UNCLE SAM CHAPTER ANTIQUE TRUCK SHOW, Washington County Fairgrounds, Greenwich, N.Y., (518) 753-2169 or (518) 642-9437.
JULY 24: ATHS BLACK SWAMP CHAPTER TRUCK SHOW, Rimmelspach Produce, Fremont, Ohio, (419) 721-9204.
AUG. 12-13: WAUPUN TRUCK 'N' SHOW, Waupun, Wis., http://www.waupuntrucknshow.com, (920) 934-9985.
AUG. 25-27: GREAT AMERICAN TRUCKING SHOW, including Custom Rigs Pride & Polish National Championship, Dallas Convention Center, (888) 349-4287, www.GATSonline.com and www.prideandpolish.com.
TRUCK GALLERY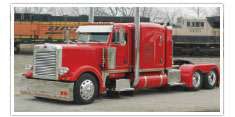 Molly
Centerville, Kan., resident Bob Morse says he "never expected to own something like this" 2010 Peterbilt 389. He's talking about all the aftermarket work he and his son, Levi, put into the truck. After a few lights and new exhaust pipes, Morse says "it just kind of took off and became a working show truck." Named after a friend, Molly is equipped with a 550-hp Cummins and an 18-speed transmission, hauling general freight nationwide.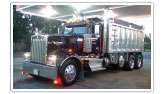 Humpin' & Dumpin'
This sand and stone hauler pierces the darkness with more than 160 lights, says owner-operator Randy Johnson of Cambridge, Md. He bought this 2005 Kenworth W900L, equipped with a 625-hp Caterpillar and 18-speed transmission, in 2009. Johnson has been working the concrete and stone yards for more than 20 years with his company, Dorchester Dumpin'.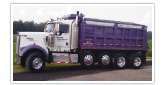 Will Work for Chrome
This 2005 Kenworth W900B, owned by Wally Austin of Bradford, Ohio, is powered by a 430-hp Caterpillar and an 8-speed transmission. The interior shows hardwood flooring and chrome gauges, air-conditioning vents and upholstery buttons. Austin says the truck hauls asphalt and stone for road projects "and looks good doing it."
SUBMIT YOUR PHOTO: To display your truck online and have it considered for Overdrive's Truck Gallery, go to the Reader Truck Gallery at www.OverdriveOnline.com.