Heister photographed this tornado from the Boyd terminal.
Trying to outrun a tornado
Overdrive's 2011 Trucker of the Year, Dan Heister, was loaded on I-65 southbound for Saginaw, Ala., April 27 when he spotted a big tornado in Cullman, Ala. "I kept the hammer down and got about four miles south of it" before it reached the Interstate, says Heister, a Boyd Bros. owner-operator. Then, while stopped at his carrier's terminal in Birmingham, he saw another twister coming, and "it went right over the top of our building," dropping a trailer on top of his load. For the rest of Heister's story, see the April 29 entry on the Channel 19 blog (overdriveonline.com/channel19) and search "Alabama tornadoes" for more about the disasters. Many truckers and fleets have brought aid to tornado victims throughout the Southeast, including victims of a massive tornado that tore a long path of destruction through the heart of Tuscaloosa, Ala., a few miles from Overdrive's headquarters.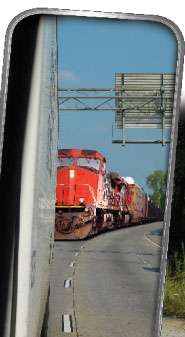 Will rail overtake trucking?
An April Business Insider website analysis, "Trucking running on fumes," concluded that rising fuel prices make trucking "one of the most inefficient" freight modes when compared to rail.
"When fuel prices shift materially," the analysis says, "it can cause retailers to begin rethinking their shipping priorities. Short-haul routes may still be a necessity, but when it comes to longer distance shipping, there are better alternatives."
OK, so that's why we see so many rail cars unloading behind retail stores? And that's why 70 percent of all freight tonnage in the United States continues to move by truck, in spite of significant fuel price hikes in the last decade?
Some investment analysts need to check their anti-truck rhetoric in at the nearest rail siding.
Bail to the trail
Itching to get away from the truck stop and do some pedaling? Anyone toting a bike can take advantage of the RideandRoll.me website, a new interactive map of trails and other cycling locations in easy proximity to truck stops. Fikes owner-operator Scott Grenerth hopes the map will grow as users recommend destinations. In April it contained nearly 30 locations entered by Grenerth and drivers Jeff Barker and Truckers News Marathon Trucker columnist Jeff Clark. For more, find them on Facebook: Search "Ride and Roll Cycling on the Road."
Sleep apnea monitoring is no dream
Indiana is alone among states in requiring a minimum usage level for state-licensed CDL holders who use continuous positive airway pressure (CPAP) machines to combat sleep apnea. The state's also aggressive in auditing drivers. Those documented as having apnea have been increasingly required to prove usage patterns with downloads from their CPAP machines. Some observers contend other states and perhaps the feds will follow Indiana's lead.
Cold freight, hot rates
Revenue per mile increased 11 cents in reefer segments from the fourth quarter 2010 to the first quarter 2011, based on averages of clients with ATBS, an owner-operator financial services provider. Nevertheless, rising fuel costs and short miles hurt the bottom line for reefer haulers and others. Cass Freight Index analysts say that while truck tonnage is continuing to grow and U.S. factory production is climbing, "the damper has been higher fuel prices and rising prices for food and other consumer goods."
Liners are easy on the face
For drivers using Continuous Positive Airway Pressure machines to combat sleep apnea, the new RemZzzs CPAP Mask Liners are designed to fit under the facemask to help eliminate noisy air leaks and prevent skin irritations and pressure marks. The liners fit ResMed Quattro, ResMed Ultra Mirage, Respironics ComfortGel and Respironics ComfortFull 2 machines. Find more at www.remzzzs.com or call (517) 990-3132.
CHANNEL 19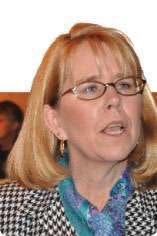 "Shippers should be held accountable."
— Anne Ferro, administrator of the Federal Motor Carrier Safety Administration, discussing detention time in a conference call of owner-operator members of the Trucking Solutions Group (www.truckingsolutionsgroup.org) and nearly 200 drivers. For further coverage of the call, see the May 10 entry on the Channel 19 blog.
Thieves getting brazen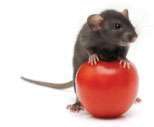 Reports surfaced in April from California to Florida about cargo-theft rings posing as legitimate freight companies – down to the U.S. DOT number – to make off with unusual commodities. "The high price of produce, especially for tomatoes after the deep winter freezes, has attracted more than heightened attention from consumers," William Neuman reported in the New York Times. For example, a "ring of sophisticated vegetable bandits" disappeared like rats in the night with $300,000 worth of brokered fresh tomato loads in Florida. For a link to the full story and more, see the April 25 entry on the blog.
Thank Wall St. for diesel prices

The run-up in diesel prices is remarkable in what it's revealing about the glacial pace of change in financial regulation. An April report on the Huffington Post said a prime contributing factor was the absence of congressionally mandated action by a February deadline from the Commodites Futures Trading Commission against oil speculators. What's more, Ed Wallace, writing in Bloomberg Businessweek in May, blamed the Fed's easy-money policies for the flood of speculative money in the oil market.
The coalition of fuel-user groups at S.O.S. ("Stop Oil Speculation") Now, which includes some trucking orgs, has been waging a campaign to get a fix. Check out the April 6 and May 5 entries on the Channel 19 blog for links to its website and other coverage of the issue.
CALENDAR
JUNE 7-9: 2011 ROADCHECK, nationwide truck and driver inspection program organized by the Commercial Vehicle Safety Alliance.
JUNE 9-11: GREAT WEST TRUCK SHOW, Las Vegas Convention Center, (888) 349-4287, www.greatwesttruckshow.com.
JUNE 10: ATHS SOUTHERN WISCONSIN CHAPTER TRUCK SHOW, Baraboo Steam and Gas Grounds, Baraboo, Wis., (920) 361-1666.
JUNE 11: THS COLUMBIA BASIN CHAPTER ANTIQUE TRUCK SHOW, Sacajawea State Park, Pasco, Wash., (509) 786-6908.
JUNE 11-12: ATCA CONNECTICUT YANKEE CHAPTER TRUCK SHOW, Bethlehem Fairgrounds, Bethlehem, Conn., (203) 790-4186.
JUNE 12: ATHS NORTHWESTERN ILLINOIS CHAPTER TRUCK SHOW, Dickson-Murst Farm, Montgomery, Ill., (815) 955-0052.
JUNE 17-18: ANTIQUE AND WORKING TRUCK SHOW, ATHS Music City Chapter in conjunction with Cumberland Plateau Antique Truck and Engine Show, Fairgrounds, Crossville, Tenn., (931) 200-3203.
JUNE 17-19: ATCA NATIONAL ANTIQUE TRUCK SHOW, Macungie Memorial Park, Macungie, Pa., www.antiquetruckclowofamerica.org.
JUNE 18: TRIBUTE TO THE TROOPS & TRUCK DRIVER APPRECIATION TRUCK SHOW, Waupaca County Fairgrounds, Weyauwega, Wis., (615) 406-3671.
JULY 14-15: WALCOTT TRUCKERS JAMBOREE, Iowa 80 Truck Stop, I-80 Exit 284, Walcott, Iowa, www.iowa80truckstop.com.
AUG. 11-13: SALT LAKE TRUCK SHOW sponsored by the National Kidney Foundation, Thanksgiving Point, Utah, (800) 877-1320, www.saltlaketruckshow.com.
AUG. 12-13: WAUPUN TRUCK 'N' SHOW, Waupun, Wis., http://www.waupuntrucknshow.com, (920) 934-9985.
AUG. 19-21: NAST BIG RIG TRUCK SHOW, Eau Claire, Wis., (715) 832-6666 or (800) 727-4488.
AUG. 25-27: GREAT AMERICAN TRUCKING SHOW, Dallas Convention Center, (888) 349-4287, www.GATSonline.com.
AUG. 25-27: CUSTOM RIGS PRIDE & POLISH NATIONAL CHAMPIONSHIP, Dallas Convention Center, www.prideandpolish.com.
SEPT. 16-18: RICHARD CRANE MEMORIAL TRUCK SHOW, St. Ignace, Mich., info@stignace.com.
SEPT. 30-OCT. 1: GUILTY BY ASSOCIATION TRUCK SHOW & Customer Expo, Joplin, Mo., www.chromeshopmafia.com, (888) 875-7787.
OCT. 7-8: CHARLOTTE DIESEL SUPER SHOW, zMax Dragway, Charlotte Motor Speedway, Concord, N.C., www.dieselsupershow.com.
OCT. 15: TRUCK DRIVER SOCIAL MEDIA CONVENTION, Gold Strike Resort & Casino, Tunica, Miss., www.truckingsocialmedia.com.

Adequately muffled and looking sharp at 50
The nickname for Jacobs Vehicle Systems' technology has become so synonymous with engine brakes that city noise ordinances use "Jake Brake" in their signage. (Though as Overdrive's Lucinda Coulter pointed out in her August 2009 story, any significant noise is typically due to a faulty muffler.) This year, Jacobs joins Overdrive in celebrating a half-century of existence. The makers have revamped JakeBrake.com to coincide with the milestone and showcase the company's evolution. If you missed Overdrive Equipment Editor John Baxter's piece on the Jake Brake, visit OverdriveRetro.com and click "More Equipment Innovations."
For more of the interesting and odd parts of trucking, visit Senior Editor Todd Dills' Channel 19 blog at OverdriveOnline.com/channel19.
'Truck of the Year' gets its gear
What's it like to be a celebrity truck? Well, if you're the Kenworth T700 with the Paccar MX engine – named the 2011 American Truck Dealers Commercial Heavy Duty Truck of the Year – it means appearing on lots of merchandise. The truck is represented on a cap, T-shirt and key chain, and the MX on a jacket, cap, polo shirt, mug, water bottle and more. Visit www.ShopKenworth.com or call (877) 705-3314 to order.
Black Magic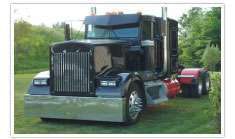 Terry Carnahan of Huntsville, Mo., hauls feed, grain and fertilizer with his 1995 Kenworth W900. After a friend dubbed it "Black Magic," Carnahan added decals to make it official. The truck is equipped with a 500-hp Cummins and a 13-speed transmission. "It looks like an old truck with a pissed-off attitude," Carnahan says. "A lot of guys say it looks like something out of a movie."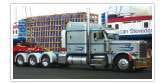 Heavy hauling
Uncasville, Conn., resident Matthew Frechette uses his 2001 Peterbilt 379 and a 2009 Talbert trailer to haul specialty machinery, jet engines and other equipment in the Northeast. The truck is powered by a 500-hp Caterpillar and an 18-speed transmission.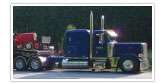 Poverty
Steel and equipment hauler Jim Stannard runs the Great Lakes region in his 2003 Peterbilt 379, which is powered by a 475-hp Caterpillar and an 18-speed transmission. The Brownsville, Ontario, resident says he lavishly decked out the inside with a black and blue interior, vinyl-wrapped dash, hardwood flooring and low-rider seats. Of the truck's name, he says, "It makes everybody laugh."
SUBMIT YOUR PHOTO: To display your truck online and have it considered for Overdrive's Truck Gallery, go to the Reader Truck Gallery at www.OverdriveOnline.com.