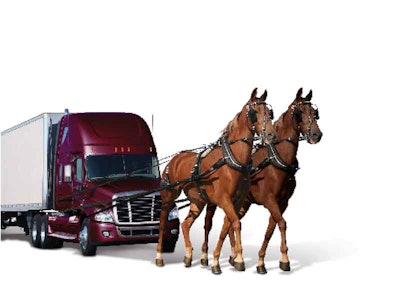 Now that's horsepower
Sometimes, the best solutions are the simplest. Or that's one way of looking at a video posted to YouTube by Joel Appleman of Ottawa, Pa., showing a tractor/tank combination pulled out of the snow by a "few extra horses." While out taking photos in the snow, Appleman came across an Amish man on a stand-up cart driving horses "to the rescue. I thought I would stick around to see what might unfold. Glad I did." Check out the video in the March 10 entry on the Channel 19 blog.
Onboard recorders and pay
"In theory, EOBRs would seem to be a good idea: force everyone into complying with the hours-of-service rules, and the 'outlaws' would be shut down, thereby pushing the pay of legal drivers upward. The big flaw in this theory is that EOBRs can be manipulated also. I know of a large company using EOBRs that changes its electronic logs on a regular basis to show that it is in compliance when it is not… Real wages have gone steadily down regardless of the promises of the CDL and hazmat programs."
­— Driver Rob Thomason, commenting on
Editor Max Heine's March 25 Overdrive Extra blog post on OverdriveOnline.com.
Big Kitty Purrs in Vegas
"No one knows heavy-duty like Caterpillar," says the promo video for the new Cat Class 8, the CT660. You can read all about it on Page 38, but for video glimpses of it, including its introduction in Las Vegas, visit drivecat.com.
Channel 19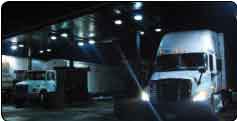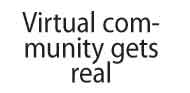 Drivers on Facebook, Twitter and other online communities are "becoming the media" every day, but few are as far ahead of the curve as Allen and Donna Smith. They've got a driver issues-centered blog, AsktheTrucker.com; an online talk show; and thousands of Facebook fans. Now they are injecting real-world interaction to the virtual online world with their Truck Driver Social Media Convention, Saturday, Oct. 15, at the Gold Strike Resort and Casino in Tunica, Miss. The $89 fee covers meals and interactive presentations aimed at helping you impact your industry. Registration deadline is June 1. Details are in the March 28 Channel 19 blog.
Trucker's novel revisits Civil War era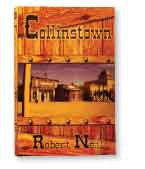 Greatwide-leased owner-operator Bob Grantham, based in San Antonio, Texas, calls the evocative writing in his new Collinstown novel an "unintended consequence of being a truck driver." From Treble Heart Books under the "Robert Neal" pen name, the novel follows the intertwining lives of a current and former Texas Ranger facing divided loyalties to state and country — and each other — at the outbreak of the Civil War. Working as a company driver for J.B. Hunt in the 1990s, Grantham placed as honorable mention in the Mark Twain writing contest run by Truckers News. After that, he pursued writing fiction in earnest. Find links to the Collinstown Amazon order pages ($13.50 in print, $7 in Kindle edition) at robertneal.info. For more about the book, see the March 18 entry on the blog post.
Come on in!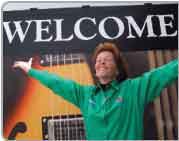 It's "awesome" to be back up, said Virginia Kirk, manager of the TravelCenters of America C-store and fuel islands in Nashville, Tenn., during the reopening in March. The store endured floodwaters in May 2010 and was closed for nine months. For more on the reopening, including photos of the redesigned Music City-themed stop and its flooding, see the the Feb. 15 and March 8 entries on the Channel 19 blog.
HOW-TO Catch A/C Problems
Cab air conditioner refrigerant is under more than 30 psi even when the system is idle. When it leaks, so does the oil. The fluids remaining in the system absorb water from the humidity in the air, producing corrosive acid. Here are some routine maintenance tips:
1. To keep compressor shaft seals lubricated even in winter, make sure you turn the A/C system on for a few minutes at least once a month.
2. Inspect hoses, connections and other components every month. Any leak produces an oil film, which attracts dirt. It also pays to have the system inspected by a licensed refrigeration mechanic at least once a year.
3. Check the appearance of the dot on the sight glass. When the system is dry, the dot is blue or aqua and it changes to pink or white when the dryer becomes saturated.
4. Inspect compressor mounts and belt-tensioning systems. Belts should have no cracks or glazing. Carefully check condenser mounting bolts and brackets. Vibration is one of the system's enemies.
5. The clutch engage should grab in a second or two, with only momentary slippage. Slow or partial clutch engagement may indicate an electrical or mechanical problem that could cause component failures, often non-warrantable.
6. Recharge yearly, having the system evacuated and the oil inspected for color.
— John Baxter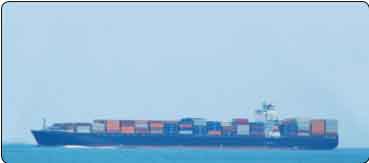 Vanished into ultrathin air
News outlets in Kuala Lumpur, Malaysia, said 700,000 Sagami Rubber Industries-produced ultrathin condoms were stolen from a cargo container en route to market from the Japanese manufacturer's Malaysia plant. As reported by Antara News, officials with Sagami say "the prophylactics, which it bills as being 14 percent thinner than conventional ones, are worth $1.5 million at Japanese retail prices."
TIP: LIMIT IDLE TIME
The average owner-operator, idling about five hours a day for a year, adds the equivalent of 18,000 miles of wear and tear on the engine, says Argonne National Laboratory. Cutting idling to zero eliminates that wear, extends your oil-drain interval and saves nearly $6,000 in fuel with diesel at $4. If you're not ready to invest in a cab heater or auxiliary power unit, consider getting a remote starter (about $80) with a temperature sensor that starts the truck at a specified temperature.
This tip comes from the Partners in Business program, which is produced by Overdrive and the owner-operator consultants at ATBS, and is sponsored by Freightliner Trucks. The next live PIB seminar will be 2-4 p.m. Friday, June 10, during the Great West Truck Show in Las Vegas.
Truck fatalities fall to a record low
The rate of truck-related fatalities in 2009 fell to the lowest levels since first being recorded in 1975, the National Highway Traffic Safety Administration reports. The number of miles traveled also dropped from about 311 billion in 2008 to 288 billion in 2009.
The number of deaths fell 14 percent from 2008 to 2009, down to 3,380 fatalities from 4,245, according to analysis of NHTSA data by the American Trucking Associations.
Rates spike in March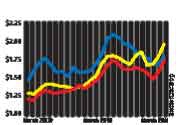 Shipping rates increased substantially from February to March: 10 cents per mile for reefer, 15 cents for dry van and 16 cents for flatbed. March freight volume was the highest since TransCore's North American Freight Index was formed in 1986, the load-matching service reported, and its record of truckload freight availability was the highest for any single month except October 2005.
CALENDAR
MAY 6-7: MIDWEST PRIDE IN YOUR RIDE TRUCK/TRACTOR SHOW, Tri-State Raceway, Earlville, Iowa, (563) 580-8200.
MAY 21: ANTIQUE & WORKING TRUCK SHOW, ATHS Music City Chapter, Ward Agriculture Center, Lebanon, Tenn., (615) 330-0475.
MAY 21: ANNUAL TRUCK SHOW, ATHS Greater Cincinnati Chapter, Howard Trucking Co., Fairborn, Ohio, (937) 878-6154.
MAY 21: LESTER J. BROWN MEMORIAL SHOW of ATHS Piedmont Carolina Chapter, North Carolina Transportation Museum, Spencer, N.C. (336) 431-6824.
MAY 21: TRUCK/TRACTOR SHOW of ATHS Shenandoah Valley Chapter, Lawn Party Grounds, Bridgewater, Va., (540) 292-1058.
MAY 21: ATHS NORTHWEST ILLINOIS TRUCK SHOW, Route 39 and Baxter Road, Rockford, Ill., (815) 734-4529.
MAY 26-28: ATHS NATIONAL CONVENTION & ANTIQUE TRUCK SHOW, St. Joseph County 4H Fairgrounds, South Bend, Ind., (816) 891-9900.
JUNE 2-4: Shell Rotella SuperRigs, Kenly 95 Petro, Kenly, N.C., rotella.com.
JUNE 3-4: ATHS DERBY CITY CHAPTER TRUCK SHOW, Shelby County Fairgrounds, Shelbyville, Ky., (502) 939-8883.
JUNE 3-5: NATIONAL ASSOCIATION OF SHOW TRUCKS GREAT LAKES TRUCK SHOW, Dundee, Mich., greatlakestruckshow.com.
JUNE 4: ATHS NORTHWEST CHAPTER PARADE, Shelton, Wash., (360) 866-7716.
JUNE 5: ATHS METRO JERSEY CHAPTER ANTIQUE TRUCK SHOW, Automatic Switch Co., Florham Park, N.J., (973) 726-4586.
JUNE 5: ATHS OCEAN STATE VINTAGE HAULERS CHAPTER TRUCK SHOW, Johnson Memorial Park, Johnson, R.I., (401) 822-4966.
JUNE 9-11: GREAT WEST TRUCK SHOW, Las Vegas Convention Center, (888) 349-4287, www.greatwesttruckshow.com.
JUNE 10: ATHS SOUTHERN WISCONSIN CHAPTER TRUCK SHOW, Baraboo Steam and Gas Grounds, Baraboo, Wis., (920) 361-1666.
JUNE 11: ATHS COLUMBIA BASIN CHAPTER ANTIQUE TRUCK SHOW, Sacajawea State Park, Pasco, Wash., (509) 786-6908.
JUNE 11-12: ATCA CONNECTICUT YANKEE CHAPTER TRUCK SHOW, Bethlehem Fairgrounds, Bethlehem, Conn., (203) 790-4186.
JUNE 12: ATHS NORTHWESTERN ILLINOIS CHAPTER TRUCK SHOW, Dickson-Murst Farm, Montgomery, Ill., (815) 955-0052.
JUNE 17-18: ANTIQUE AND WORKING TRUCK SHOW, ATHS Music City Chapter, Fairgrounds, Crossville, Tenn., (931) 200-3203.
JUNE 17-19: ATCA NATIONAL ANTIQUE TRUCK SHOW, Macungie Memorial Park, Macungie, Pa., www.antiquetruckclowofamerica.org.
JUNE 18: TRIBUTE TO THE TROOPS & TRUCK DRIVER APPRECIATION TRUCK SHOW, Waupaca County Fairgrounds, Weyauwega, Wis., (615) 406-3671.
JULY 14-15: WALCOTT TRUCKERS JAMBOREE, Iowa 80 Truck Stop, I-80 Exit 284, Walcott, Iowa, www.iowa80truckstop.com.
AUG. 19-21: NAST BIG RIG TRUCK SHOW, Eau Claire, Wis., (715) 832-6666 or (800) 727-4488.
AUG. 25-27: GREAT AMERICAN TRUCKING SHOW, including Custom Rigs Pride & Polish National Championship, Dallas Convention Center, (888) 349-4287,
www.GATSonline.com and www.prideandpolish.com.
SEPT. 30-OCT. 1: GUILTY BY ASSOCIATION TRUCK SHOW & Customer Expo, Joplin, Mo., www.chromeshopmafia.com, (888) 875-7787.
OCT. 15: TRUCK DRIVER SOCIAL MEDIA CONVENTION, Gold Strike Resort & Casino, Tunica, Miss., www.truckingsocialmedia.com.
Glory in the Sunshine State
The 2011 Custom Rigs Pride & Polish show season kicked off last month in Wildwood, Fla., at the 75 Chrome Shop show. Mike Hug's 2007 Peterbilt 379 took home Best in Show in the Working Combo category, and Ron Huey's 2010 International ProStar won Best of Show in Working Bobtail. Pride & Polish – and the event's new National Championship qualifying shows – will resume in June at the Great West Truck Show in Las Vegas.
REDUCING BLOOD PRESSURE
Five routes to better heart health:
1. Maintain a healthy weight. The NIH recommends consulting a doctor to find out if you are in a healthy weight range, then losing weight gradually and at a healthy pace if necessary.
2. Be physically active. The recommended amount of daily exercise is only 30 minutes.
3. Eat healthy. This means less saturated fat, total fat and cholesterol, and more fruits, vegetables and low-fat dairy foods.
4. Decrease sodium intake. Find alternates to salty spices to flavor foods, or use garlic or onion. Look for reduced-sodium options in pre-packaged foods and at restaurants.
5. If you drink alcohol, do so in moderation. The recommended maximum is one drink per day for women and two for men.
How to maintain trailer power connection
The seven-way electrical cable carrying power to your trailers gets plugged and unplugged umpteen times during its life. Standard design sockets don't always hold up well, so many fleets use sockets with split pins. This design allows a user to "spread the pins" when the connection between the plug and socket has deteriorated, extending its life. To keep the plug and socket connection as robust as possible:
• Insert a flathead screwdriver a quarter-inch between every split pin. Don't force the screwdriver too far and risk damage that could result in a nonwarrantable issue.
• Apply pressure to spread the pins slightly.
• Clean the socket and plug connection using a plug brush or a socket/plug cleaner.
• Re-grease the connection with dielectric grease and connect.
TRUCK GALLERY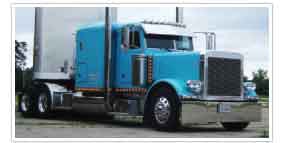 BIG FISH
Meriden, Iowa, resident Matthew Cronin hauls livestock in the Midwest with this "Sea Monster" 2003 Peterbilt 379. The name comes from the sea-foam color, he says. "I'd seen a truck with a color like this once," Cronin says. "It's different than everything else – that's what I liked about it." The truck is equipped with a 750-hp Caterpillar and an 18-speed transmission.
HAULING EARTH
Chuck Armes of Oakland, Calif., owns this 2003 Peterbilt 379, to which he has added an 18-in. bumper, 8-in. straight pipes and a 14-in. drop visor. The truck is powered by a 550-hp Caterpillar and an 18-speed transmission. Armes hauls contaminated soil within California.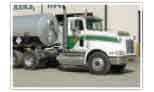 HOT ASPHALT
Matt Mason uses his 2005 International 9100 to haul hot asphalt mix in his hometown of Sellersburg, Ind. He also pulls a cement tanker. The truck is powered by a 450-hp Cummins and a 13-speed transmission.
SUBMIT YOUR PHOTO: To display your truck online and have it considered for Overdrive's Truck Gallery, go to the Reader Truck Gallery at OverdriveOnline.com.