EOBR's accuracy will cut both ways
Electronic onboard recorders, fortunately, will even the playing field, put bad companies out of business and expose bad conditions, such as long waits and unrealistic schedules. But more expense and lost revenue will result.
All truckers have delays – shippers, weather, breakdowns – that affect our wallets. Most people acknowledge that to deal with delays, creative logging has been a mainstay of the industry.
Many drivers will find electronic logging to be too constrictive. They will leave trucking because they will suffer for following the rules. We must stop ignoring trucking's biggest issue, which is the many hours of uncompensated time that truckers put in.
JOHN SCOTT | Owner-operator leased to Landstar | Mt. Morris, Ill.
"It still makes your money look like it's worth-less."
— Veteran trucker Don Schwartz, telling KFOXTV in El Paso, Texas, about diesel prices' recent spike.
Unfair rates need to stop
Too many large carriers quote rates cheaper and cheaper. Yet they expect increasingly more from drivers and leased operators, such as lighter trucks and trailers to accommodate the carrier's needs.
Fuel keeps rising, but rates and fuel surcharges don't, and carriers keep what increases there are. Many managers and dispatchers have never driven a tractor-trailer and often are unsympathetic with the complexity of running legally.
Also, in some states, road taxes and permit fees are excessive. Some have flat rates up to certain sizes and weights. Some charge a lot of money to move trucks weighing more than 80,000 pounds.
I'm married to an owner-operator and have been an over-legal permit specialist for nearly 26 years. Often I hear horror stories from truckers of what their companies expect from them. These unfair expectations and rates need to stop.
SUE CHAMBERLAIN
Transwest Permit Service
Regina, Saskatchewan, Canada
What do you think of Congress' proposal to increase truck weight to 97,000 pounds for six-axle trucks?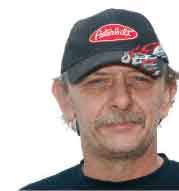 "I don't think they should do it. No one needs heavier loads. Are they going to help us pay for it?"
DUANE FREED | Orlando, Fla., Leased to Universal Am-Can

"If they raise weights, rates are going to drop. 80,000 pounds is enough. If they want heavier loads, they should pay the difference or give us a fuel surcharge."
STEWART BOLWARE, Norwood, N.C., Independent owner-operator

"I don't think the roads can take it. I don't think the caliber of drivers they got out there can take it. Are they going to increase length too? If not, I don't know where they're going to put [extra freight]."
PAUL JANSS, Watertown, Tenn., Independent owner-operator

"I've been an owner-operator for seven years, and the freight gets heavier and the rates get cheaper. I can't compete with the big companies that buy lighter trucks and trailers to satisfy their customers who already ask them to haul 46,000 pounds and more."
MARK ARNOLD | Bells, Texas | Independent owner of All Ways Trucking