Safety comes first
I have been an owner-operator for 12 years, but I recently had the scare of my professional driving career. While I was driving on I-675 in Atlanta, I was passed by about 12 sport motorcycles weaving in and out of traffic. The group cut right in front of me going, I'm sure, faster than 100 miles per hour. It happened so fast that I jumped. It could have made me lose control, but I didn't. I ride a Harley motorcycle myself and enjoy a good ride, but something should be done about that kind of reckless behavior on the Interstate.
Along with motorcyclists, I've seen a lot of tour bus drivers exceeding the speed limit by a large margin on the highways. I have never seen one of them pulled over and given a summons for any reason. To me, that is total disregard for the public driving on roads shared by both private motorists and commercial drivers.
While many truckers are complaining about all the work being done on our highways, the repairs are crucial for maintaining a good, working truck. Let's look forward to more road repairs being completed.
DONALD BROMILEY | Port Orange, Fla.
"People have been good to us down there, and we've made a living hauling their stuff."
— Buddy Allen, of North Ridgeville, Ohio, explaining to WKYC television his plan to haul tornado relief supplies to the South.
Self-defense
What do you carry in your truck for protection?
Pet — 4%
Mace — 3%
Nothing — 27%
Firearm — 31%
Tire thumper — 35%
Would you recognize your boss, dispatcher or fleet president if he or she went undercover, as on the "Undercover Boss" TV show?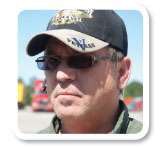 "My company is fairly big — I'd say it's about a medium-sized trucking company. I'd recognize him right away, though."
SUDS SUDINA
Canton, Mich. | A.D. Transport

"My immediate boss, yes. The CEO? Heck, no. Nobody knows who he is. This is a big company. I barely even remember his name."
DALE CLAYBON
Dallas | TruBlu Logistics

"Oh yeah. Our company's pretty small, so I'd recognize him."
JOHN BARBARISI
Largo, Fla. | TLI Freight Services

"I've seen him before. I think I'd recognize him."
BILL MAYNARD
Cumming, Ga.
Owner-operator leased to Dart Transit

"I'd recognize my dispatcher and my manager, but I wouldn't recognize the big boss."
JERRY RAGSDALE
Sharpsburg, Ga.
Owner-operator leased to Quality Drive-Away

"If it was someone I worked with daily, yes. If it was a person from corporate that we saw once a quarter or once a year…probably not."
— on Overdrive Facebook
ANDREA SITLER
Bedias, Texas | R & A Trucking