Trucker helps grant a wish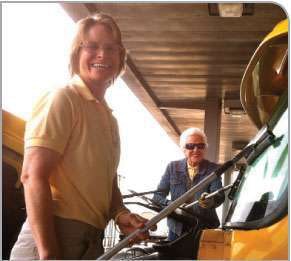 When 82-year-old Margarette Kirsch, with the help of the Twilight Wish Foundation, was granted her wish to roll across the country in an 18-wheeler, little did she know she'd get the opportunity to run with a bona fide "Truck Drivin' Mama." Though she's no longer a "gainfully employed trucker at this point" by her own estimation, Pennsylvania resident Annabella Wood (pictured, left, with Kirsch) continues to haul in a straight dump truck for a tree service company once a month or so to maintain her on-highway credentials. She spent nearly 30 years driving 18-wheelers, beginning as a company fuel-tanker driver in Los Angeles and ending with her own authority hauling dedicated for a technology trade-show touring company. Wood's also a musician with a new album, "Truck Drivin' Mama," available at annabellawood.com.
Bumpless, burnless
Two Auburn University researchers say it's time for the paving industry and governments that allocate funds for roads to step up to the plate. In a report to the National Asphalt Pavement Association, they say smoothing the pavement could save 3.3 billion gallons of fuel, a fourth of it diesel. Researchers Richard Willis and Rob Jackson calculate the savings at $12.5 billion yearly in fuel.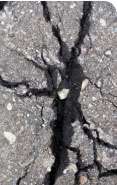 Whoa! And if you'd like to see a number with even more zeros at the end, that would be how much governments would have to spend to eliminate those fuel-robbing potholes and cracks.
Better health
How to cut tension, build confidence
• De-stress your neck. Your neck often takes the brunt of a stressful day. Relax those tense muscles by soaking a hand towel in hot water. Place the towel on the back of your neck and other tense areas. Let the heat help calm your body.
• Make your mantra. Find a saying that encourages you. "I think I can," "You can do this" or any self-encouraging phrase will help build confidence in yourself, improve your concentration.
• Find positive people. Relationships are important, but some take a negative toll. Surrounding yourself with friends who are encouraging, who make you happy and who are upbeat can improve your emotional health. Get rid of the other kind, where you can.
• Pat yourself on the back. Finally, don't be afraid to recognize your own accomplishments. Be the first to congratulate yourself on the little things for a job well done.
Right-side sweep needs practice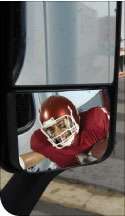 2009 Heisman Trophy winner Mark Ingram attempted a right-side pass, but failed when he hit Paul Clewis, who will stay on for the rest of the 2011 season. There were no refs on hand for this collision as Ingram's four-door Infiniti encountered the right front end of Clewis' tractor. Clewis, a long-haul driver and a Green Bay Packers fan, wasn't aware a New Orleans Saints football personality had hit him "until a reporter told him," wrote Lee Roop of the Huntsville (Ala.) Times on July 22. No one was injured in the crash.
TRUCK GALLERY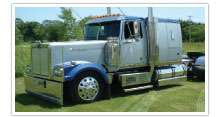 Cowboy blue
Scott Mueller chose the blue and silver paint on his 2007 Western Star 4900, bought new, to express his love for the Dallas Cowboys. A third-generation driver from Fremont, Wis., Mueller hauls equipment and machinery nationwide with the truck, which is powered by a 550-hp Caterpillar and an 18-speed transmission.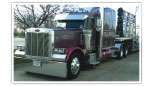 The Mistress
This 2002 Peterbilt 379, owned by David McDaniel of Jefferson City, Tenn., is equipped with a 550-hp Caterpillar and 18-speed transmission. McDaniel says he began adding parts right after he bought it in 2006. He's added 8-inch stacks, custom mud flaps and clear LED lights. He's installed chrome inside. McDaniel hauls glass from Tennessee to Canada.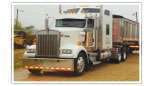 A Cadillac among dump haulers
Sara Hayes and her son Owen of Leesburg, Ga., dubbed their 2005 Kenworth W900L the Dump Bucket Cadillac. Owen likens operating the truck to driving a Cadillac and says it is one of the nicest pulling dump loads in south Georgia. The truck is powered by a 550-hp Caterpillar and a 13-speed transmission.
SUBMIT YOUR PHOTO To display your truck online and have it considered for Overdrive's Truck Gallery, go to the Reader Truck Gallery at www.OverdriveOnline.com.
'Come on back, truckers, and talk to Teddy Bear'
When we asked in July for the best classic trucking music, you responded loud and clear. With you, we longed for the comfort of home after six days on the road and shed a tear for young, crippled "Teddy Bear" and his faithful CB friends. We narrowed nominations to 10, took your online votes and here are the results.
Find links to MP3 downloads of each via the Aug. 4 entry on the Channel 19 blog: overdriveonline.com/channel19.
Overdrive's top 10 trucking songs

1. Six Days on the Road, by Dave Dudley (1963)
This classic, made popular by Dudley (pictured), was covered by artists such as Sawyer Brown and Steve Earle. It's lauded by drivers for its portrayal of the joy and hardship of the road — and the longing to get home.
2. East Bound and Down, by Jerry Reed (1977)
Reed's classic theme song in "Smokey and the Bandit" came in a close second.

3. Teddy Bear, by Red Sovine (1976)
This tells the story of a homebound boy whose trucker father was killed in an accident, and the driver friendships he cultivates via his CB radio.
4. Convoy, by C.W. McCall (1975)
The truck drivers' rebellion depicted in this No. 1 pop- and country-chart hit was the inspiration for the Sam Peckinpah film of the same name. Its dramatization of CB chatter between characters Rubber Duck and Pig Pen helped spur on that era's pop CB craze.

5. Roll On (18-Wheeler), by Alabama (1984)
The chorus of this gem, told from a trucker's child's point of view, is pure highway singalong: "Roll on highway, roll on along / Roll on daddy till you get back home / Roll on family, roll on crew / Roll on momma like I asked you to do.."
6. Prisoner of the Highway, by Ronnie Milsap (1984)
An evocation of the pull of the highway and the difficulty of the driving life.
7. Drivin' My Life Away, by Eddie Rabbitt (1980)
Inspired in part by Rabbitt's truck driving days when struggling as a songwriter in Nashville.
8 Movin' On, by Merle Haggard (1974)
Theme song to the trucking television show of the same name starring Claude Atkins.
9. Phantom 309, by Red Sovine (1967)
The tale of a hitchhiker's ghost trucking ride, a take on the iconic urban legend of the vanishing hitchhiker.
10. Give Me Forty Acres (To Turn This Rig Around), by the Willis Brothers (1964)
"Some guys can turn it on a dime, or turn it right downtown / But I need 40 acres to turn this rig around."
Freewheelin's top trucking tunes since 1985
The hits keep rollin'
Meredith Ochs and Chris T., hosts of the Freewheelin' show on SiriusXM's Road Dog Trucking Radio, Channel 106, put together their top 10 of songs from 1985 forward, with an emphasis on more recent tunes:
1. "Trucker's Lament," by Buck 65 (2007)
2. "I'm a Road Hammer," by the Road Hammers (2005)
3. "Asphalt Cowboy," by Jason Aldean (2005)
4. "Highway Junkie," by Chris Knight (2000)
5. "Let This Trucker Go," by Dale Watson (2009)
6. "Diesel, Diesel, Diesel," by Del Reeves and Jim Lauderdale (1996)
7. "Say a Prayer for Jason," by Barry Allen and David Ayers (2010)
8. "Gear Jammer," by George Thorogood (1985)
9. "The Worst Truck Driver," by Jack Grace Band (2010)
10. "Ice Road Trucker," by Johnny Neel (2010)
WOOF!
The best dog story contest
Tell us about your special four-footed friend and, if possible, send us a photo. You could win a contest sponsored by OverdriveRetro, our website dedicated to trucking history. Entries will be will be accepted through Nov. 30 and posted online and some in print. Four entrants will win OverdriveRetro T-shirts and other gifts. Send entries to Managing Editor Lucinda Coulter, LCoulter@rrpub.com, or to 3200 Rice Mine Road NE, Tuscaloosa, Ala., 35406. Include your first and last name, phone and email.
GAUGES
Strong Net Income
Strong rates enabled dry van, reefer and flatbed operators to see increases in net income in the second quarter, in spite of rising fuel costs and, for dry vans and reefers, a drop in miles during the first half of 2011.
The data is based on owner-operator clients of financial service provider ATBS.
Love at first cluck
Ever had someone offer over the CB to buy your truck? That's just what Tobby Donalson did in 1982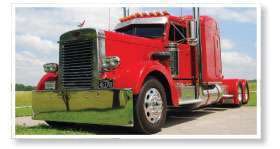 when he saw this needlenose 1959 351 Pete pulling chickens near Sneed, Ala. When the driver told Donalson it had a 290 Cummins in it, he had to have it. He put the motor in an old Kenworth he ran hard for many years. Now a retired independent, Donalson kept the tractor, transforming it into the finished custom ride pictured here, powered by a 425-hp Cat 3406B. For a full gallery of the immaculate interior and exteriors mods Donalson performed himself, see the July 25 entry on the blog. For a first-hand look, visit the Nashville Chrome & Class Truck Show Oct. 21-22.
Truckloads on the auction block
The eBay-like online-auction model of the uShip.com system has to date been used mostly by individuals and small businesses looking for a hotshot hauler. But Class 8 owner-operators should take heed: uShip is on a mission to boost commercial LTL and truckload freight volumes available for bid.
The man behind the mission is new Freight General Manager Charles Myers, a former president of GetLoaded.com. "I can't tell you how many times carriers would call and say, 'If the broker would just post the price, it would save me a lot of time,'" Myers says. He notes that uShip's auction model often starts with an offer price, carriers then bidding in real time, bringing more transparency to competition for the freight transaction.
For more of the interesting and odd parts of trucking, visit Senior Editor
Todd Dills' Channel 19 blog at OverdriveOnline.com/channel19.
CALENDAR
SEPT. 15-18: ATHS OZARKS 4-STATE ANNUAL STEAM-O-RAMA, Republic Steam Show Grounds, Republic, Mo., (417) 839-7649.
SEPT. 16-18: RICHARD CRANE MEMORIAL TRUCK SHOW, St. Ignace, Mich., info@stignace.com.
SEPT. 17: ATHS HEART OF DIXIE TRUCK SHOW, Highway 36 exit from I-65, Hartselle, Ala.
SEPT. 18: ATHS AUBURN HERITAGE TRUCK CHAPTER TRUCK SHOW, Paulding Historical Museum, Paulding, Ohio, (419) 399-5462.
SEPT. 22-24: ATHS CHAPTERS TRI-STATE ANTIQUE TRUCK SHOW, Stonewall District Ruritan/Frederick County Fairgrounds, (540) 478-4389.
SEPT. 23-24: ATHS MUSIC CITY CHAPTER ANNUAL TRUCK SHOW, Hyder-Burke Pavilion, Cookeville, Tenn., (931) 277-5177.
SEPT. 24: ATHS NORTH GEORGIA CHAPTER TRUCK SHOW, 4403 Highway 115E, Cleveland, Ga., (706) 865-7777.
SEPT. 24-25: ATHS HUDSON MOHAWK ANTIQUE TRUCK SHOW, Saratoga County Fairgrounds, Ballston Spa, N.Y., (518) 893-7804.
SEPT. 25: ATHS SOUTHEAST MICHIGAN CHAPTER TRUCK SHOW, Riverside Park, Ypsilanti, Mich., (734) 482-5200.
SEPT. 25: ATHS NORTHWEST INDIANA TRUCK SHOW, Sunset Hill Park, Valparaiso, Ind., (574) 287-8702.
SEPT. 25: TRUCKIN' FOR KIDS, Toyota Speedway, Irwindale, Calif., (888) 349-4287, www.truckinforkids.org.
SEPT. 30-OCT. 1: MACK DAYS, Gerhart's Lititz, Pa., (717) 626-8544
SEPT. 30-OCT. 1: ATHS HEARTLAND SOONER CHAPTER TRUCK SHOW, Petro Truck Stop, I-35 & I-40, Oklahoma City, (580) 658-3535.
SEPT. 30-OCT. 1: GUILTY BY ASSOCIATION TRUCK SHOW & Customer Expo, Joplin, Mo., www.chromeshopmafia.com, (888) 875-7787.
OCT. 7-8: CHARLOTTE DIESEL SUPER SHOW, zMax Dragway, Charlotte Motor Speedway, Concord, N.C., www.dieselsupershow.com.
OCT. 15: TRUCK DRIVER SOCIAL MEDIA CONVENTION, Gold Strike Resort & Casino, Tunica, Miss., truckingsocialmedia.com.