A trucking addict tells all
"You're a run junkie. Just what we're looking for." That's what Marc Mayfield's main terminal manager told him just weeks into his 10-year on-highway career. Retired since 2001, Mayfield has chronicled his million-plus-safe-mile highway addiction as company driver and leased owner-operator in his memoir, "In the Driver's Seat." Among the highlights: A marriage is stretched to the breaking point. Trucks are leased, hit in parking lots, sold. Lies are told, truths by the truckload revealed. Recounting his odyssey as "three-dimensional and in full color" was part of Mayfield's recovery challenge. Now, "I'd like to know if somebody wants to punch me in the nose and tell me I'm full of bull or that I nailed it. I'd love to hear from drivers." If you've got a non-violent response for Marc, write him at: marc@inthedriversseat.net.
Q What are the normal intervals for changing differential and

transmission oils?

A When you use synthetic lubes, it's usually at least 300,000 miles, and may be 500,000-600,000, depending on the exact specification of the fluid. Your owner's manual should specify all details. Mineral lubes need to be changed much more often (100,000 miles at least) because they break down from the heat, and normally don't make sense to use unless you need to change frequently because of contamination.
SEND US YOUR EQUIPMENT QUESTIONS. Stumped by a vexing maintenance or equipment problem? Get them answered by longtime Equipment Editor John Baxter. We'll be sharing the Overdrive Extra blog space with John's advice to readers. Email questions to tdills@rrpub.com or post in comments on the blog: overdriveonline.com/overdrive-extra.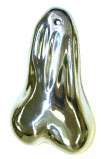 Big futz over 'truck nuts'
So-called "truck nuts," fake bull testicles that are available for purchase in various colors and finishes, are a common sight hanging from hitches of pickup trucks, and have been spotted for sale at more than one trucking show. They were also seen hanging from the pickup of 65-year-old Virginia Tice in Bonneau, S.C., in July. She was ticketed $445 for the hanging nuts by Bonneau Police Chief Franco Fuda. He cited state law prohibiting public displays of "sexual acts, excretory functions, or parts of the human body" that are offensive.
Charleston law firm Savage and Savage is representing Tice in a case both attorney Scott Bischoff and representatives of the plaintiffs requested go to a jury. "We'll let a jury decide whether this is really criminal behavior," Bischoff told reporters, adding: "I don't want to take anything away from the importance of free speech, but this is really comical."
GAUGES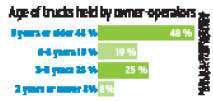 Truck trade cycles increase
Nearly half of owner-operators own a truck that is at least nine years old, according to Overdrive research. Trade cycles have lengthened in recent years due to the recession and the introduction of new emissions technology, which drives up prices for new trucks.
Freight in a slide
Dry van and flatbed rates each dropped 6 cents from July to August, while reefer rates decreased 5 cents during the same period, after dropping as well from June to July.
How to get – and keep – the contract
Success hauling with your own authority often requires negotiating contracts directly with shippers and keeping those contracts when competitors come prowling.
The father-son operation of John and Erick Engbarth learned this by experience. Erick makes regular hauls from North Carolina to California loaded with plastics and usually carrying motorcycles back.

When Engbarth Trucking first bid on a key contract with an N.C. manufacturer, the rate didn't exactly seal the deal, but the prospect of regular, dependable service did. With the promise of a truck every Friday, each of the Engbarths has loaded on alternating weeks virtually every week since 2003, with plenty of home time for both men.
Though competition has tried to "under cut the rate," says Erick, their service has kept them in freight. Features such as "not being late, taking care of the product, operating nice equipment, having a one-on-one conversation with them, just being able to talk to them about what they need and help them understand the trucking aspect of it" pay off.
After loading on July 29, for instance, the shipper noted at the last moment that a part at the front of Erick's van needed delivery sooner than his scheduled drops would allow.
"They decided to air-freight the piece," says Erick, which meant the entire trailer had to be unloaded, then reloaded. "It put me a little bit behind," he says, "but to keep hauling this stuff, which pays good, you don't want to cry about it."
He had no problems making his delivery on time.
— Todd Dills
Plinko at the truck show
At the Great American Trucking Show in Dallas, Wright Express reps, pushing the new OTR Pro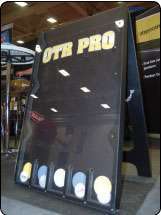 Fuel Card (otrprocard.com), channeled game show The Price Is Right with this Plinko board at their booth. Show attendees could compete for a Maglite and other prizes. The new OTR card is a credit product offering flat off-the-top per-gallon discounts to small fleets and owner-operators (with a $4 a month membership fee) at more than 700 truck stops. For more scenes from GATS, check out the Aug. 26 entry on the Channel 19 blog.
20 years driving, but still a 'rookie'
At the banquet and awards ceremony for the Minnesota State Truck Driving Championships this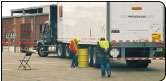 summer, to the surprise of Koch & Sons driver John Borman, the emcee "called my name as winner of the Rookie of the Year award." Strange, says Borman, considering his 20 years of on-highway experience.
Turns out that it was his maiden voyage through the competition that made him eligible for the honor. He also bagged a Second in the Sleeper Berth category.
Check out the Aug. 15 entry on the blog for his inside look at the championships. Next year, Borman says, he hopes to make it to the Nationals, scheduled for his home state.


iPhone app computes axle weights
The Scale It smartphone application is a quick cheat that allows you to input the different weight readings you get as you roll onto platform scales. The app then does the math for you to determine axle-group weights, saving time and ensuring accuracy. If it's 2 in the morning, and/or five other trucks are lined up behind you, "it's easy to make mistakes," says John Christner Trucking driver Jerry Wilks, programmer/developer of the iPhone app. It's 99 cents in the iTunes app store. Scan the QR Code with your phone to download, or visit scale-it.limelightapp.com. For information on apps with similar functionality for Android phones, see comments on the Aug. 8 entry on the blog.
For more of the interesting and odd parts of trucking, visit Senior Editor Todd Dills' Channel 19 blog at OverdriveOnline.com/channel19.
—— HEALTH TIPS ­­­——
Call it quits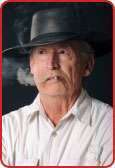 Trying to give up tobacco? Research shows telephone hotlines can help increase the success rate of those trying to quit the habit. Get free phone counseling by calling 1-800-QUIT-NOW.
This tip comes from our sister magazine Truckers News' new Daily Health Tip offering. Sign up for email delivery of the tips at truckersnews.com/healthtips.
GET YOUR THIRD.
The average ATBS client nets only 32 cents for every dollar of gross revenue. That leaves 68 cents

for business expenses. If your net is significantly lower than 32 percent, determine where you can cut costs. You may have a spending problem you can cure by adjusting personal habits, such as dining out too much, or business habits, such as idling too much. Not sure if you're netting almost a third of what you bring in? Get your accountant to help you organize a profit and loss statement.
This tip comes from the Partners in Business program, produced by Overdrive and the owner-operator consultants at ATBS. It is sponsored by Freightliner Trucks, SelecTrucks and Ryder System.
TRUCK GALLERY
Shanghai Rooster
This1992 Peterbilt 379 was named after its previous owner's CB handle. Jack Handy, known as
the the Shanghai Rooster, passed the truck down to his grandson, current owner Shawn Carroll, who converted it into a tandem dump in 2006. Carroll's driven the truck since he was 18. The rig has a 13-speed transmission and a 425-hp Caterpillar, and Carroll uses it to haul sand and gravel.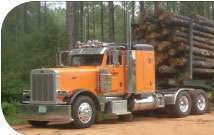 Orange Crush
Heath Stagg of Cuthbert, Ga., hauls pulpwood around the Southeast in this 2005 Peterbilt 379. The truck's equipped with a 475-hp Caterpillar and a 10-speed transmission, and Stagg says he plans on adding a few upgrades, including old-school 359-style headlights.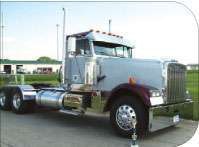 Always at home
Harlen, Iowa, resident Jim Behrens' 2005 Freightliner Classic XL rarely leaves his corn and soybean farm. The truck is powered by a 640-hp Caterpillar and a 13-speed transmission.
SUBMIT YOUR PHOTO To display your truck online and have it considered for Overdrive's Truck Gallery, go to the Reader Truck Gallery at www.OverdriveOnline.com.
CALENDAR
OCT. 7-8: CHARLOTTE DIESEL SUPER SHOW, zMax Dragway, Charlotte Motor Speedway, Concord, N.C.,
OCT. 8: ATCA EASTERN SHORE CHAPTER TRUCK/TRACTOR SHOW, Tony Tank Tribe 149, Redmens Lodge, Fruitland, Md., (302) 242-3544.
OCT. 8: ATHS BLUE MOUNTAIN CHAPTER TRUCK SHOW, Southeast Washington Fairgrounds, Walla Walla, Wash., bluemtchap@360comm.net.
OCT. 9: ATHS PIONEER VALLEY CHAPTER TRUCK & TRACTOR SHOW, Dufresne Park, Granby, Mass.,
(413) 330-8189.
OCT. 14-15: ATHS WESTERN NORTH CAROLINA ANNUAL TRUCK SHOW, Old High School, Cherokee, N.C.,
(828) 421-9399.
OCT. 15: COTTONWOOD ANTIQUE TRUCK SHOW, Oxendale Chrysler Dodge Jeep, Cottonwood, Ariz.,
(928) 634-3656.
OCT. 15: ATHS NORTHERN CALIFORNIA CHAPTER TRUCK SHOW, Porter Welding, Orland, Calif.,
(530) 865-8631.
OCT. 15: TRUCK DRIVER SOCIAL MEDIA CONVENTION, Gold Strike Resort & Casino, Tunica, Miss., www.truckingsocialmedia.com.
OCT. 21-22: CHROME & CLASS TRUCK SHOW, Rush Truck Center-Nashville, Smyrna, Tenn., (615) 220-7777.
OCT. 21-22: CONVOY FOR A CURE USA, Texas Motor Speedway, Ft. Worth, convoyforacureusa.com or
(903) 288-0374.
NOV. 4-6: MECA SOUTH FLORIDA TRUCK SHOW, Miami, nastshowtrucks.org or (305) 884-2028.
NOV. 5: ATHS PIEDMONT CAROLINA CHAPTER TRUCK SHOW, North Carolina Farmers Market, Colfax, N.C.,
(336) 431-6824.
NOV. 12: ATHS NORTHWEST CHAPTER ANTIQUE TRUCK SHOW, Walrath Trucking, Tacoma, Wash.,
(360) 866-7716.