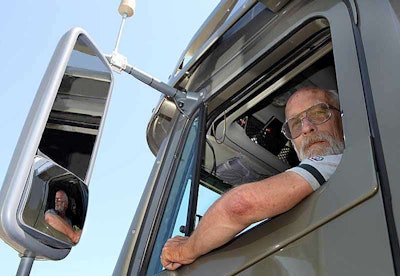 "We like to tease Stewart because he says his hobbies are, first: working on his semi, and second: working on his hot rod," says Steve Parsons, operations manager for the Tacoma terminal of Interstate Distributor Co.
Enjoying truck maintenance has paid off well for Bob Stewart, who's owned only three trucks in 28 years.
Years before buying the first, Stewart joined the U.S. Job Corps in 1973 and went to driving school. Upon completion, he couldn't find a job, so he went to work for the state of Washington. For 10 years, he worked as an accident reports editor and a motor pool manager, to name a few of his jobs.
In 1984, fed up with state bureaucracy, he bought his first big rig, a 1978 International cabover. Leased to West Coast Trucklines, Stewart soon found that he was good at driving, but he lacked in other areas.
"I'm a great driver, but lousy at business, so I went to driving for companies for a while," Stewart says. "I hauled explosives for Pacific Powder, which involved driving to blast sites and helping powder-monkeys blow up whatever they needed to."
Although the job was a high-paying one, the hauls were seasonal, and Stewart soon switched to hauling for Nalley's Fine Foods. Stewart ran routes all over the West until 1988, when the company went non-union.
The next day, Stewart began driving for Interstate Distributor.
"When you have kids in diapers —you've got to keep a job," Stewart says, and he did, staying employed since the first day he started driving.
Stewart began work as a company driver and became a heavy-haul trainer in 1993. In 1997, Stewart bought his second truck, a 1997 Freightliner Century.
"Back then, I was hauling anything that would sit in a trailer – more or less what I still do," Stewart said, who pulls a dry van.
Besides his month-long hauls, Stewart occasionally runs a sleeper team with his friend and fellow driver Bill Murray.
His stories about trips with Murray are varied, from rolling the truck during icy weather to hitting a deer on another run.
Murray recalls how he was driving when they hit the deer. He pulled over to make sure nothing had been damaged, and a state patrolman came upon the scene.
"When we got back on the road, Bob chuckled and said, 'He asked me if we had hit that deer, and I wanted to say no, we just stopped to give it its last rites.'" Murray says.
Stewart bought his current truck, a "Marine Corps-tan" 2007 Freightliner Columbia, with a 515-hp Detroit Diesel and 13-speed transmission, in 2008. His wife christened it "Goldie."
Stewart's tips for good mileage include accelerating smoothly and never being in a rush. Since many of his hauls take him to California, he was able to procure a government grant to pay for 40 percent of his $14,000 APU.
Stewart doesn't have a CB handle, but the radio did come in handy for one facet of his life: meeting his wife.
While Stewart was working for Nalley's, he met Janet Bowman, who had a home-based CB near Olympia. The pair talked on the CB for about three years before meeting face-to-face. They married in 1992.
Of his five children, 18 grandchildren and English sheepdog named Toby, all but one child and one grandchild live within two miles of his home.
Stewart said he enjoys a month-long driving period due to two reasons, though: decreased time dealing with customers and being left alone to do the job.
"Downsides of driving long hauls are that you have to have dependable equipment, and you absolutely cannot slack on repairs," Stewart says "I firmly believe in preventative maintenance like a religion."
He gets oil changes every 15,000 miles and goes bumper to bumper with a regular checklist each time he is home. Stewart also has one shop that does all repairs, except for the engine, which he has done at a factory-owned shop.
With a net income of approximately $38,000 in 2011, Stewart has found a routine for handling his income, too. He uses Quicken software, where all of his expenses are broken down by category. A service called Nothing but Trucks does his taxes.
Stewart reminds owner-operators to carefully research the carrier they are going to work for and talk to several of the company's drivers.
"Some companies don't take care of their drivers or their trucks – you'll see rolling wrecks on the highway," Stewart says.
It's important to find a niche and stick with it, he says, and to stay loyal to a company if possible.
Stewart's high-value hauls have included varied products, from the world's largest Gameboy to two Dale Chahouli glass chandeliers.
He's worked with charities, as well. He was one of the original Trucker Buddies and participates in the Washington Special Olympics convoy annually, to name a few.
Parsons says Stewart is absolutely the mold of what a professional driver should be. "He goes above and beyond expectations by taking care of customers, participating in community service activities, and always bringing a great work ethic to the job," Parsons says.
It took him quite a while to find the niche he wanted, but now that he has, the road runs pretty smoothly for him.
Bob Stewart
1954: Born in Olympia, Wash.
1973: Joined the U.S. Job Corps and began driver training
1984: Bought first truck, a 1978 International cabover
1988: Began working for Interstate
1992: Married wife Janet
1993: Became a heavy-haul trainer for Interstate
2008: Bought 2007 Freightliner Columbia
Bob Stewart is a finalist for the 2012 Owner-Operator of the Year award, which is sponsored by Overdrive and the Truckload Carriers Association. The winner will be announced at TCA's annual convention, March 3-6, 2013, in Las Vegas.