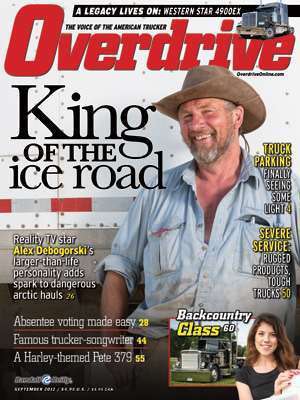 The following letter came in from Jim Mesthene of Waltham, Mass., in response to Overdrive Editorial Director Max Heine's Pulse column in this month's issue, which ran alongside a round-up of voices on the inclusion of Jason's Law trucking parking legislation in the highway bill — expected to deliver no small amount of tax dollars to truck parking initiatives on the National Highway System.
I read your screed against government in the September issue of Overdrive magazine, equating money with achievement and claiming all credit for private commercial activity. I found it amusing that it was published on the opposite page from a celebratory article about how the federal government was going to subsidize truckers (and trucking companies) with millions of dollars of free parking spaces. Will it be OK for regular citizens to use these spaces, or is this an exclusive benefit for the business you claim needs no help? Remember that most business travelers don't get the government to pay for their lodging.
Don't get me wrong — I want the truckers to get the help. I just wish they and you didn't badmouth the government that educated them, gave them roads to drive on and is now going to give land and money for parking at great cost to the public.
All I'm saying is that the public needs trucks and truckers, and truckers need what the public pays for. The public will is expressed through government, not talk radio. –Jim Mesthene, Waltham, Mass.