Best driver appreciator in the trucking game?
Earlier this month, we asked Overdrive Facebook fans to put a shout out to the trucking company owner (other than themselves) who did driver appreciation the right way. Among the salutes were Billy Fannin's to Frontier Transport of Indianapolis – "Always great," Fannin said – and Rebecca Allison's kudos for her husband's current carrier, Tim Ables Trucking of Gladewater, Texas. "But," Allison said, "he will be forever grateful to the man who gave him his start – 'Big Daddy' Dwaine Easley of Canton, Texas, who treated him like a favored son." Among the perks with Easley's outfit were top, well-maintained equipment, maintenance bonuses for drivers and more. "May he rest in peace."
I am a 44-year-old driver with 20 years' experience and have had my share of driving jobs. I started as a rookie straight out of truck driving school and was hired by Benny Whitehead Inc. in Eufaula, Ala., in 1993 and, for various reasons, switched jobs — I'm currently (the third time) working with Benny again! When I started he operated about 25 trucks governed at about 74 mph, and today he has grown to about 70 trucks hauling produce for Publix grocery, mainly, from the East Coast to the West Coast and back.
He is best known for how he specs and operates his equipment to get what I think is amazing fuel economy! Of course, governed speed has dropped to 62 mph, but these days with high fuel prices I think a lot of people are following suit.
I was hired in December with my fiancée, who was fresh out of school. We were given a new ProStar Eagle loaded with everything, and as of last week, with our truck having only 135K, it was sold and we were given a 2013 International LoneStar (pictured, below) with more chrome than your typical chrome shop! And from the ProStar to the more bulky long-nose-type LoneStar, fuel mileage still increased from 7.5 to 8 mpg initially. Now we're doing better than that, at 8 to 9.5 on mileage loaded! It continues to boggle my mind how that's possible.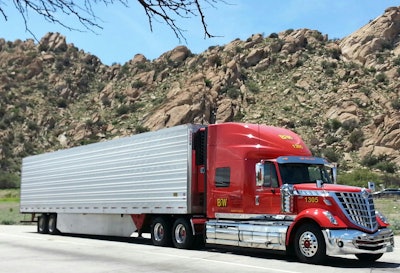 Benny continues to grow and stay way in the black — and pays his drivers very well when mileage numbers are achieved. I currently average $1,200 to $1,500 a week, and I'm asked every week when loaded on the West Coast, "When you're empty, what day and date are you ready to go back west."
I am continually surprised at the open-door policy they have here – Benny, who is trying to retire while his children run the operations, can often be found hanging around the terminal sitting and just talking to drivers, making sure they are treated right and all expectations are being met. I could go on and on about the good things I have witnessed here. A good place to work! —Richard Hearn, Panama City, Fla.