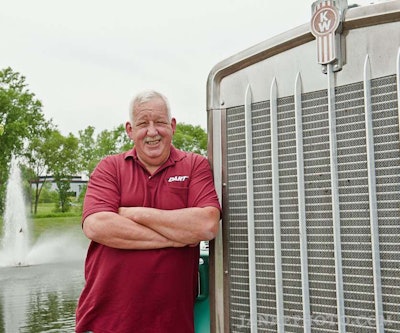 Eight years ago, Minneapolis-based Brad Chapdelaine heard a broadcast about truck convoys one day while driving. He went to his carrier, Dart Transit, in search of a way to get involved. They gave him the money to enter a convoy in Joplin, Mo.
Chapdelaine's tips for owner-operators
• Make sure you have the right tools for the job.
• Have a close relationship with a shop, so you know who to ask if you have a question.
• If you see a problem, fix it right away.
• Choose your loads: The lighter the load, the better the fuel mileage.
• Keep track of your vehicle, and keep the maintenance up.
"I came back and said, 'This is a good deal. Let's try it out with Minnesota Special Olympics.' The program was already having a big conference in Minneapolis, so I thought, why not?" Chapdelaine says.
He's now been on the convoy committee for five years and is its ambassador. But it's not the only program to which the 58-year-old owner-operator lends his time. With four years of involvement in Toys for Tots, in which he transports toys to Salvation Army locations, and a year with Wreaths Across America's wreath-delivery effort to Arlington National Cemetery to honor soldiers, Chapdelaine has his hands full "giving back to the community," he says. "I think drivers and their carriers should turn around and give back."
Sue Caine, a Dart co-worker, says the company has gained from having Chapdelaine involved in projects like the convoy. "His main priority with the convoy is to make sure things run smoothly and the athletes enjoy themselves, and it's a cool feeling to know Brad brings that good name to our business as well," she says.
Kathy Karkula, Special Olympics program coordinator, says Chapdelaine's personable business manner brings more carriers and truckers into the convoy.
"He's there to give a testimony about his experience. The athletes absolutely love him, and he always does more than is asked of him," Karkula says. "Anything from flipping hamburgers to designing and executing a show of 'Smokey and the Bandit.'"
For Chapdelaine, trucking was the natural choice after a career in the military. He joined the Army in 1972 and was active for five years before being a reservist for the 18 years following. Stationed in Germany, he was a dispatcher, which involved making sure all the runs for posts were done and checking that equipment maintenance was conducted.
Brad Chapdelaine
1954: Born in Pontiac, Mich.
1987: Began driving for C&N Evans as a company driver.
1990: Son, Bradley, was born.
1991: Joined Dart Transit for the first time.
1991: Became an owner-operator with purchase of 1988 International cabover.
2000: Began driving for Dart again.
2004: Began working with Special Olympics of Minnesota.
Chapdelaine drove trucks – delivering equipment – while stationed at Fort Polk. He started out in the maintenance department shop before running the heavy equipment section, and finally ending up in supply. He gained experience with big rigs while running a wrecker for Peterbilt-GMC in Roanoke, Va., following his Army career.
"One day, I just thought, 'I'll get into trucking,' and I looked around and C&N Evans hired me" in 1987, Chapdelaine says. He began his term with the now-shuttered carrier as a company driver. After moving back and forth between a few other carriers for nine years, Chapdelaine finally settled in with Dart, and has been with them since 2000.
Chapdelaine bought his current truck, a forest-green 1999 Kenworth W900 with a 3406B Caterpillar and 13-speed transmission, in 2008. He bought it from a friend who drove with his wife as a team, but got sick and couldn't drive. The friend rebuilt the engine and named the rig "Big Girl" prior to Chapdelaine's purchase of it.
Chapdelaine added a television, microwave and refrigerator to make it more comfortable. Another in-cab comfort is his dachshund, Daisy, who accompanies him on many jobs. His pit bull, Chaos, stays at home.
The truck is in good condition, partly because Chapdelaine takes a hands-on approach.
"I do 90 percent of maintenance myself – brakes, wheel seals, work on the engine and rear end," Chapdelaine says.
He records his business data weekly and hires an accountant at tax time.
With Dart, he hauls "anything and everything" – currently containers from Chicago to Minnesota – and other freight for Target and Kohl's.
In the six years Sue Caine has worked with Chapdelaine at Dart, she's learned that he is the go-to guy for a clean, professional job.
"Since he runs his own business, he is very conscious that his name carries a good reputation, and that whatever needs to be done gets done on time and without issue," Caine says.
Chapdelaine nets around $35,000 a year. "That's the freedom of being an owner-operator, now that the truck is paid off – I basically do what I want to do," Chapdelaine says.
Brad Chapdelaine is a finalist for the 2012 Owner-Operator of the Year award, which is sponsored by Overdrive and the Truckload Carriers Association. The winner will be announced at TCA's annual convention, March 3-6, 2013, in Las Vegas.