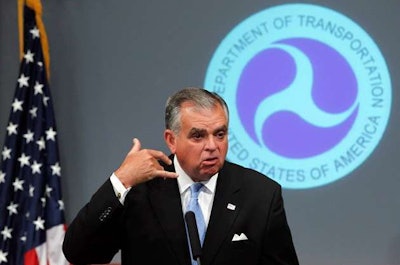 Smartphones are whipping the Department of Transportation in the battle for the attention of the motoring public, wrote Whitesboro, Texas-based Pennco Transportation driver Martin Groseclose on Overdrive's Facebook page, in response to last week's news of the DOT's strategy for dealing with the epidemic of four-wheeler distracted driving. If you missed said news, check it out via this link — it detailed plans to encourage states to pass anti-handheld phone use/texting laws and efforts to encourage enforcement, among them a $2.4 million grant to support California and Delaware participation in DOT's "Phone in One Hand, Ticket in the Other" pilot effort.
But the resistance could well be futile, Groseclose wrote, suggesting that nothing less than the "complete removal of cell phones" by "making them against the law" would work. Bans against use while driving, he added, "should have been put in place as soon as they came out. Too late now – people are used to using them everywhere."
What do you think? Other queries on Facebook have yielded intelligence speaking to what we all know to be true about phone use while driving among four-wheelers: they do it, and they do it often.
Truck drivers, too, in some instances commenters have shown considered ire for. If an almost $3,000 fine for handheld use is not enough incentive against phone us among the vast majority of haulers, maybe Groseclose is right and it's all just too little too late. Will it ultimately take further technological advancements — autopilot-type technology? — to combat the distraction problem, minus the complete annihilation of phones? What's the solution?
Groseclose hauls crude oil for PennCo and has been driving since 2000. Largely a tanker outfit, PennCo also does some business hauling windmill turbine blades. "I haul blades during the summer season and switch over to tanker during the winter months," Groseclose says. "PennCo is a small company — 8 company trucks, and I think now 12 other trucks are leased onto us." He's been with the company four years. Find them here.
RELATED:
Kicking the habit: Why a blanket cell-phone ban won't work
Safety board urges total cell phone use ban by all drivers
Modest proposal: 'Ban truck driving'
Ruling bans handheld phones for truckers Jan. 3