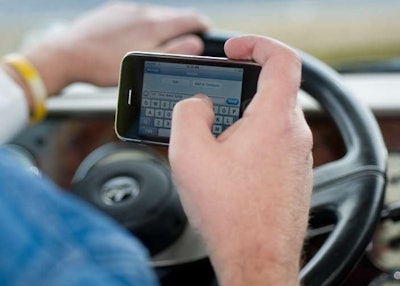 U.S. Transportation Secretary Ray LaHood has released a final rule that will allow commercial drivers to continue hands-free cell phone use, but will bar operating handheld cell phones while driving.
The new rule still will permit truck and bus drivers to use handheld cells after they have moved their vehicles to the side of or off of a highway or have stopped where the vehicle can safely remain stationary.
The Federal Motor Carrier Safety Administration and the Pipeline and Hazardous Materials Safety Administration joint rule will become effective Jan. 3.
Violators will face a maximum civil penalty of $2,750 for each offense. CDL holders will be disqualified from operating a commercial motor vehicle for multiple offenses and states will suspend CDLs after two or more serious traffic violations.
Truck and bus companies that allow drivers to use hand-held cell phones while driving will face a maximum penalty of $11,000.
FMCSA research shows using a handheld cell phone while driving requires "several risky steps" beyond what is required for a hands-free mobile phone. Dialing a hand-held cell phone increases the crash-risk for commercial drivers six-fold, it stated.
Last year, the agency issued a final rule banning commercial drivers from text messaging while operating trucks or buses. Earlier this year, the PHMSA published a companion final rule barring texting by intrastate hazardous materials drivers.
The Owner-Operator Independent Drivers Association had asked the agency why other risky activities contributing to driver distraction were not addressed in the rule. The FMCSA noted it is considering an Advance Notice of Proposed Rulemaking to seek public comment on the extent further regulatory is needed to address other in-cab electronic devices that may result in distracted driving.
However, the agency disagreed with OOIDA's assertion that the new regulation constituted a "search" or "seizure" to which the Fourth Amendment protection applies.
The American Trucking Associations has supported the handheld ban, while strongly opposing barring on hands-free devices. The ATA supports barring texting and handheld cell use for all motorists to reduce distracted driving.
The association had asked that the word "knowingly" be inserted after "no motor carrier shall" and before "allow or require its drivers to use a hand-held mobile telephone while driving a CMV."
The FMCSA acknowledges that some drivers will violate company policy, but stated the carrier remains "responsible for the actions of its drivers."