An amazing Pete-built collection
Adorning the walls of Uncle Pete's Truck Stop at I-40 and Sparta Pike in Lebanon, Tenn., is a collection of 4,875 coffee cups. And still counting, says owner "Uncle Pete" Norman.
"Never bought one, but I've drank out of every one," he says.
When Norman took over the business, "we had about six coffee cups" that weren't broken, he says, so an employee offered up some she'd been planning to sell. When they finally ordered new mugs, Norman adds, they set the old ones in window ledges. Drivers started asking if he was collecting coffee cups."
"We're going after the Guinness World Record," Norman would reply. Customers took that seriously and brought cups to add. After 21 years, they line the upper parts of nearly every wall.

"We have cups from 44 countries, every state and all U.S. islands and territories," says Norman.
Out of service on both sides of border
The weird case of Jabin Bogan — the U.S. driver who was arrested in Mexico while attempting to turn around at the border with his load of ammunition destined for Phoenix — got weirder in May. The U.S. DOT ordered Bogan's carrier, Texas-based Demco Express, to shut down after a safety investigation. The carrier's public CSA rankings were dismal: all but one above 97 out of a possible 100. The Federal Motor Carrier Safety Administration made note of 10 instances of Demco drivers operating without a CDL in the past year alone.
Reactions to the news ranged from "no surprise" to applauding FMCSA for doing its job to notes of hope that drivers will continue to rally around Bogan, who faces a potential 30-year conviction for arms smuggling. See Page 75 for an update on Bogan's case, and search Bogan's name on OverdriveOnline.com for further coverage.
When patriotism turns into 'trouble'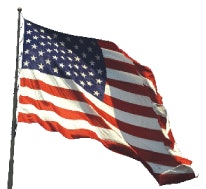 Driver and military veteran David Ray Thornburg took matters into his own hands when he saw a barren flagpole at a truck stop in Denton, Texas, on Memorial Day. With his video camera trained on himself, Thornburg drove to a nearby Walmart, convinced managers to donate a flag, took it to the truck stop and climbed the flagpole to hang it. The truck stop ultimately took it down, citing private property concerns — the stop's operator saying he felt Thornburg was out to "make trouble," as reported WFAA in Houston. Find links to WFAA's report and Thornburg's vid in the May 30 entry on our Overdrive Extra staff blog: overdriveonline.com/overdrive-extra.
A Place in the Sun
The New England Journal of Medicine recently published a study on "unilateral dermatoheliosis," illustrated by the pronounced thickening of the skin on the side of a driver's face most exposed to the sun. This brought new interest to skin protection measures, especially as it came on the heels of news from the Federal Motor Carrier Safety Administration. The agency in April dispelled road rumor that all window tinting in interstate-hauling Class 8s was illegal, explaining that films letting in more than 70 percent of visible light are kosher for side- and rear-window glass.
One protective product, Ultragard UV clear film, blocks 99 percent of all ultraviolet light, claims maker Solar Gard. Find an interview with Solar Gard's Larry Constantin, including an installation video, in the May 8 post to the Channel 19 blog.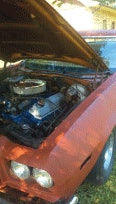 TORRID TORINO

Since we profiled Overdrive 2011 Owner-Operator of the Year Dan Heister, he's made progress on the big-block motor he'd then recently located to put into the early-'70s model Ford Gran Torino he and son Jake are fitting up for the local racetracks. He recently fired it up for guests with a roaring drive near his Tennessee Ridge, Tenn., home. Next up – racing stripes, possibly a new radiator, and he's off to the tracks. Catch more from our visit with him in the May 28 blog post.
A National Day – for your sacrifices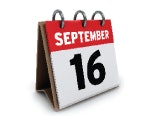 A self-proclaimed "proud trucker's wife" of Prime-leased owner-operator Jim Peranteau of Sunbury, Pa., has been circulating an online petition. Melissa Peranteau hopes to take the petition with 1,000 signatures to Washington, D.C., to create a Sept. 16 National Truck Driver Remembrance Day. It would be a public holiday, says Melissa Peranteau, in text accompanying the petition, and would remember not only the daily, unpublicized sacrifices, but drivers "that we lost," whether in accidents, crime on the road or in other ways. As of early June, the petition had 103 names. Find links to it – and an interview with Peranteau – on the May 7 post to the blog.

For more of the interesting and odd parts of trucking, visit Senior Editor Todd Dills' Channel 19 blog at OverdriveOnline.com/channel19.
'IRT' minus Lisa Kelly = bummer

With the sixth season premiere of "Ice Road Truckers" on the History Channel in June, many fans were crestfallen at the absence of the star Esquire magazine dubbed the "Sexiest Trucker Alive," Lisa Kelly. On Overdrive's Facebook page (facebook.com/overdrivetrucking), one commenter went further: "Looks like this will be the worst season ever. Hot dogs, hot heads, and idiots," he wrote. "The show has run its course." On our sister mag Truckers News' page, commenters were more split on the premiere, best exemplified by a driver who called perceived reckless behavior of drivers on the show a "slap in the face" to hardworking professionals, then adding, "but yeah, I'm gonna watch it."
GAUGES
How much do you spend each year on maintenance?
Owner-operators' average annual maintenance spending was $12,275, according to a 2011 University of Arkansas survey. At the top end, 4 percent of respondents said they spend more than

$30,000 a year.
* Figures add to less than 100 percent due to rounding
Reefer leads rate increases
Rates for reefer loads jumped a whopping 57 cents per mile from February to May. Smaller hikes occurred in dry van, spiking 35 cents in the same time period, and flatbed, up 20 cents.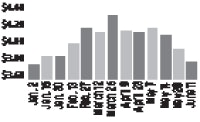 Diesel prices spike, then slack
National average diesel prices fell below $4 a gallon as summer approached and reached a five-month low June 4. The peak of $4.15 in March was the highest national average since August 2008.
A broken heart and a sweet deal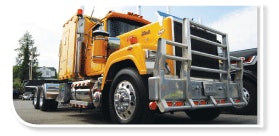 John Randolph, whose small fleet has been hauling used equipment to Florida for export, noticed a lot of it is old Mack trucks. "It breaks my heart to see them go," he says.
His own 1990 Mack Superliner, powered by a 500-hp Mack E9 and an 18-speed transmission, benefited from a four-year restoration, completed when he put the truck in service in 2001.
The 41-year-old's father, the original partner in Randolph Transportation, initially scoffed at the improvements. "That chrome won't make you any more per mile," he said. Yet when Randolph finally backed the finished rig out of the shop, his father said, "I think we're going to do my truck like that."
One touch that helped convince his father was the sleeper. "I never thought I could afford a Double Eagle," John Randolph says. The trademark pleating on the back of the 60-inch stand-up, however, is evidence that he could indeed.
Randolph remembers calling the Shipshewana, Ind.-based manufacturer (since out of business) in 1999 and discovering they'd had two bunks specially made for a Superliner in stock since 1991, when a customer who ordered them disappeared. "They were willing to make me a deal," he says.
— Todd Dills
How to judge air coil quality
Certain air coil materials are better than others, say the March and April editions of Phillips Industries' Qwik Tech Tips monthly newsletter, available via the phillipsqwiktechtips.com archive. It offers these steps to determine quality:

CLAP THE COILS TOGETHER. A dense, low-pitched sound indicates better quality than a higher pitch.
SCRUTINIZE THE LAYING PATTERN. Air coils utilizing type B layering with a tighter "diamond pattern" braid offer better reinforcement and less kinking.
MIND THE FITTINGS. Three- and four-piece compression fittings and/or barbed fittings offer easier connection and added protection.
CALENDAR
JULY 6-8: DIESEL CONFAB 2012, I-64 Exit 55, Rockbridge Baths, Va., dieselconfab@gmail.com
JULY 6-8: ATCA PENN-OHIO CHAPTER ANNUAL TRUCK SHOW, Ashtabula Co. Antique Engine Club, 330-503-4576
JULY 8: ATHS CENTRAL NEW YORK ANTIQUE CLASSIC AND WORKING TRUCK SHOW, Longbranch Park, Liverpool, N.Y., 315-687-1165
JULY 12-13: WALCOTT TRUCKERS JAMBOREE, Iowa 80 Truck Stop, I-80 Exit 284, Walcott, Iowa, iowa80truckstop.com
JULY 12-15: ATHS KICKAPOO CHAPTER HISTORIC FARM DAYS, I-74 Exit 197, Penfield, Ill., 217-251-3343
JULY 20-21: ATHS CENTRAL COAST OF CALIFORNIA ANTIQUE TRUCK SHOW, Trinity Hall, 6565 Edna Valley Road, San Luis Obispo, Calif., central-coast-aths.org
JULY 21-22: ATHS PINE TREE CHAPTER SHOW, Owls Head Transportation Museum, Owls Head, Maine, 207-582-3224
JULY 22: ATCA UNCLE SAM CHAPTER ANTIQUE TRUCK SHOW, Washington Co. Fairgrounds, Greenwich, N.Y., 518-642-9437
AUG. 4: MIDWEST PLAINS CHAPTER CLASSIC TRUCK SHOW, Horseshoe Casino North Parking Lot, Council Bluffs, Iowa, 402-896-2748
AUG. 11: BROCKWAY TRUCKS 100th ANNIVERSARY, Cortland, N.Y., brockwaytrucks.org
AUG. 23-25: GREAT AMERICAN TRUCKING SHOW, including Custom Rigs Pride & Polish, Dallas Convention Center, Dallas, gatsonline.com
SEPT 28-29: ANTIQUE AND WORKING TRUCK SHOW, Hyder-Burks Ag Pavilion, Cookeville, Tenn., twistette@hotmail.com, 931-277-5177
SEPT. 30-OCT. 1: GUILTY BY ASSOCIATION TRUCK SHOW & Customer Expo, Joplin, Mo., chromeshopmafia.com, 888-875-7787
OCT. 5-6: CHARLOTTE DIESEL SUPER SHOW, zMax Dragway Charlotte Motor Speedway, Concord, N.C., dieselsupershow.com
OCT. 27-28: TRUCK DRIVER SOCIAL MEDIA CONVENTION, Harrah's, Kansas City, Mo., truckingsocialmedia.com
TRUCK GALLERY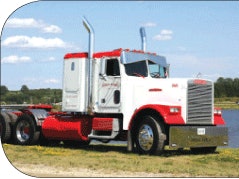 Horsin' around
Jason Gregg of Ontario, Canada, uses this 1988 Freightliner FLD, powered by a 425-hp Caterpillar and eight-speed transmission, for a personal hobby – showing horses. Gregg, who shows at regional events in the Northeast, has added 6-inch stacks and a custom bumper, and he painted the truck red and white.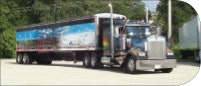 It's 5 O'clock Somewhere
Janesville, Wis., resident Jason Arneson spec'd his 2005 Kenworth W900L with a 500-hp Caterpillar and 13-speed transmission for a driver who worked for his Jerry Arneson Trucking for 21 years. Before driving the truck, however, the driver died and Travis Olson took over driving duties. In honor of him, the company kept the truck's moniker, It's 5 O'clock Somewhere – a name given by the truck's original driver. The KW, which has three detailed murals, hauls grain, feed ingredients and food-grade products.
Rooster Cruiser
Owner-operator Blake Wurmnest of Heyworth, Ill., dedicated his 2004 Peterbilt 379 to his dad. The truck, powered by a 600-hp Caterpillar and a 10-speed transmission, has an aftermarket drop visor, custom lettering and pinstriping and light bars on each side. Wurmnest, who has his own authority and hauls farm feed products, named the truck Rooster Cruiser.
SUBMIT YOUR PHOTO To display your truck online and have it considered for Overdrive's Truck Gallery, go to the Reader Truck Gallery at www.OverdriveOnline.com.