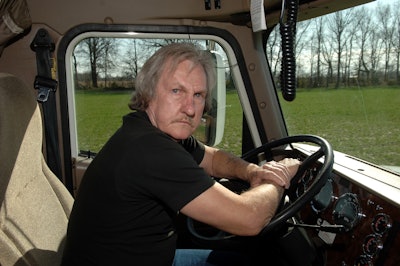 Owner-operator's dedication to business is an outgrowth of his commitment to his extended family.
Owner-operator Gary McGinnis is as dedicated to customer care and work ethic as he is to his family – not an easy feat for a trucker, McGinnis says.
His "roadside inspections are always clean, he knows and remembers the names of all of the people at loading docks, and customers routinely ask to speak with him," says Doug Moat, director of safety for Universal Am-Can. "When you hear about good, salt-of-the-earth Southern people, Gary fills the mind's eye of everything you would expect."
When invited to an out-of-town meeting to receive his award as 2012 Contractor of the Year for Universal Am-Can, McGinnis asked if he could bring his wife and granddaughter with him.
"Most truckers would consider that trip a free party, but Gary wanted to share the time with his family," Moat says. McGinnis is able to be home most weekends and stops occasionally during the week. "I'm a pretty hard worker, though," he says. "I drive every day of the work week most of the time … despite the fact that I can choose my hours freely."
Hauling freight for Procter & Gamble much of his time, McGinnis transports dry goods like toilet paper, paper towels and diapers to Texas. There, McGinnis picks up whatever freight is available.
On trips home, McGinnis enjoys his 11-year-old German shepherd-Labrador mix, Ziggy, who "loves the farm too much to go on the road with me." Besides going fishing and working in the yard, McGinnis tinkers on a 1977 Ford truck he's owned for about 13 years.
McGinnis, 58, also makes time for his wife of 23 years, Sandy, and their granddaughter Mercedes, who lives with them. He also enjoys inviting his and Sandy's combined five kids and six grandchildren to the farm to relax.
"Sometimes Mercedes will go fishing with me … now it's computers and cell phones. She's starting to get boys on her mind," McGinnis says.
"I've made all my big family events. When my daughter had her children, I chose loads that would take me through where she lived so I could spend some time with her," McGinnis says.
The biggest advantage of being an owner-operator, McGinnis says, is the independence. Because he can choose his own routes, he regularly runs from Missouri to Texas, so his home in Tuckerman, Ark., is a stop along the way.
"I work according to what I spend, but in recent years I have cut down on my mileage somewhat," McGinnis says. He ran over 138,000 miles in 2010, bringing in a net income of $52,000.
McGinnis' father, Monty Ray, was a company driver for a couple years during the 1950s, and an older brother also drove trucks for a living.
"I was 34 when I started," McGinnis says. "A friend asked me to go on a job with him. He asked me if I wanted to learn how; eight hours later I was in the driver's seat."
After working as a company driver for 13 years, McGinnis bought his first truck in 2001, a 1998 Freightliner Classic. McGinnis is now on his fourth truck, a 2007 International 9400i with a Cummins and automatic transmission. McGinnis bought the truck last year with 494,000 miles on it and has added 71,000 more.
"It's the first automatic I've ever owned. It shifts when it wants to shift…and all the while I'm still reaching for gear shifts that aren't there," McGinnis says.
Steve Glenn, terminal manager and agent for Universal in Little Rock, where McGinnis is dispatched, says McGinnis' attention to safety and maintenance detail is unparalleled. He "keeps a close eye on his equipment," Glenn says.
McGinnis suggests keeping a regular maintenance schedule to ensure safety and maximum uptime. "If you're at home doing nothing, go out and raise the hood," McGinnis says. "Take time to look for anything, any small aspect that could be a problem out on the road."
McGinnis usually takes care of most minor maintenance himself. "If it requires hooking up to a computer, I've got to take it in," he says. His wife handles his accounting, though an accountant does his taxes.
"I just drive and deliver the freight," McGinnis says. "An owner-operator like me has to do all he can to stay in business."
His main strategy for cutting fuel costs is scheduling plenty of time to get to his next stop, and then driving under the speed limit. "Too many drivers keep their foot to the floor the whole drive. Slow down, you'll get there eventually," and with more money in your pocket, he says.
GARY McGINNIS
1954: Born in Newport, Ark.
1970: Drove his first truck, hauling grain from the farm to the co-op, in Tuckerman, Ark.
1988: First job, driving for C&L Trucking
1989: Married wife, Sandy
2001: Bought a 1998 Freightliner Classic
2004: Bought 2005 Freightliner Classic
2005: Bought 2006 Freightliner Classic
2008: Leased to Glenn National Carriers (now Universal Am-Can)
2010: Named Owner-Operator of the Year for Universal Am-Can
2011: Bought current truck, a 2007 International 9400i
2012: Named Contractor of the Year for Universal Am-Can
Gary McGinnis is a finalist for the 2012 Owner-Operator of the Year award, which is sponsored by Overdrive and the Truckload Carriers Association. The winner will be announced at TCA's annual convention, March 3-6, 2013, in Las Vegas.