Nurse – my birthing kit, please
How many roadside midwives do you know? Such is the description that can be applied to NFI driver Mike Hawthorne of Somerdale, N.J., who delivered the third roadside baby of his trucking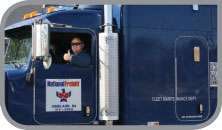 career, this time March 28 on I-30 in Texas. Hawthorne's mother and grandmother were midwives, so he learned the basics of delivery in his youth. Since his first delivery in 1999 at the TA East in Ontario, Calif., the two-time TCA Highway Angel has come prepared. In the kit on board the Pete he drives you'll find the items listed above.
He didn't need the shoestring or scissors this time – an ambulance arrived just after delivery. Find the full account in the May 1 entry on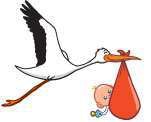 overdriveonline.com/channel19.
• Sharp, sterile scissors
• Rubbing alcohol and alcohol swabs
• Suction device to clean mucus from mouth
• Pair of latex gloves
• Shoestring for tying off the umbilical cord.
APNEA PROPOSAL
'Off like the Hindenburg'
A commenter on Overdrive's Facebook page characterized the Federal Motor Carrier Safety Administration's April 19 proposal on sleep apnea as a "trial balloon that went off like the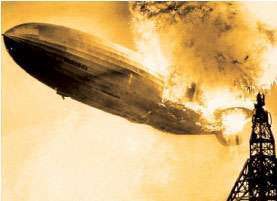 Hindenburg." The proposal asked for comments on proposed mandatory testing of drivers with a body mass index of 35 or greater. Citing a "clerical error," FMCSA withdrew the proposal shortly after posting it. Search "sleep apnea" at OverdriveOnline.com to find the most recent elements of the ongoing coverage of regulatory efforts surrounding the condition, and join in the conversation among readers there.
"Anyone needing this treatment should seek it out. It shouldn't be forced on anyone, as it's expensive and it's not easy to adapt to." – Don Lanier
"My life has been improved in so many ways with sleep apnea under control. But I do not agree with government requiring this testing. More times than not, it is the car driver that needs this test done, not the truck driver they hit."
– John Wilcox
Finally, some respect for bedbugs

Asked on Overdrive's Facebook page for the funniest thing he'd ever seen at a weigh station, owner-operator Robert McConnell didn't hesitate: "Many years ago at a Colorado scale, when you used to have to go in and get your little yellow paper, a fellow mover was there and, when asked what he was hauling, replied, 'Bedbugs.'" A young officer "proceeded to write him up a livestock permit," McConnell added. An older officer let him do it just until he was ready to collect the $5 fee, then explained that "bedbugs" was common slang for household goods. "My friend was bummed," said McConnell, "because he was going to take the permit home and have it framed."
Got a good story to tell yourself?
Share it on Overdrive's Facebook page:
facebook.com/OverdriveTrucking.
CHANNEL 19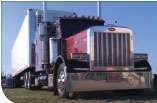 This Jazzy has wheels
Driver Jim Beine named this Central Point, Ore.-based Oldland Distributing 2001 Peterbilt 379 he drives "Jasmine." It's in honor of Jasmine "Jazzy" Jordan, whose 2009-10 cross-country run raised money and awareness for the St. Christopher Truckers Development and Relief Fund and the health care needs of truckers.
"Any young person who is willing to sacrifice so much to help the American truck driver deserves to be recognized," says Beine.
Since the run, Jordan's had two foot surgeries for bunions that resulted from the run. "I would never regret what I did," says Jordan, who was recovering from her March 2 surgery when she heard about the naming of Beine's rig.
Hear more from the Overdrive interview with her in the April 19 entry on the Channel 19 blog.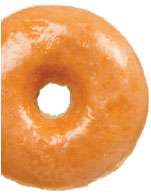 Rating the rigors and routines of the road
Atlas Van Lines' King of the Road driver survey covered lots of trucker preferences, such as favorite snacks and motels. The company produced a handy infographic of the survey results, which you can find in the April 10 entry on the blog.
Favorite coffee:
Dunkin Donuts
Best fast food:
Subway
Biggest difficulty on the road:
Eating right
Sweet delivery: live bluegrass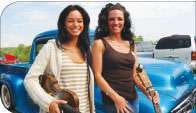 Meet the Lenoir City, Tenn.-based Holloway Sisters, Michelle (right) and Sondra. We met them next to Jimmy Jabo's custom 1953 Ford F100 on the grounds of Chilhowee Park in Knoxville, Tenn., at the Southeastern Regional Truck Show April 13-14. The sisters performed with their family bluegrass band, Outta the Blue, including mother and father Nancy and David Holloway. For more photos of the show's custom and antique rigs, see the April 14, 16, 22 and 25 blog posts.
For more of the interesting and odd parts of trucking, visit Senior Editor
Todd Dills' Channel 19 blog at OverdriveOnline.com/channel19.

Scan the QR to pull up vid of an Outta the Blue Band performance, or see the April 29 Channel 19 post. Bonus: Michelle tells a pretty good joke to start it out.
GAUGES
Rising fuel costs push income down
Fuel costs per mile rose, revenue stayed the same and income dropped in all three segments during the first quarter of 2012, according to financial services provider ATBS. Miles for dry van haulers did go up slightly, but declined for reefer and flatbed carriers.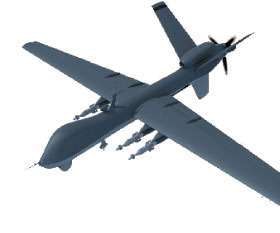 Citation-writing drones will hunt you down
Truckers, already accustomed to being watched, photographed at some state lines, and generally over-scrutinized, might well get ready for a further intrusion. Expediting owner-operator Phil Madsen, in the April 18 entry of his Learning Something New Every Day blog (overdriveonline.com/madsen), shares this ominous prediction: "Very soon, a DOT drone pilot will be able to sit in a chair in an office building … and use an eye in the sky to monitor thousands of trucks a day." Flatbed loads can be inspected and securement citations issued with photo evidence, speeding tickets can be written, "heat signatures from wheels can be studied to detect a brake that is not working… You say it was not you who lit up a cigarette in a California city park where outdoor smoking is prohibited? The air quality police beg to differ."
Do you need a documented business plan to get a loan?
No, said 83 percent of owner-operator respondents, when asked in a 2011 University of Arkansas survey about lenders' requirements.
BETTER HEALTH
Hydration 101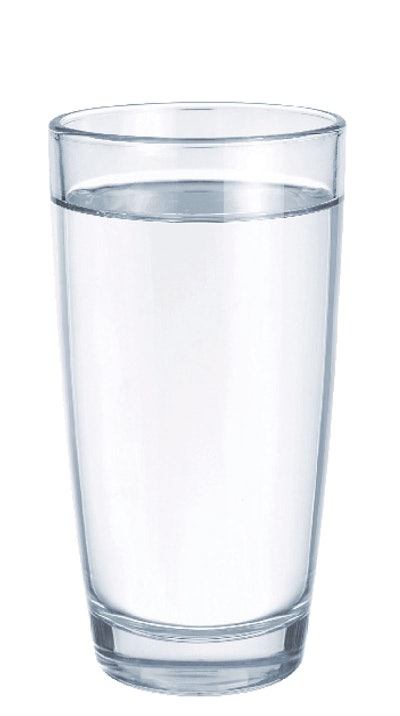 Plan to get your eight 8-ounce glasses of water a day, more if you're active when not driving.
• Enjoy health benefits. Drinking plenty of water has been associated with losing extra fat, improving bowel movements, reducing blood pressure and easing common ailments such as joint pain, headaches and back pain.
• Keep a water bottle in your cab. Purchase a reusable, Bisphenol A (BPA)-free bottle and avoid concerns doctors have raised about that chemical, present in many plastics.
• Add flavor to your water, if you need encouragement. Try buying bottles of real lemon or lime juice. They'll keep fresh longer than the fruits themselves. Squeeze in a few drops at a time and shake.
• Avoid sugary drinks. The sugar has no health benefits. Also, if you're not very active while not driving, the sodium and potassium in sports drinks is completely unnecessary. –Kathleen Buccleugh
A state-by-state guide


Trailer rental firm Xtra Lease's new state-by-state size and weight regs guide is also a great contact resource for state permitting offices and more. It's available in a free download via xtralease.com, search "size and weight." Or scan the QR with your smartphone or tablet to fill out the registration form on the go.
CALENDAR
JUNE 8-9: OAK GROVE TRUCKERS JAMBOREE, Oak Grove 70 Petro, I-70 exit 28, Oak Grove, Mo.
JUNE 8-10: ATHS NORTHEAST OKLAHOMA SHOW, Big Cabin Truck Plaza, I-44 and U.S. 69, Big Cabin, Okla., Omer Williams, (918) 256-5957.
JUNE 9-10: ATCA YANKEE CHAPTER SHOW, Bethlehem Fairgrounds, Bethlehem, Conn., Bill Mitchell, (203) 739-0118.
JUNE 10: ATHS METRO JERSEY CHAPTER, Automatic Switch Co., Florham Park, N.J., (973) 726-4586.
JUNE 14-16: GREAT WEST TRUCK SHOW, including Custom Rigs Pride & Polish, Las Vegas Sands Expo & Convention Center, (888) 349-4287, www.greatwesttruckshow.com.
JUNE 15-16: ANTIQUE AND WORKING TRUCK SHOW, Cumberland Plateau Antique Tractor and Engine Show, Fairgrounds, Crossville, Tenn., (931) 200-3203
JUNE 16: ATHS SOUTHEAST IOWA
TRUCK SHOW, Ottumwa Park Campground, Highway 34 and Old 63, Ottumwa, Iowa, (641) 226-0115 or (641) 919-2923.
JUNE 16: ATHS NORTHERN CALIFORNIA CHAPTER TRUCK SHOW, Fall River Mills, Calif., William Irvin, (530) 865-8631.
JUNE 23-24: ATHS OHIO VINTAGE TRUCK JAMBOREE, Ashland County Fairgrounds, Ashland, Ohio, Chris Budke, (419) 721-9204.
JUNE 24: ATHS NUTMEG CHAPTER TRUCK/TOY SHOW, Brooklyn Fairgrounds, Brooklyn, Conn., John Raymond, (860) 608-5033.
JULY 12-13: WALCOTT TRUCKERS JAMBOREE, Iowa 80 Truck Stop, I-80 Exit 284, Walcott, Iowa, www.iowa80truck-stop.com.
AUG. 11: BROCKWAY TRUCKS 100th ANNIVERSARY, Cortland, N.Y., www.brockwaytrucks.org.
AUG. 23-25: GREAT AMERICAN TRUCKING SHOW, including Custom Rigs Pride & Polish, Dallas Convention Center, Dallas, www.gatsonline.com.
SEPT 28-29: ANTIQUE AND WORKING TRUCK SHOW, Hyder-Burks Ag Pavilion, Cookeville, Tenn., twistette@hotmail, (931) 277-5177
SEPT. 30-OCT. 1: GUILTY BY ASSOCIATION TRUCK SHOW & Customer Expo, Joplin, Mo., www.chromeshopmafia.com, (888) 875-7787.
OCT. 5-6: CHARLOTTE DIESEL SUPER SHOW, zMax Dragway Charlotte Motor Speedway, Concord, N.C., www.dieselsupershow.com.
OCT. 27-28: TRUCK DRIVER SOCIAL MEDIA CONVENTION, Harrah's, Kansas City, Mo., truckingsocialmedia.com.
42% That's the share of fleet representatives who say driver availability is their biggest concern. A distant second was freight pricing, at 14 percent, according to a survey by Randall-Reilly Market Intelligence.
TRUCK GALLERY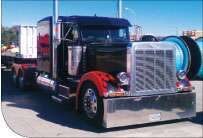 One hot wheel
Richard Carlson of Bolingbrook, Ill., pulls a flatbed with this 2005 Peterbilt 379, hauling anything from bedding materials to steel. It's equipped with an 18-speed transmission and a C15 twin-turbo Caterpillar. Leased to Mercer Transportation, he bought the truck new in 2005 and added sleeper panels, shaved the roof and applied custom 3-D flames on the fenders. Because other drivers have told him it looks like a toy truck, he dubbed it Hot Wheel.

Back to classic
Bismarck, N.D., resident Jeff Christensen bought his 1973 Kenworth cabover in 2011. He uses the rig to haul fuel for Summit Oil Co. He's added 7-inch straight pipes and a custom paint job. "I just wanted a cabover, and I like older models a lot better than the newer ones," Christensen says. The tractor's powered by a 400-hp Cummins and Eaton 13-speed.
Christina – unlike a woman
"I call her Christina, because a woman you can find anywhere, but a good truck is hard to find," said Mark Baumann of his 2005 Peterbilt 379. The Plymouth, Wis., resident hauls cheese and produce for Wisconsin Refrigerated. Among additions are a 22-inch visor and custom bumper, 10-inch pipes, a custom grille, aftermarket headlights and some tweaking of 550-hp Caterpillar engine, geared through an 18-speed transmission.
SUBMIT YOUR PHOTO
To display your truck online and have it considered for Overdrive's Truck Gallery, go to the Reader Truck Gallery at www.OverdriveOnline.com.