Hey, FMCSA: 'Stop coming after us!'
Owner-operators had some strong words for federal regulators at a March Mid-America Trucking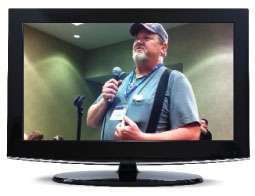 Show listening session devoted to electronic onboard recorders and their potential use to harass drivers. Operators urged the Federal Motor Carrier Safety Administration panel to address the real problems, such as long detention time at docks and piecemeal pay by the mile. Regarding EOBRs and other federal initiatives, owner-operator Greg Petit (pictured) said, "Stop coming after us with all of this!"
Air Force vet finds third life in trucking
A mid-life career shift brought 52-year-old Hoffman Estates, Ill., native Edwin Peig to his current gig. The on-highway driver and trainer for Prime Inc. began investigating trucking after job cuts forced him out of work as an information technology analyst.
Now in his fourth year with the carrier, Peig loves nothing more than "to see the reaction of a student the first time we roll out," he says. The trainees include "some laid off, some just out of the military, some just trying to find themselves. I teach them to look at it as an adventure, to have faith and to be responsible."
His instruction works. Peig hasn't had a student fail yet.
Peig brings authenticity to his work, particularly with former military personnel. He traveled the world while in the Air Force, living in Asia and Europe. When considering the driving profession, he knew trucking could be similarly adventurous. It helped that Peig's son and wife had previously mentioned trucking as a lucrative career option.
Peig found Prime at a veterans' job fair and signed on for the carrier's CDL program. He ran 50,000 miles as a trainee in 2009 before hauling alone as a company driver. After a year, Peig's trainer persuaded him to become an on-highway instructor himself.
"The future of trucking is bright," he says. "We haul America. You can't outsource truckers, no matter how much you outsource the products we haul." — Elizabeth Manning
GAUGES
Toll roads top route planning list
Ninety-five percent of owner-operators can choose their loads, though having control over routes is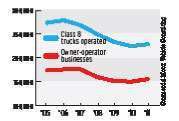 more elusive, according to a survey of owner-operators by the University of Arkansas' Mack-Blackwell Rural Transportation Center. The most important factor in route planning is toll roads, respondents say. The other factors, in order of importance, are congestion, trip duration, number of fuel stops, distance from home and location of weigh stations.
Rates blossoming
Reefer rates soared 16 cents from February to March, while dry van and flatbed increased 14 cents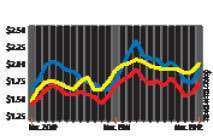 and 11 cents, respectively, says Internet Truckstop. "We expect pricing to remain squarely on the side of the carrier in 2012," says Larry Gross of FTR financial consulting firm.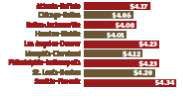 April 3, 2012 diesel price averages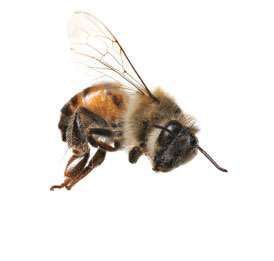 Demand buzzing for flying freight
Warm late-winter temps and early spring growth over much of the East and Midwest has had bee haulers in overdrive to keep up with demand for hive transport. "Most of the bees that pollinate Michigan fruit crops either overwintered in Florida or just finished pollinating almonds in California," wrote Mark Longstroth in the Western Farm Press last month. "One problem is trucking. Most of the truckers that haul bees are booked."
Protect yourself against the canceled load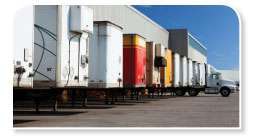 Owner-operator blogger Phil Madsen (overdriveonline.com/madsen) wrote March 27 about the challenge of protecting yourself against shippers who cancel loads and/or the carriers who cater to them. One operator on Twitter objected to Madsen's recommendation that operators "insist on payment for your services."
"In the real world, no way," wrote the reader. "Too many cutthroats out here."
All the same, a little solidarity among operators could go a long way, Madsen suggests. If you're not as "protective of your profits as your carrier is," he wrote, carriers and customers alike will continue to "take full advantage of your generosity without the slightest concern for your financial well-being."
A true inside job
The new Kenworth T680's integrated sleeper design turned heads at the Mid-America Trucking Show in March. It also caught the attention of more than one reader of Overdrive's Facebook page. For more about the new truck, see Page 50 or find a picture gallery in the March 22 post on our Overdrive Extra staff blog:
overdriveonline.com/overdrive-extra.
CHANNEL 19
Still milking miles from his '71 Pete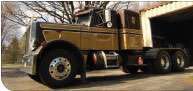 We found this vintage 1971 Pete 358 just outside Wisconsin Rapids, Wis., at the home of Leon "Butch" Mueller and his wife, Janet. Semi-retired and with a son driving for Ruan, the 76-year-old Mueller still makes intrastate milk runs two or three times a week in the rig.
He's been behind the wheel of the truck as company driver for Tom Gullickson Inc. of Deerfield, Wis., since it was new. It was "the first or second Peterbilt conventional they sold out of Peterbilt of Waukesha," he says. Mueller's logged every one of his almost 4 million miles with this rig, powered by a 350 Cummins Big Cam, the rig's second engine.
"I always dreamed of driving a Peterbilt conventional," he says he told Irving Gullickson (Tom Gullickson's father) when he bought it. "This is the last truck I'll ever need."
Find more from our visit with Mueller in a picture gallery in the March 21 post on the Channel 19 blog.
How to grease the skids with inspectors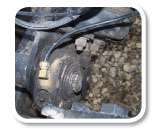 Fishing for a compliment from officers at the scale house? Landstar-leased owner-operator Gordon Alkire says he's got just the thing. Utilizing fellow operator Bill Marciniac's DIY design, Alkire installed a "closed greasing system." It makes central greasing points for all the fittings associated with his drive and steer axles. Costing a mere $75 in parts, not only does it keep you off the ground when doing your greasing, says Alkire, but it helps avoid tickets for excess oil and grease.
"Yes, you can get a ticket for excess grease and/or oil on the truck," he says, which is "stupid" but possible among cash-hungry towns and states.
He offered a how-to on it as an extra for our March "CSA-proof your rig" cover story in the March 9 entry on Channel 19. Next step, he says: easier greasing for the suspension of his 48-foot dry van.

For more of the interesting and odd parts of trucking, visit Senior Editor Todd Dills' Channel 19 blog at OverdriveOnline.com/channel19.
CALENDAR
SuperRigs 30th anniversary The Shell Rotella SuperRigs show in Joplin will culminate three

decades of some of the best in show trucks. Pictured here is Jerry Heiderscheit's 2011 Best of Show 2003 Peterbilt 379, also featured in the 2012 Shell Rotella SuperRigs calendar. Enter your truck in the show for a chance to appear in the 2013 version.
WIN $500! You can enter a photo of your truck online in the Shell Rotella Virtual SuperRigs and have a chance at winning $500. Check the Galleries section of CustomRigsMag.com.
May 17-19: SHELL ROTELLA SUPERRIGS 30TH ANNIVERSARY, Speedco, I-44 exit 4, Joplin, Mo., rotella.com.
MAY 18-19: JOPLIN 44 TRUCKERS JAMBOREE, Joplin 44 Petro, I-44 exit 4, Joplin, Mo., (417) 624-3400.
MAY 19: ATHS GREATER CINCINNATI CHAPTER TRUCK SHOW, Howard Trucking Co., Fairborn, Ohio, Jerry Howard (937) 878-6154.
MAY 19: ATHS PIEDMONT CAROLINA CHAPTER LESTER BROWN MEMORIAL TRUCK SHOW, North Carolina Transportation Museum, Spencer, N.C., (336) 431-6824.
JUNE 10: ATHS OCEAN STATE VINTAGE HAULERS TRUCK SHOW, Johnston War Memorial Park, Johnston, R.I., Joseph Pingitore II, (401) 692-0095.
JUNE 10: ATCA GREATER PITTSBURGH CHAPTER TRUCK SHOW, Kings Family Restaurant, I-70 exit 32-B, Bentleyville, Pa., George Bradish, (724) 539-8386.
JUNE 14-16: GREAT WEST TRUCK SHOW, including Custom Rigs Pride & Polish, Las Vegas Sands Expo & Convention Center, (888) 349-4287, www.greatwesttruckshow.com.
JULY 12-13: WALCOTT TRUCKERS JAMBOREE, Iowa 80 Truck Stop, I-80 Exit 284, Walcott, Iowa, www.iowa80truckstop.com.
AUG. 11: BROCKWAY TRUCKS 100th ANNIVERSARY, Cortland, N.Y., www.brockwaytrucks.org.
AUG. 23-25: GREAT AMERICAN TRUCKING SHOW, including Custom Rigs Pride & Polish and ProPickup Truck Expo, Dallas Convention Center, Dallas, www.gatsonline.com.
OCT. 5-6: CHARLOTTE DIESEL SUPER SHOW, including Custom Rigs Pride & Polish, zMax Dragway Charlotte Motor Speedway, Concord, N.C., www.dieselsupershow.com.
OCT. 27-28: TRUCK DRIVER SOCIAL MEDIA CONVENTION, Harrah's, Kansas City, Mo., truckingsocialmedia.com.
TRUCK GALLERY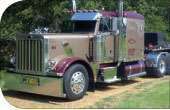 Poor Man's Pete
Independent owner-operator Rob Hale of Wynne, Ark., hauls oversize and flatbed freight all over the South with his Poor Man's Pete, this 2001 379. It's powered by a 550-hp Caterpillar and an 18-speed transmission. Hale says his wife thinks he's spent "way too much money" adding interior upgrades and "all the stainless I could afford," he says.
Family tradition
Newkirk, Okla., native Clint Mantz uses his 2012 Peterbilt 389 to haul raw feed, propane and butane for Acord Trucking. Mantz has added 6-inch drop panels, Rockwood flooring and extra lights to the truck, which began its life as a factory glider kit with a 2006 625-hp Caterpillar and 18-speed transmission installed by Kansas City Peterbilt. "My dad did it before me," Mantz says of his work. "I've taken over the tradition."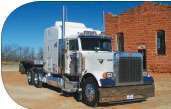 Twang Thang
The hit song by country music artist Terri Clark inspired the name of Tommy Roach's 1999 Peterbilt 379. The truck is powered by a C12 Caterpillar and 13-speed transmission. The pop song "fit my lifestyle," says the past Overdrive Pride & Polish contestant (in 2009, his combo unit bagged Third in its class). He's added a custom enclosed headache rack, stainless steel fenders and doors and panel light bars. "Even the trailer is custom," he says, which he uses to haul jet engines and chemicals.
SUBMIT YOUR PHOTO To display your truck online and have it considered for Overdrive's Truck Gallery, go to the Reader Truck Gallery at www.OverdriveOnline.com.