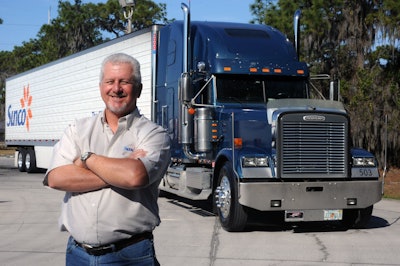 Jimmy McSwain's handle, "Little Mac," is only a small sign of his father's influence. Known on the road as "Mac," his dad, Marlin McSwain, was a company driver in Florida's panhandle, where McSwain was born and formed his own path hauling primarily refrigerated products.
Jimmy McSwain's model safety and accounting practices produce a longstanding, successful business.
"I remember my dad driving trucks," McSwain says. "Watching him, I knew that's what I wanted to do."
With 34 years of experience and leased to Sunco Carriers since 1992, McSwain likes the freedom of being his own boss, and the extra revenue. He works for a percentage of the gross, earning about $52,000 of net income in 2010.
At 18, McSwain moved into a place of his own, attended a Bartow, Fla.-based driving school and, eight weeks later, launched his trucking career at Commercial Carrier Corp. in 1978. He also bought his first truck, a 1970 White Freightliner with a 250-hp Cummins and a 10-speed transmission, that year. "I didn't have any experience, but they gave it to me anyway," McSwain says of the dry van loads he hauled out of Auburndale, Fla., for three years.
McSwain joined Clay Hyder Trucking, a division of the same carrier in 1981 and finished paying the $16,000 for his rig. Since then, he has owned five Freightliners and four trailers. In 1997, he bought his current truck, a 1998 Freightliner Classic XL with a 500-hp Detroit Diesel Series 60. McSwain has continued to develop good business practices since moving to Sunco Carriers in 1992. He does his own accounting weekly on spreadsheets, but has an accountant review his records. "Being organized does more than help me be more professional. It saves money on my accounting bill," McSwain says. "I itemize everything so that there is less work for my taxman to do."
Another of his strengths, McSwain says, is his ability to strategically pick short-mileage loads that pay well. McSwain drives for Publix and other grocers, wherever he can get the best freight.
"We have the choice of what's available at the time, and we choose loads from that. The loads are chosen by first empty, first option, so if there are five loads and you are the fifth driver, you don't have a lot to choose from," McSwain said. He works to schedule his runs in so that he's the first driver and has the best pick.
Dennis Carroll, director of fleet managers at Sunco Carriers, says McSwain is a savvy businessman. "There's a lot of truck drivers in the world, and then there's a lot of businessmen that utilize a truck to operate a business," Carroll says. "Jimmy is one of those businessmen."
McSwain monitors his truck to cut down on repair costs and make a more efficient haul. He does thorough pre- and post-trip inspections daily, greasing the truck every 25,000 miles, and performing more complete weekly inspections to check for anything loose.
To save fuel, McSwain added a Permalease Tri-Pac auxiliary power unit. He always runs the speed limit and is careful to accelerate gradually.
McSwain not only concentrates on his own profitability, but also does what he can to make Sunco successful. Carroll notes that McSwain gives 100 percent when working with customers.
"We call him the invisible truck," says Sunco President Joe Whitfield, "because he moves up and down the roads without anyone ever knowing he is there."
In 2008, McSwain was inducted into the Florida Road Team, an honorary group of drivers that promotes safe driving for high school kids. As a volunteer in the Trucker Buddy program for three years, McSwain brought his truck to visit the first grade students of Lynn Baker in Bartow, Fla. He also sent cards from the road, detailing where he was and what he was hauling. McSwain has been involved in many events at Sunco, Whitfield says.
"His safety record is impeccable," he says. "He's cooperative and mild mannered, and his desire to be the best in whatever he wants to do sets him apart."