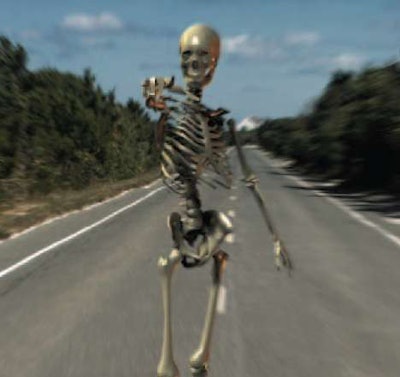 Fans of Overdrive's Facebook page reserved no shortage of sarcasm for a question editors posed in August about haunted truck stops. "I bought fuel today for $4.08. Scares the **** out of me every time," wrote Lex Rexroad.
All the same, others noted a former stop on I-77 in Charlotte, N.C. — Jake's Red Ball, "now an empty lot … with weeds growing up from the cracks in the pavement," wrote Ronnie Southerland — where several drivers were known to have been murdered in days gone by, as Michael Duffey had it.
And Alabama figured largely in other highway haunts:
Libby Kerans Clayton: "I can say I didn't enjoy having a vintage-style hearse slow and run along beside me at 2 a.m. on I-65 near Evergreen, Ala. Found out later that stretch of highway is supposed to be haunted."
Brian Schuetz: "There's a fuel stop at the junction of U.S. 278 and 5 [in Natural Bridge, Ala.], where a lady was run over by a truck. When you go through the intersection on a stormy night she jumps on your running board and looks in to see if you're the one that hit her."
Anybody else just get the chills?