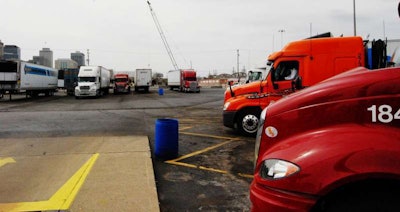 While kudos came in for Overdrive Dollars & Sense columnist and Extra blogger Kevin Rutherford (also host of the ATBS Trucking Business & Beyond radio show) and his story about methods to develop core groups among your owner-operator peers to change the trucking industry — and your business — for the better, one reader offered a word of caution. As part of a round-up of tips for getting started on building your "tribe," or information-sharing network, Rutherford suggested involvement with your state's trucking association. "Beware of state or local trucking associations," a commenter wrote, suggesting in the case particularly of leased owner-operators that they have "the interest of their motor carrier membership" in mind, "not the small independent contractor… Check them out before committing any of your time or effort."
It's better, he went on, "to join a group that has your own interest in mind. No, that doesn't have to be [the Owner-Operator Independent Drivers Association], but maybe a local trucker group that has a meaningful relationship with a few state legislators, their staff, media contacts, and a few good sources with the DOT. You may be surprised but many of these folk actually want your imput on trucking issues."
Owner-operator Linda Caffee offered praise for Rutherford's story. Caffee, half of a team with her husband, Bob, leased to FedEx Custom Critical, is a member of just such a small group of owner-operators in the Trucking Solutions Group, sharing ideas regularly and giving advice to regulators and local Congresspeople when opportunities arise.
Owner-operator Gordon Alkire extended a tribe-building hand to the highway patrol. "I have found over the years that if I just stop and talk to a highway patrolman it can lead to a lot of help in how laws are enforced," he wrote. "Sometimes they are in the corner in a truck stop, or just parked behind the big roll of hay and waiting. We may talk about how to be aware of things that may be harmful in certain areas. It has turned out that I have friends that are law enforcement officials, and I get some information from them on a voluntary basis. Getting the trust of some is not easy. It has to be earned. In 2008 I volunteered to drive the [Trucks on Patrol for Safety] truck for Kansas. It was a learning experience for all of us involved. In doing this I found that we are just doing a different job. Information can be exchanged and ideas passed. What is nice is to be able to do ride along and see how they do their job from their perspective — out of their windshield. It does not have to be them against us, but us and them working together. We talk about ideas, how changes should be made, how some laws are not right but in effect. We can work as a team like back in the good ol' days."
What does your tribe look like? Tell us, and for more, find Rutherford's original story here.