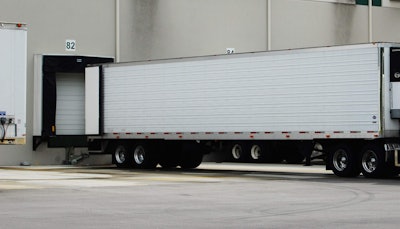 Owner-operators responded in a big way to Wendy Parker's telling of her first experience of a lumper fee on the long road with her owner-operator husband, George. Of particular note was Riley, Kan.-based Gordon Alkire's account of an early-mid-1990s experience at a dock (find it under Parker's post here — Alkire posts as "Mousekiller"), as well as the accounts that follow.
Some receivers, particularly in grocery distribution, commonly outsource to lumping services independent of their core business. All the same, forcing a carrier to pay a service for unload without reimbursement is illegal under Title 49 of the United States Code, § 14103, on the loading and unloading of motor vehicles; owner-operators/carriers should retain the option of unloading. If they do not, and they or their employing carriers aren't being compensated for the lumper fee by either shipper or receiver, then the statute has been violated. The section places responsibility on the shipper/receiver to compensate and/or assist vehicle operators/owners for their work unloading or loading when such assistance is required. As stated, coercion to pay out of pocket for shipper/receiver assistance is prohibited.
The Owner-Operator Independent Drivers Association took the SuperValu company to federal court in recent years over the company's insurance requirement for carriers not utilizing lumping services at their docks. Find more about the case here in the court opinion text, which came down in favor of the receiver.
In 2012, OOIDA began collecting information from drivers in a lumper-focused portion of a member survey, finding that the issue of lumping fees remained a big one at grocery-warehouse locations. Sixty percent of total survey respondents "indicated that they have used lumpers, with 36.5 percent being required to use lumpers when they would have preferred to unload themselves," survey results read. Among survey respondents paying lumper fees, "nine percent do not receive any reimbursement."
Reader responses:
Chris Harkins: Lumpers are the sole reason I do not ever haul anything that you might find in a grocery store! Last time I had a run-in with them was about 10 years ago at McLane North East in Contoocook, N.H. I had a midnight appointment which I arrived on-time for with just six pallets of pretzels. I handed in my paperwork and was given a door. I was then approached by the lumper "service" and told it would cost me $50 to get unloaded. I said, "No thanks, I'm all set," and used my own pallet jack and placed the six pallets in a neat row so they could be counted and inspected for damage. After an hour of waiting I inquired about what was taking so long. I was then told that the pallets needed to be broken down and restacked onto smaller pallets. I just laughed. I was then told that the lumper "service" could do it but it was going to cost me $150 now. Again I laughed. I took my pallet jack and reloaded the 6 pallets back onto my trailer, went up front and asked to see my paperwork. The dispatcher gave it to me and I turned to walk out the door. He started yelling at me to get back there because they needed that product. I said, "Apparently not enough to sign for it and get me on my way without some sort of payment to your lumper service." … It was not 15 minutes later that I got a call from the broker asking what was going on. (It's now 2 a.m.) I told him what just happened and he told me I had to go back and just to pay the lumpers and he would pay me for it. To which I replied, "Not without an additional $200 for a redelivery tomorrow. So there better be a rate confirmation on the fax before I get home, and when I come back tomorrow, if they mention lumpers I'm out of there. Well, it's amazing how fast things went the next night."
Craig Vecellio: Normally, I pull a flatbed, and lumpers are among the reasons. One time when flat freight was low, I got put on a dry van delivering to a grocery warehouse in Jersey. When I got there … four of them [were] sitting at a table playing cards, and they wanted me to wait 15 hours to unload. "Where's the pallet jack?" I said. "I'll do it." They said, "No no no, this is a Teamsters shop, you can't do that!" I said, "I usually flatbed, I'm used to handling the load," and started pulling boxes off the pallets by hand…. I got unloaded.
Jon McLaughlin: I just tell them that I did not just show up with this load and ask them if they wanted it. That somebody for the company ordered it and that I will not pay to have their order unloaded. If they want it, they will unload it…. That has worked several times. Or I call the load broker and tell them that it is their responsibility and that I was not paid enough for this. Now when I go to load, I check what the commodity is and ask if a lumper fee is involved. If so, I decline the load.