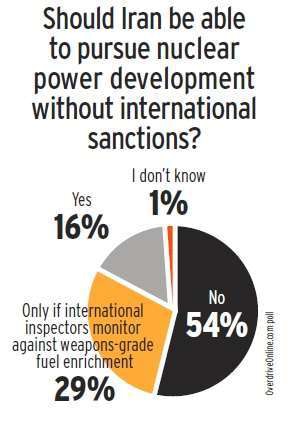 As the Obama administration moved toward inking a deal with the international community that will relax some economic sanctions in exchange for new monitored restrictions on Iran's nuclear capability, a slight majority of readers seemed to think such was indeed a dangerous game. More than 50 percent of readers voted a categorical "no" to the question of whether Iran should be able to pursue nuclear power development minus the international sanctions currently in place as a deterrent to what many believe is the country's intent to build a nuclear weapon.
If with U.S. involvement in negotiations with the international community is able to put in place an open system of inspections to guard against any breakout nuclear-weapons capability, a sizable segment of Overdrive readers, however, saw atomic power development as feasible for the state, as it is in other states in the region, echoing the point of view of officialdom, which moved in that direction in Iran negotiations in November.
As Jamie Clemons suggested in comments on OverdriveOnline.com, "nobody bats an eyelash" when other countries in the Middle East build nuclear power plants.