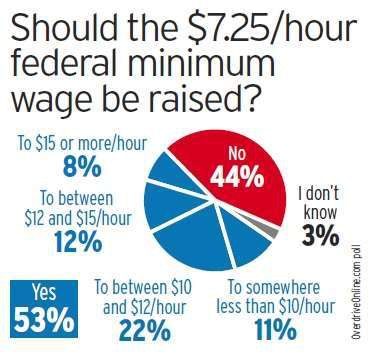 With President Obama advocating for a $10.10/hour federal minimum wage and some states having raised the minimum wage as high as $15 – Washington, namely – Overdrive readers showed fairly even division on the issue.
While interstate employee drivers – to say nothing of owner-operators – wouldn't benefit directly from a minimum wage hike, readers voting Yes to a hike showed support on account of the indirect effects on the trucking business. Rock-bottom wages = less consumer spending = less freight on the hook. "If people are in survival mode," noted Jeff K. Jones, commenting on Overdrive's Facebook page, "they can't spend to help the overall economy."
In the more pointed words of a company owner commenting under the above poll at OverdriveOnline.com: "I've built my company from the ground up and have people working for me. I would be ashamed to pay anyone $7.25 an hour!"
Hardliners against a wage hike generally were more vocal. A hauler commenting under the same poll disputed the notion that a hike would show an economic benefit.
"Raising the minimum wage will do nothing but raise the cost of goods, which will mean [those with that extra wage] won't be any better off. Companies are only going to pass on the increased cost of doing business to consumers. The only entity that will profit will be the government, through additional taxes."