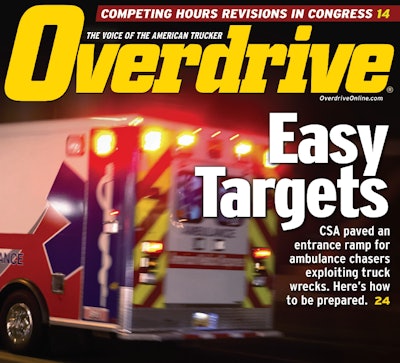 Following Overdrive's June cover story on issues surrounding the rise in large jury awards resulting from post-crash litigation, views on what truckers (both operators and carriers) can do to protect themselves ranged from emphasis on in-cab video-recording technology to just how the liability trail can extend in a litigation-happy environment.
David P. Wisla, commenting under the anchor story in the associated online version of the feature story, pointed to the tort bar's express encouragement of suits against trucking companies. "Truck Safety Alert: The Rising Danger From Trucks, and How to Stop It" was published in June 2013 by the American Association for Justice and argued for raising the liability minimums required of all trucking companies. It also provided something of a "virtual instruction manual," Wisla contends, for "how to sue and win against trucking companies," among other such resources out there.
Illustrating the attention paid to trucking and affiliated companies in litigation, where crash fault can be thrown into doubt in any way, Wisla pointed to his own brokerage's experience that placed him among the one in five Overdrive readers who've been named as defendants in civil post-crash legal action. "We had brokered a load to an independent driver. Five hours after delivering the freight, he was in a crash with two fatalities and injuries. We were named as the primary defendant, after his company was found to be at fault and our insurance company was forced to pay. (Then they dropped me.) Moral of this story is all of the transportation law goes out the window and local tort laws prevail. Lastly, be aware of what state or commonwealth … you are driving in, to or through. Each, it seems, have different laws that seem to trump (no pun intended) any transportation law."
Other readers suggested the "safety alert" might better be placed on the effect the raft of civil litigation has in the realm of fraud schemes perpetrated by motorists.
One Savannah, Ga.-based reader showed familiarity with the ads of Ken Nugent, mentioned in the original story, among many others around the nation that seem to encourage "dangerous roadway behavior," he wrote. "promoting collecting the 'Big Money' from truckers as though it's like winning the lotto jackpot. There's plenty of losers out here who watch, listen to these TV, radio advertisements. They share the same roadways with our heavy trucks. They see this as a win-win situation — if only they can cause an accident which they will be able to walk away from but sue for big damages. … They make us sick watching their twisted TV advertisements. We're bombarded 24/7 here in the Savannah area with their distorted truths of how to make the big money in a commercial vehicle accident."
Other voices in reaction to the coverage, which you can access via this link, follow.
[gtblockquote quote_text_color="#5e5e5e" background="#f4f4f4″]I tell all my guys to get a dashcam. Sure, they will not always keep you safe, but they can save your company, and come at a very small cost. … Having a cam that faces outward is great, and if you have one on the trailer too, that is even better. I'd recommend having the dashcam set up so you can see the hood mirrors — this will help is some cases. Plus, having a dashcam will help your attorney show how proactive you are, and any good things they can use for you will only help a court case and possibly help a jury see you're not the devil. That said, be safe and never trust anyone that claims to be at fault. Get the police involved to prove your position. Make sure there are pictures of the accident and any debris in the road. The debris can illustrate where the collision happened, and point to the other person as at fault. Always report a claim immediately to your insurance company, too, as attorneys will use a late reported claim against you, even if it happened years before. They will try to say a late reported claim shows a lack of caring on your part, even if that was a late reported claim from hitting a deer. Never underestimate how an attorney can flip things around on you. —Jclaspill, via OverdriveOnline.com
[gtblockquote quote_text_color="#5e5e5e" background="#f4f4f4″]I sued the people that hit me, including a major trucking company that I won't name, and so it's a two-way street. I try to spare those that do me harm, but push come to shove have a conscience on the same level as an attorney. —MindGames, via Overdriveonline.com.
[gtblockquote quote_text_color="#5e5e5e" background="#f4f4f4″]I am amazed at how quickly the insurance companies are willing to pay as soon as one of the ambulance-chasing attorneys gets involved. Had a car traveling significantly slower than the speed limit and other traffic…. Car in front of my truck jumps to the left lane, my truck goes to the shoulder. Impact was right rear of the car and left front bumper of my truck. Driver and passenger jump out, apologize and say it is their fault. Passenger bolts at the sight of police. Police accident report is so inaccurate it is like a totally different incident and does not have most of the details, including the skid marks. Driver that was hit has us sued and insurer rolled over and paid. Driver is a drug user, passenger was her dealer/boyfriend. Witnesses said my truck passed them at a high rate of speed (skid marks indicate maybe 5 mph over posted limit) but somehow that same driver was right next to the truck to witness everything. SMH…. —CarlaLylePeacock, via OverdriveOnline.com