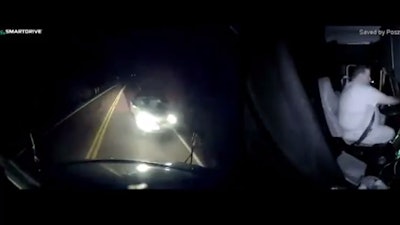 Fraley & Schilling driver Don Cuddeback was well toward the end of a haul from North Carolina back toward the area around his home in Dandridge, Tenn. Headed toward the last stop before his ultimate destination, he was on an "access road to the plant," a pretty narrow road, and "coming around a curve here come some lights lined up square with my truck."
The video above, showing the dual view of the SmartDrive cameras installed in most Fraley & Schilling trucks two years into implementation of the cams, captured the dramatic scene. Cuddeback, of course, expected the oncoming motorist to "swing over into his lane," but he "quickly realized that wasn't going to happen. As he came around the corner, I thought, 'I'm going to buy this one.'" He hit the brakes hard and "tried to get it slowed down. At the last minute, I made an evasive maneuver, and was absolutely shocked that I missed him.
"In my head, I'd already had the accident."
That's how close it was, but fortunately Cuddeback, as you can see in the video, was able to catch in his side-view mirrors just the slightest gap between the passing car and the van trailer he was pulling (empty, again fortunately in this case) back on the passenger side. "It took me a couple seconds to gather myself together. It definitely left me reeling."
Mike Posz, Fraley & Schilling Safety Director, however, sees the immediate aftermath of the event a little differently. When he was notified of it in the normal course of things — he's set up the SmartDrive system so that he gets access to all triggered footage from the company's trucks — he knew the company had "the right guy" behind the wheel "in the right place at the right time," he says. "When I got in and saw the footage finally, I couldn't believe we didn't hurt somebody. It wouldn't have been our fault, but when it comes down to somebody getting hurt none of that matters. I immediately shared it with our top-level leadership. The thing that takes me aback is Don's reaction – if that would have been me, I'd have been cussing, screaming. Don remained completely calm."
When Posz got in touch with Cuddeback, it was the weekend and "Don and he was out on the lake," he says. "I just wanted to thank him for his efforts and remaining calm and doing what he'd done. I wanted to thank him for saving somebody's life. Don told me, 'I've always said that if a driver ever finds himself in a situation like this, I'm the guy you want in the seat.'"
Cuddeback realized long ago, after years and years of driving, that learning to relax and maintain a sense of calm while remained vigilant to the driving task was key to the safe-driving task, he says. "Once I got myself calm and relaxed, I became a much better driver."
Cuddeback's just over a year with Indiana-headquartered Fraley & Schilling at present, he says. The company predominantly hauls flatbed freight, but also utilizes dry vans for some loads.
Click here to view more Dashcam Central videos.