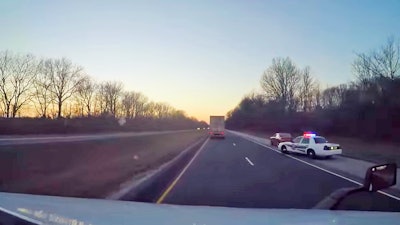 Today's Dashcam Central entry shows it pays to move over for police at the roadside, in more ways than one. Not only can you avoid a ticket, things can go wrong in your lane, endangering emergency personnel on the shoulder. And if reader Glen Brannon's video above is any indication, police can be about as unpredictable as any four-wheeler. You never know when emergency personnel's going to make a move.
As shown, Brannon was "westbound on I-70 coming up on Terre Haute, Indiana, when I saw the lights of the Indiana State Police trooper" up ahead, with a car pulled over on the right shoulder. "I moved to the left lane."
Just as Brannon approached the standing pair on the side of the road, the trooper whipped his cruiser out into the right lane, "right beside me!" Brannon says.
As the video continues, "you see him pull over another car for not moving over to the left lane," Brannon adds.
Click here to view more Dashcam Central videos.