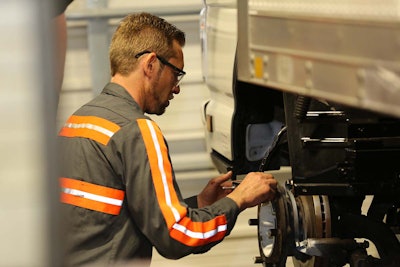 What was the extent of your mechanical experience when you started the owner-operator business?
The foundation of owner-operator Randy Carlson's business, the Minnesota-based owner-operator says, is deep mechanical knowledge garnered early, before trucking as an owner-operator. His entry into trucking followed an early career as a mechanic, learning from his father, who also trucked, then in trade school and on the job at an International dealer. It's a solid basis on which to build an owner-operator business, one that is probably less common than it used to be, given both the increasing complication of today's trucks and the growth in the driver-training industry.
While knowledge of the working systems of the truck is required of an CDL driver, there's no replacement for maintenance experience when it comes to hands-on know-how to save on repairs by doing them yourself.
Many owner-operators have such experience, judging by the poll at top, many having started out trucking after working as a diesel mechanic, even, like Carlson. More often, experience is less formal, of the grew-up-'round-trucks variety. That description might well apply to Wayne Van Hooser, who noted under the poll when it was open here at OverdriveOnline.com that he "started working on my own vehicles at age 15. My best friend and I started building hot rods in high school and fixing other people's cars, trucks or whatever. In 1973 I bought my first truck. I didn't have the money to pay to get everything fixed, so if I didn't know how to fix something, I'd go get a book and go to reading. Forty-four years later I'm still doing all of my own work."
Van Hooser's built his small fleet of six power units around his slowly growing maintenance specializations – "Caterpillars, Peterbilts, Eaton transmissions and rear-ends. I keep all of my equipment the same" and thus "parts are interchangeable. … I have six Peterbilts, 359s and 379s. I have all Caterpillar engines and all Eaton 13s and 18s, Eaton 402 and 404 rears. … Same filters, same oil, brakes, and etc. l tell drivers today that ask about buying their own truck: 'Do you know how to work on one? Because paying to get it fixed every time will put you out of business before you ever get started.'
"That usually puts their mind to thinking."
Dan: Was an aircraft mechanic in the USAF. Had mechanical knowledge and had been around trucks and farm equipment since I was a kid. I knew or could figure out how to do a lot of things, but most importantly, I had a good idea of what jobs were beyond my ability and/or toolbox.
Brad Ramsey: I had a general idea of how vehicles work. I would use what I had to attempt to figure it out. If I was unsuccessful I would ask some of my old-timer friends who'd been trucking for 30 or more years. They'd usually take the time out of their day to help troubleshoot the problem and even assist in fixing the problem. Old-timers have not only helped me with mechanical problems, but in every aspect of trucking they have formed me into the driver I am today.