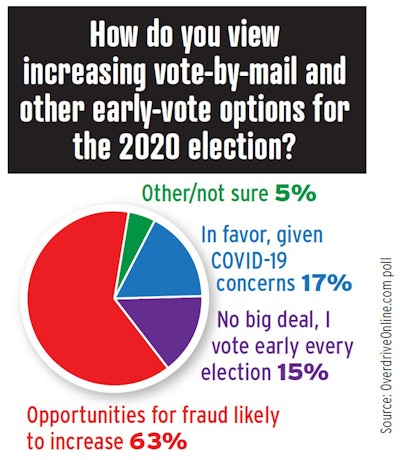 Most readers last month seemed to hew to a message emanating from the White House with allegations that increased vote-by-mail options present greater opportunity for vote fraud than other voting options. In separate polling, a third of readers indicated their intention to vote absentee/by mail themselves.
Reader P. Anderson made a distinction from traditional absentee ballots. He believes "general mail-in ballots will not be handled the same way, are fraught with deception and fraud and will serve only to diminish the value of a vote."
Generally, absentee ballots must be requested by the voter, then completed and mailed back in or dropped off.
Most often the "mail-in" term is used for automatic mailing of ballots to registered voters to complete and mail back in — five states handle all their elections this way. Expansion of such as an option in a state with multiple options clearly worries many.