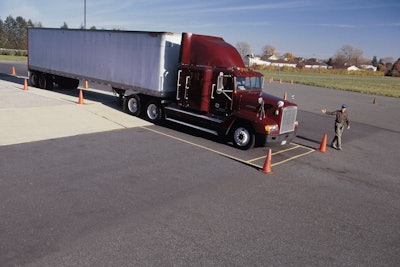 More than 100 organizations sent a letter to Congressional transportation leaders on Wednesday urging the passage of the DRIVE-Safe Act, legislation that would allow CDL holders under the age of 21 to cross state lines.
Promoted as a solution to a shortage of truck drivers, the legislation – first introduced in 2018 and reintroduced last month – would classify 18-to-20-year-old CDL holders as "apprentices" and allow them to drive interstate while participating in an apprenticeship program.
The District of Columbia and 49 states currently allow individuals under the age of 21 to obtain a commercial driver's license and operate commercial vehicles in intrastate commerce, but federal law prohibits them from driving a truck across state lines until the age of 21. The ban on interstate commerce also precludes drivers under 21 from hauling any freight intrastate that originated from out-of-state, such as cargo shipped by air into their state of domicile.
In order to qualify for the proposed apprenticeship program, candidates must complete at least 400 hours of additional training, and all qualified driver participants would be accompanied by an experienced driver in the cab and would only be allowed to drive trucks outfitted with the latest safety technology, including active braking collision mitigation systems, forward-facing event recording cameras, speed limiters set at 65 miles per hour or less and automatic or automatic-manual transmissions.
The letter, sent on behalf of 117 organizations from across the U.S. supply chain, notes that 70% of the nation's freight is carried by commercial trucks, "and while demand is projected to increase over the next decade, the threat posed by the driver shortage stands to disrupt the continuity of the supply chain."
The legislation had strong bipartisan support in the 116th Congress and is backed by the American Trucking Associations, which calls it both "common sense and pro-safety." The Owner-Operator Independent Drivers Association has long been opposed to allowing under-21 truckers to cross state lines.
Among the transportation stakeholders to co-sign Wednesday's letter to Congress were ATA, FedEx, National Tank Truck Carriers, Truck Renting and Leasing Association, Truckload Carriers Association, UPS and Walmart.
"The DRIVE-Safe Act will help our nation's freight continue to move while preserving and enhancing the safety of our highway system," the letter reads. "It will help fill desperately-needed jobs and provide younger Americans with the opportunity to enter a profession with a median salary of $54,585, plus health and retirement benefits. And it will bolster and support our nation's supply chain, which is an issue of heightened urgency as our nation recovers from the COVID-19 pandemic."