Groups seek overturn of hours rule
Consumer, safety and labor groups have petitioned a federal court for permission to pursue a third round of litigation to overturn the hours of service rule.
On Aug. 27, the Advocates for Highway and Auto Safety, Public Citizen, the Truck Safety Coalition and the Teamsters sought review of the rule in the U.S. Court of Appeals for the District of Columbia. Court officials had yet to schedule oral arguments.
The organizations asked the court to vacate and remand the rule made effective in January by the Federal Motor Carrier Safety Administration. FMCSA had adopted as final 2007 provisions of the HOS interim final rule. The groups charge the agency failed to consider the health consequences of letting truckers work more hours.
In 2007 and in 2004, the same court overturned previous HOS decisions in favor of the petitioners. The FMCSA had no comment.
The Union of Concerned Scientists and the Society for Occupational and Environmental Health are among the organizations supporting the petitioners as a friend of the court.
The Owner-Operator Independent Drivers Association, the American Trucking Associations, the U.S. Chamber of Commerce and the National Industrial Transportation League are among those who have intervened for the defendant.
— Jill Dunn
Ohio trucker wins custom rig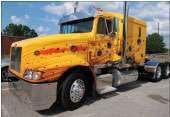 Owner-operator John Lacusky of Cortland, Ohio, won this 1998 International 9400 customized by the Chrome Shop Mafia during the Great American Trucking Show in Dallas. The prize was the highlight of the Win Big With Custom Rigs sweepstakes, sponsored by Overdrive's Custom Rigs. The tractor contains a reliabilt replacement engine, covered by a three-year, 300,000-mile warranty from Detroit Diesel.
Big increase projected for UCR fees
Fees under the Unified Carrier Registration system would more than double under a Federal Motor Carrier Safety Administration proposal published in the Sept. 3 Federal Register.
The minimum fee, which applies to a one-truck operation or to a broker or freight forwarder, would go from $39 to $87, while the maximum fee for for-hire and private carriers with more than 1,000 trucks would rise from $37,500 to $83,412.
Several factors drove the need to increase fees to provide the $113 million necessary to provide states with the revenues they received under the Single State Registration System.
One reason for increasing the fees was a change in federal law last year that eliminated trailers from the calculation.
Another is the low rate of compliance with the registration requirement. Between 80 percent and 90 percent of carriers operating 100 or more trucks have registered under UCR. But the compliance rate among brokers and freight forwarders is only 16 percent, and fewer than 60 percent of single-truck operations have registered.
— Avery Vise
Short hauls
TRUCKERS CAN SAVE on purchases with coupons at Flying J and Pilot Travel Centers from Nov. 1-7 for National Truck Driver Appreciation Week. Truckload Carriers Association President Chris Burruss announced the joint venture with Randall-Reilly Publishing and the participating truck stops at the TCA Independent Contractor Division annual meeting held in conjunction with the Great American Trucking Show.
HIGHER OIL CONSUMPTION as the global economy recovers should drive crude prices higher and lead to higher prices at the pump for diesel and gasoline in 2010, the U.S. Department of Energy's Energy Information Administration predicts. EIA forecasts the average diesel price to be $2.47 per gallon this year and $2.88 in 2010.
FREIGHTLINER is extending its Slice of Life program with plans to give the three participating truckers new Cascadias equipped with Detroit Diesel's BlueTec selective catalytic reduction emissions technology in DD15s. In the program's second year, the truckers will test and comment on the SCR technology, which is used to meet 2010 federal emissions standards. One of the three is Henry Albert, Overdrive's 2007 Trucker of the Year. More details are available at http://www.sliceoftruckerlife.com/
TRUCKER BUDDY International has named Randy Schwartzenburg, formerly director of national sales for the Digital Magazine Technology Division of Randall-Reilly Media, as executive director. For the last six years, Schwartzenburg has served on the organization's board as treasurer.
Daimler sets Cummins 2010 surcharges
Daimler Trucks North America, which will offer 2010-compliant engines from Detroit Diesel and Cummins, announced it will add a $9,000 surcharge to trucks with Cummins ISX15 engines.
As previously announced, trucks equipped with Detroit Diesel BlueTec emissions technology and DD15 and DD16 big bore engines, as well as the mid-bore DD13, will be offered at the same $9,000 surcharge per vehicle. A surcharge of $7,300 will be added for the Cummins ISC8.3 engine, and $6,700 will be added to the price of vehicles equipped with Cummins ISB6.7 engines.
The surcharges reflect costs associated with adding selective catalytic reduction technology to meet emission standards set by the U.S. Environmental Protection Agency that take effect Jan. 1, 2010.
— Staff reports
Mack relocates its headuarters
Mack Trucks' iconic Bulldog mascot and a Mack Titan model appear outside the company's new world headquarters, which opened Sept. 3 in Greensboro, N.C. Displays of Mack trucks, headquarter tours, the unveiling of the 8-foot Bulldog statue in front of the headquarters, and retrospectives of the company's history highlighted the grand opening. Mack moved its headquarters to Greensboro as part of a restructuring plan.
Engine makers give update
Heavy-duty engine manufacturer officials gave an audience of drivers and fleet representatives the latest details concerning cost and performance of their technologies for meeting 2010 engine regulations during the 2010 Engine Super Session at the Great American Trucking Show in Dallas.
With the exception of Navistar, which is using advanced exhaust gas recirculation, the manufacturers are introducing selective catalytic reduction technology to meet the U.S. Environmental Protection Agency's mandate to reduce NOx emissions to 0.2 grams in 2010.
SCR requires the use of diesel exhaust fluid. Navistar plans to meet the requirements in the engine cylinder without an additive.
The 2010 Cummins ISX engines will yield better fuel economy than current engines, said Jason Owens of Cummins. "Our new engines will have a larger 'sweet spot,' resulting in better drivability," he said.
David Siler of Detroit Diesel said that with the company's BlueTec technology, "The DD15 will provide fuel economy not seen since the pre-2002 engines."
Overall attendance increased slightly at the Great American Trucking Show in August over 2008, helped in part by new features.
New events included the 2010 Engine Super Session and expanded educational opportunities offered through a redesigned educational track called TruckSmart Summit. GATS also hosted the 2009 Truckload Carriers Association's Independent Contractor Meeting.
Great American Trucking Show visitor registrations grew from 44,669 in 2008 to 45,987, an increase of 3 percent.
"To attract so many highly qualified visitors, in such a challenging environment, is a testament to our commitment to deliver the attendees our customers are looking for," says Mike Reilly, chairman, president and CEO of Randall-Reilly, which owns the show.
Next year's show will be Aug. 26-28 at the Dallas Convention Center. Randall-Reilly also produces The Great West Truck Show, held annually in Las Vegas, and publishes Overdrive.
— Staff reports
New programs boost attendance at Dallas show
In addition to improved mileage claims by the engine manufacturers using SCR, David McKenna of Mack reported that there would be no change in engine hardware under the hood, making the engines "service friendly."
Volvo's engines will show higher horsepower and the bonus of no active regeneration with the 2010 power units, said James Fancher of Volvo.
Navistar says its 2010 MaxxForce engines offer truck owners greater simplicity because no new agent will have to be added, as with the use of DEF. "We have a turn-key strategy," said Steve Perkins of Navistar. "We take the burden off the customers and put it on us."
He said Navistar will likely use EPA credits to meet emissions regulations into 2012, depending on sales, as the company continues to hone its technology.
The event was sponsored by Castrol and Rand McNally. The panel was moderated by Randall-Reilly editors.
— Randy Grider
Short hauls
A PENNSYLVANIA BROKER and his two sons face counts of mail fraud, wire fraud, aggravated identity theft and conspiracy in connection with a $1 million fraud scheme, the U.S. Department of Transportation's Office of the Inspector General announced. The U.S. District Court of Harrisburg unsealed the 40-count indictment charging Rubik Avetyan and his two sons, Allen and Alfred. DOT-OIG says the three are accused of creating two shell companies to facilitate a double-brokerage scheme and transport stolen merchandise.
TENNESSEE RECEIVED federal stimulus funding for idle reduction rebates for small fleets, with priority given to fleets with five trucks or fewer, and truck stop electrification. Tennessee motor carriers can apply for rebates for 50 percent of idle reduction technologies, such as auxiliary power units, for long-haul trucks. The legislation is providing $1.73 million to supplement the state's Idle Smart Clean Diesel Grant program.
SURFACE TRANSPORTATION trade between the United States and its North American Free Trade Agreement partners Canada and Mexico was 31.5 percent lower in June than in June 2008. It was the sixth consecutive month with a year-to-year decline of greater than 27 percent, according to the U.S. Department of Transportation.
FTR ASSOCIATES released preliminary data showing Class 8 orders for all major North American truck makers totaling 10,758 units in August, the strongest showing since November 2008. The figure includes orders for the United States, Canada, Mexico and exports. The August orders were 20 percent better than the previous month.
TRUCK DRIVERS going through Illinois might not have to go far if they want to test out their luck. With a new provision of the state's gaming laws, truck stops occupying at least three acres with a separate fueling station for semis would be allowed to install gambling machines. The truck stops also must be licensed to sell alcohol to install the machines.
PENSKE TRUCK LEASING announced a 16-city North American 2010 Selective Catalytic Reduction Engine Seminar and Open House that runs through Nov. 17 in Portland, Ore. Penske and Freightliner will provide customers with 2010 SCR engine emissions standards seminars and tours of a Freightliner exhibit trailer. For more information, call Michelle Hall at (888) 216-9365.
Roadside Medical plans new clinics
A clinic in Oklahoma City will be the first of the 11 to open, in October, followed by one in Dallas in early 2010. The sites have been licensed to Brough Group International, a Houston-based investment and physician-staffing company.
Roadside President Bob Perry said, "As we expand, we continue to bring convenience and affordability to truckers."
Long Haul Clinics of Ft. Myers, Fla., which operates Roadside Medical, spent two years and $3.5 million in research and development to create the business model for physicians and investors to run the truck stop clinics. Three Roadside Medical sites are open in Arkansas, Georgia and Tennessee. Long Haul is negotiating to award licenses for 80 sites at Pilot locations.
At its existing locations, Roadside provides DOT physicals and screening, sleep apnea tests and wellness programs. No appointments are necessary at clinics, which are typically open Monday through Saturday, 9 a.m. to 9 p.m.
— Deirdra Drinkard
Audit critiques cross-border program
The Federal Motor Carrier Safety Administration has satisfied much of the safety recommendations made for the Mexico cross-border trucking program, but needs better traffic conviction data, its oversight office reported.
The agency's Office of Inspector General released its Aug. 17 audit of the program that ended in March after President Obama signed a bill barring project funding. The office was required to annually review the program, which began in 2007 and allowed a limited number of Mexican and U.S. fleets to do business beyond the border zone.
FMCSA fully met six of the eight congressionally required criteria. It also substantially met the criteria to have "adequate capacity at southern border to conduct meaningful inspections," as well as "having sufficient databases to allow safety monitoring of Mexican carriers and drivers."
Mexican carriers' out-of-service rates for drivers and trucks were lower than those of U.S. carriers during the program.
Mexican driver safety is evaluated identically to that of U.S. and Canadian drivers and disqualifying violations on drivers is the same for the three countries, the audit said.
— Jill Dunn
Con-way driver named champion
Dale Duncan, a Con-way Freight driver based in San Diego, was named the 2009 National Truck Driving Grand Champion. Duncan's driving skills and safety knowledge topped those of 415 other drivers in the National Truck Driving Championships, held in Pittsburgh.
The 72nd annual "Super Bowl of Safety" is sponsored by the American Trucking Associations. The contestants were the state champions in nine truck types from all 50 states.
— Staff reports
Speakers forecast sluggish freight recovery
The worst is over for the freight economy, but recovery will be slow and uneven, according to speakers at the Aug. 25-27 FTR Associates Freight Transportation conference in Indianapolis. Speakers represented the Federal Reserve, Wall Street, freight carriers, shippers, suppliers and consulting firms.
Some points made during the conference, according to FTR:
• Subdued consumer spending will slow the pace of recovery, leading to continued high unemployment. Unlike most previous recessions of this magnitude, economic growth will be subdued despite the depth of the current downturn. This indicates that growth in freight volumes will be gradual.
• We are at the bottom of the steepest decline in freight since the 1980-1982 downturn. Freight is down 15 percent from the previous peak.
• Freight transport will continue to be a buyer's market for the near term, as depressed freight levels and substantial excess capacity will continue to be the rule. This will put continued pressure on carrier margins.
• High levels of excess capacity are expected to continue, in some instances due to banking's current reluctance to foreclose on heavily discounted assets at near-bankrupt carriers;
• Equilibrium for carriers may not be reached until 2011 unless there is a more rapid recovery than currently expected.
• Both rail and motor carrier equipment sales are expected to lag the improvement in freight, and will recover slowly. Sales may not reach the peak 2006 levels for a decade or more.
— Staff reports
Short hauls
SWINE FLU was blamed for the death of a 45-year-old owner-operator who drove through several states before finally seeking hospitalization. Derrick Keel, who was leased to Landstar System, died Aug. 19 in a Maryville, Ill., hospital.
THE CALIFORNIA Air Resources Board has sent an agreement to the South Coast Air Quality Management District that frees up $45 million in grant funds for truckers to replace diesel trucks operating at the ports of Long Beach and Los Angeles. As of Jan. 1, owners throughout the state will need to upgrade their trucks under CARB's Drayage Truck Rule, which requires particulate filters to be installed or old trucks to be replaced.
Freight index rises, but still low
The Freight Transportation Services Index rose 1.6 percent in July from its June level, the first monthly increase since February and the largest increase since January 2008, the U.S. Department of Transportation reported.
"The rise in the freight index for the first time since February is a sign that the economic recovery is beginning," said Transportation Secretary Ray LaHood.
The DOT's Bureau of Labor Statistics reported that the Freight TSI declined in nine of the last 12 months, but has stabilized in the last two. The July Freight TSI of 95.5 is a 1.6 percent increase from the recent low of 94.0 reached in May and June; during those two months, the index was at its lowest level since June 1997.
The Freight TSI is down 15.4 percent from its historic peak of 112.9 reached in May 2006. The 4.8 percent decline in the first seven months of 2009 was the second-largest in the last decade, exceeded only by the 5.9 percent decline for the first seven months of 2000.
The Freight TSI measures the output of services provided by trucking and other for-hire freight transportation industries.
— Staff reports
Oregon, Texas get diesel funding
The U.S. Environmental Protection Agency has awarded $18 million for the SmartWay Clean Diesel Finance Program to Texas and Oregon entities.
The Houston-Galveston Area Council will receive $9 million for a revolving loan program to replace and retrofit Port of Houston trucks.
Oregon-based Cascade Sierra Solutions will get $9 million for revolving loan, lease or bond programs to replace older diesel trucks or upgrade them with fuel saving technologies.
The federal Recovery Act allotted $300 million for the National Clean Diesel Campaign, $30 million of which will fund SmartWay Clean Diesel Finance Program grants.
More information is available on the act's funding at http://www.recovery.gov
— Jill Dunn
Small trucking company failures drop in 2nd quarter
Despite a lingering recession, weak freight volumes and higher fuel prices, the number of trucking companies with five or more power units that failed in the second quarter of this year was the lowest in more than two years, according to an analyst.
The latest failures report from Donald Broughton, senior research analyst for Avondale Partners, estimates 370 carriers failed in the second quarter, down sharply from both the first quarter of this year and the second quarter of 2008. The average size of failed companies was 18 trucks.
Both the number of failures and the average size were at their lowest level since the first quarter of 2007, Broughton reports.
The number of trucks being pulled from the road is less than 15 percent of last year's second-quarter rate, Broughton says.
Without a surge in failures, freight pricing will not improve as needed to return the industry to health, Broughton says.
— Staff reports
Short hauls
GEORGIA. The I-85 northbound rest area in Franklin County and the I-85 southbound rest area in Gwinnett County east of Atlanta are closed permanently due to high maintenance costs anddeteriorating conditions.
KANSAS. Cash tolls were scheduled to increase 5 percent Oct. 1 on the state turnpike. Drivers with KTAG accounts will see no change. For a five-axle rig traveling from Topeka to Wichita, the $39.75 cash toll went up to $41.74. The $12.50 toll from Kansas City, Kan., to Topeka rose to $13.13.
MICHIGAN. Truck tolls on the Mackinac Bridge are scheduled to increase to $4.50 an axle from $3.50 in 2010. The toll will rise to $5 an axle by 2012 and $6 in 2014.
MINNESOTA. Expect detours and possible increased congestion at the I-494 and 7th Avenue interchange in South St. Paul into early October. Crews will close the eastbound I-494 ramp to 7th Avenue and the 7th Avenue ramp to westbound I-494, as well as the north frontage road for improvements.
NEVADA. A new law allows police officers and certain inspectors who have completed a state training program to stop and weigh trucks.
RHODE ISLAND. Cash tolls on the Pell (Newport) Bridge have risen to $2 per axle.
TENNESSEE. I-40 traffic across the Hernando DeSoto Bridge in Memphis is restricted for months during a seismic retrofit of the structure. Traffic sometimes will be reduced to one or two lanes in each direction.
TEXAS. Cities and counties that enforce no-idling are allowed to restrict idling during federally mandated rest periods to five minutes. A few exemptions apply to the law that carries a fine up to $500 in Dallas.
California eyes 18-cent fuel tax increase
The California Legislature may consider revamping state taxes, which could include proposals affecting truckers, such as an 18-cent per gallon fuel tax hike. If approved, tax changes would begin in 2012.
The bipartisan Commission on the 21st Century Economy was planning to release its plan to stabilize the state's tax structure by Sept. 20, Overdrive's press time, but has missed previous deadlines. Gov. Arnold Schwarzenegger has promised to immediately call a special legislative session to consider their ideas.
The governor and legislative leaders created the 14-member commission to suggest tax changes. A two-thirds vote of the Legislature is required to pass tax increases, which would be preceded by legislative analysis and hearings, the commission said.
At its Sept. 10 meeting, the group discussed the fuel tax, which they called a carbon or pollution tax and which would apply to diesel, gasoline and jet fuel.
— Staff reports n
Mark your calendar
OCT. 10: REDWOOD CHAPTER TRUCK SHOW, sponsored by American Truck Historical Society, Cotati, Calif., (707) 792-0436.
OCT. 16-17: BIG RIGS ANTIQUE TRUCK SHOW, Cherokee, N.C., Cherokee Indian Fair Grounds. travel@nc-cherokee.com, (800) 438-1601.
OCT. 17: COTTONWOOD NORTHERN ARIZONA TRUCK SHOW, Cottonwood, Ariz., (928) 634-3656 or (928) 634-8304.
OCT. 17: CORBITT TRUCK SHOW & REUNION, I-85 Exit 214, Hwy. 39 South, Henderson, N.C., (252) 767-2247.
OCT. 17: NORTHERN CALIFORNIA CHAPTER TRUCK SHOW, American Truck Historical Society, Orlando, Calif., (530) 865-8631.
OCT. 17-18: TRUCK SHOW LATINO and Construction Truck and Equipment Expo, including Overdrive Pride & Polish, Pomona Fairplex, Pomona, Calif., www.thetruckshowlatino.com.
OCT. 22-24: BIG RIG EXPO, Tulsa, Okla. Convention Center. www.bigrigexpo.com or (800) 481-0650.
OCT. 24: CONVOY FOR A CURE to raise money for breast cancer research, ending at Willie's Place, I-35E, exit 374, Carl's Corner, Texas, (903) 288-0374.
NOV. 1-7: NATIONAL TRUCK DRIVER APPRECIATION WEEK, sponsored by the American Trucking Associations, www.ntdaw.org.
NOV. 7: PIEDMONT CAROLINA CHAPTER FALL SHOW, American Truck Historical Society, Colfax, N.C., (336) 431-6824.