Tire makers take tread to new levels through advanced siping, improving traction and longevity.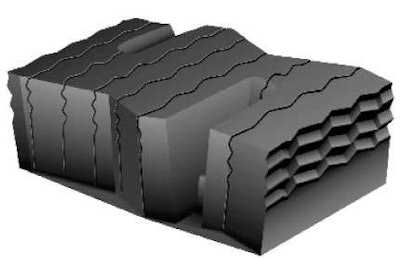 Modern tread designs are complicated affairs. Ribs, intervals between tread blocks, and hairline slits called sipes are interconnected to deliver higher levels of performance.
Computer modeling has enabled exhaustive virtual and demonstration-type testing where the tread's behavior can be watched through glass. In due course, major tire manufacturers have figured out how to use siping to improve wet traction, prevent irregular wear and even help tires run cooler.
The evolution of siping suggests that when purchasing new tires or picking the tread pattern for a retread, you should ask the company how any model's sipe design works with the rest of the tread pattern and how it affects the tire's lifespan. If you do off-road or severe service work, ask if the siping is compatible, as some sipes can trap small stones and cause damage. You might also want to talk about rotating a tire from its original position and how its siping is likely to affect operation on another type of axle. And, if you do your own siping, be sure to ask about how the manufacturer's warranty might be affected.
Two major benefits of siping advances are improved heat dispersion and traction.
"Part of the energy that wears a tire comes from heat," says Weir Schankel, manager of Van Alstine Manufacturing, which makes an aftermarket siping tool. "When a siped tire warms up, the sipes open up and this means more surface for dispersion of heat." He notes that in car racing, where tires sometimes blister from heat, drivers have found their tires run cooler after siping.
The main function of sipes is enhancing traction. When driving in snow, for example, "anything that can't be evacuated gets pushed into the sipes so there is more tread block touching the road," says Walt Weller of CMA LLC, the maker of Double Coin tires.
Sipes have their drawbacks, too. Chris Tolbert, business segment manager, Michelin Americas Truck Tires, says that siping reduces tread life and fuel efficiency. "The more sipes a tire has and the deeper the sipes are, the more unstable the tread is, which can lead to blocks chunking out and use of extra fuel," he says.
Michelin designed a sipe pattern to help compensate for these factors. "Our Matrix Siping molds zig-zag grooves into the walls of our sipes," Tolbert says. "When the tread design rolls through the contact patch, the sipe walls lock together. By doing this, the technology resists unnecessary horizontal and vertical movement, offering longer life than traditionally siped tread."
Continental has a unique sipe called a Visual Alignment Indicator that helps users recognize irregular "river" wear typical of tires that cruise on the highway for long hours and rarely scrub. If the tire's wear is irregular, the sipe's thin lines will disappear in a non-uniform manner with as little as 3⁄32-5⁄32 of wear, alerting the owner to the problem before the tread is ruined.
Bridgestone/Firestone sometimes uses shallow sipes primarily to control irregular wear, says Guy Walenga, director of engineering. They disappear with wear, but open up to "control stretch and distortion" while the tread blocks are deep and therefore more flexible and vulnerable.
Apart from these advanced designs, there are different varieties of sipe because of differing purposes. Goodyear's Rick Harden, senior tire engineer, says, "Siping may be considered for treadwear optimization in one location in the tread pattern, while different siping may be included at another location within the same tread pattern in order to enhance and balance treadwear and traction requirements."
"A sipe that is molded into the edge of a rib," says Matt Tharp of Toyo Tires, "is used to dissipate the friction energy that can cause irregular wear conditions such as river wear or punch wear. A sipe that is molded into the center of a rib or block is placed there to increase traction and braking. The sipe used to increase traction is most effective during wet or icy conditions."
Pat Keating, a senior technical engineer at Yokohama Tire, sees siping's most critical function in "steering traction. The direction of the vehicle is provided by the driver's input via the steer tires. Drive tires normally have blocks and wide grooves as their major features, so sipes are less critical there, though we do provide a single sipe for wet traction."
Harden says, "The width, depth and other dimensional characteristics of the siping which are used within a new tire's tread pattern are customized across the entire pattern to obtain the desired performance balance for the product. Each specific tread pattern, compound and tire size combination may require unique siping characteristics."
A sipe's biting edge cuts through water on the road, Walenga says. "As far as reducing treadwear goes, consider that every time a section of the tire enters the footprint, it has to roll flat," he says. "It is compressed, and then when it leaves the footprint, it kicks out. This is a lot of what produces tire wear." In action, a sipe "reduces flexing or scrub, and expands and produces a biting edge. It does a lot for traction, and it stretches to make treadwear more uniform."
Curtis Decker, an engineer with Continental, says a sipe works almost like a squeegee. "A sipe is there to remove the last layer of water to get the best grip." Decker explains that three-dimensional sipes lock together in the footprint and then spring apart, allowing the blocks to jump out of the footprint when it leaves the road. "With long tread blocks, you get a snapping effect, which generates a dynamic force on the road," he says. "It creates what we call 'heel and toe wear.' It's like rubbing an eraser across rough paper. With our sipes, we break up the tread block, and that means less snap effect as it comes out of the footprint."
William Estupinan, director of technical services at GITI Tires, says even molded sipes are likely to close up when they arrive in the footprint. "Sipes work by increasing the traction bite surfaces and thus increasing the area of contact with the road," he says. "Sipes create micro-blocks and micro-lugs that provide a more flexible and 'adaptive' interface tread." He also believes sipes reduce treadwear mainly by keeping the tire from losing traction and sliding.
The risks and rewards of aftermarket siping
While major tire makers have elevated siping to a refined, computer-modeled science, some truckers take a relatively low-tech approach and do their own slicing. This aftermarket surgery is particularly common among those who operate in a rainy, snowy climate, where the additional siping can provide better traction. It can be effective, but there are risks, say the big tire companies.
Even Weir Schankel of Van Alstine Manufacturing, creator of a tire siping tool for aftermarket sipers, urges caution. "We recommend a depth of just 1/8-3/16-in.," he says. "If the tread wears down and starts to eliminate these sipes, you can always go back and re-sipe."
He says an operator holds a siping tool square in front of his chest, similar to grabbing the dual handles of a rowing machine, then pulls it across the tire. The hand-held tool allows adjustments and different blades to determine the angle, depth and width of cut, and the spacing between sipes.
Some makers of automotive wheel balancing and alignment equipment also make machines for aftermarket siping. This is often done with the wheel still on the truck. Unlike manufacturers' processes, these machines typically can cut sipes in only one direction, says Bridgestone/Firestone's Guy Walenga.
If aftermarket siping ruins the tire, the warranty won't apply. If that's a concern, check with the manufacturer before proceeding.
"We don't recommend or endorse it," says Walenga, although he sees few problems "unless it's not done right. The biggest problem is the depth of the cut. If too deep, a sipe can catch extra debris." Excess debris can create stress near the bottom of the sipe, leading to "chunking," or breaking out of pieces of tread. "You could always cut down to 2/32 and then do more later if you need to. You may still have a useful casing. Just don't cut into the belts."
Other industry spokesmen are a little less tolerant.
"If we really believed more sipes would help, we would put them in," says Continental Tire's Curtis Decker. He adds there can be "terrible consequences."
Michelin's Chris Tolbert says factory sipes are superior. "The angle, width and depth are certainly much more precise when originally molded into the tire. Michelin does not recommend aftermarket siping, but rather selecting the appropriate tread for the intended use or application."
Roger Stansbie, Continental's director of truck tire technology for the Americas, says, "We try to minimize sipes, especially in tires used in construction, because of stone drilling. Stones that get caught in sipes don't come back out." In this case, chunking can result. "Fewer are better. And, if the tire is damaged, it becomes the customer's problem."
Dan Guiney, director of technical service at Yokohama Tire, says, "You reduce the tread life with aftermarket siping. You increase flexibility when-ever you add a void." He says you maximize tire life by keeping tread blocks from moving.
Walt Weller of CMA says, "My advice would be that, if you feel you have to sipe the tire, move it into another position where you need less traction; for example, moving a drive tire to the trailer." He adds that excessive siping can make the tread "too squirmy."
Thank you, Mr. Sipe
Siping was patented in 1923 by John F. Sipe, says William Estupinan of GITI Tires.
"Mr. Sipe worked in a slaughterhouse and grew tired of slipping on the wet floors," he says. "He found that cutting slits in the tread on the bottoms of his shoes provided better traction than the uncut tread."
The process was not applied to vehicle tires on a large scale until the 1950s, when superior tread compounds were developed that could stand up to the siping process.
Double Coin Tires' Walt Weller says tire siping was later patented for use on tires by Goodyear. Truck fleets started copying the idea, applying it to tires in the shop for better wet road traction.