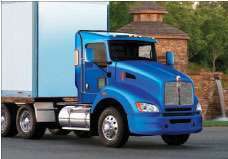 Kenworth offers new regional tractor
The T440 is built for heavy front-axle regional haul, municipal and vocational applications, with a gross vehicle weight that ranges from 33,000 pounds to 68,000 pounds. It is equipped with a 2010 Paccar PX08 engine, rated from 260 hp to 350 hp and 600 lb-ft. to 1,000 lb-ft. of torque. The optional 9-liter, 2010 Cummins ISL engine is rated from 345 hp to 380 hp and 1,150 lb-ft to 1,300 lb-ft of torque. The new regional truck has the same platform as the T470. It has 12,000 to 22,000 lb. rated front axles, 21,000 to 26,000 lb. rated single rear axles, and 40,000 to 46,000 lb. rated tandem rear axles.
KENWORTH, www.kenworth.com, (425) 828-5000

All-position, regional tire offers open shoulder
Continental's HDR1 features irregular wear resistance, long mileage and an open shoulder for regional applications. The HDR1 offers 28/32nds of tread depth and a cut and chip resistant compound. The tire also features the company's technologies that are designed to reduce stones getting caught in the tire's casing. The HDR1 can be used as an all-position tire and is available in 11R22.5, 11R24.5, 275/80R22.5 and 285/75R24.5 sizes.
CONTINENTAL, www.continentaltire.com, (704) 583-8564
Limited edition CB radio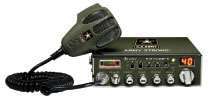 The U.S. Army co-branded CB radio is a limited edition model based on Cobra's 29 LTD CB radio. An Army logo appears on the microphone and radio, which features 40 channels, 4 watts, a front panel microphone connector, a 9-ft. microphone cord, tactile controls and an analog signa-strength meter with SWR calibration. Cobra's Army Strong CB radio comes with a gift box and a certificate of authenticity.
COBRA, www.cobra.com, 773-889-8870
Vehicle-powered temperature control system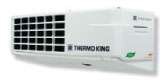 The V-520 vehicle-powered temperature control system features the new Direct Smart Reefer (DSR) controller, a microprocessor control for direct-drive systems. DSR controller features include continuous load monitoring, automatic startup, three standard hour meters, alarm codes, maintenance reminders, upgradeable software, battery protection features, a clutch delay timer and options for 24 volts and 12 volts. The device is available in six models.
THERMO KING, www.thermoking.com, (952) 887-2200

Auxiliary power unit
The HP2000 auxiliary power unit eliminates the need for the truck's engine to idle, which reduces fuel usage significantly, the company says. HP2000's heat pump system features an extensive warranty.
STARK MANUFACTURING, www.starkmfg.com/apu, (479) 968-884
Spill kit

The Oil Eater transportation spill kit is designed as a clean-up system for hazardous spills to help drivers comply with DOT requirements. The system comes in a water-resistant storage bag that fits inside the vehicle. It includes gloves, instructions, universal pads, snakes and high-temp disposal bags. Also included is a quart of Oil Eater Cleaner/Degreaser developed to clean surfaces after absorption of a spill.
KAFKO INTERNATIONAL, www.oileater.com, (800) 528-0334
Tire pressure monitoring system

The SmarTire pressure monitoring system is available at Bendex suppliers and independent aftermarket partners. The sensor monitors temperature and pressure of each tire to provide real-time tire status details and warnings of tire-related problems to the driver or maintenance technician. The device communicates wirelessly to an on-board receiver, which forwards the information to a 2-in. display installed on the vehicle dash.
BENDIX CVS, www.bendix.com, (800) 247-2725

Heavy-duty radio
The Jenson JHD1000 heavy duty AM/FM weatherband stereo is designed with a 7-channel NOAA weatherband tuner, in addition to AM/FM radio. It also features an alarm clock, a four-channel, 120-watt amplifier and a wide-angle anti-glare LCD panel.
ASA, www.asaelectronics.com, (800) 688-3135
Cutter-pliers set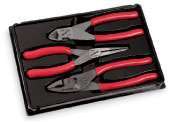 The three-piece Cutter-pliers set includes combination pliers, long nose pliers and a high leverage diagonal cutter. The combination and long nose pliers feature Snap-on's talon grip design and diamond tip serrations. The combination pliers have an adjustable joint that allows three jaw-spread widths. The diagonal cutter has a gap near the joint that is designed to keep the tips from premature wear.
SNAP-ON, www.snapon.com, (877) 762-7662
Suspension system

The Equalizer is a nitrogen-assisted dampening system that hydraulically transfers loads. The system oscillates around a central self-tracking pivot point to provide proportionate weight distribution in each axle grouping, regardless of varying road conditions, the company says. The Equalizer is available for use with Talbert 55SA (55-ton) and 60SA (60-ton) 3+1 spread axle series trailers and axle attachments. The system is powered by a Honda gas engine power pack as standard.
TALBERT MANUFACTURING, www.talbertmfg.com, (800) 348-5232
Economy-sized DEF packages
Smaller-sized packages and dispensing equipment of Fleetguard diesel exhaust fluid are now available in 1-, 2.5- and 5-gallon containers. Dispensing equipment includes air and electric pumps for both drums and totes. The product line is certified by the American Petroleum Institute and meets ISO specifications.
CUMMINS FILTRATION, cumminsfiltration.com/def, (800) 223-4583
LED tunnel lights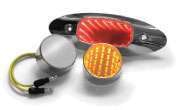 The 74 series of LED tunnel lights features a 2-in. round, grommet-mounted accessory light for trucks and trailers. It operates from 8 to 16 volts and comes in amber or red. The light fits standard 2-in. rubber grommets. It comes with 0.18-in. bullet plugs, which can be removed for hard-wire connection to vehicle harnesses. The non-polarized design allows connection of the hot wire to either lead.
PETERSON MANUFACTURING, www.pmlights.com, (816) 765-2000
Flashlight and charging holster

A new charging holster is sold as a package with the Energizer hard case swivel light. The holster resists water and can be mounted vertically or horizontally. The battery pack can be charged up to 500 times. The flashlight has three LED settings: white for bright light, red for night vision and green for inspecting pipes. The flashlight has a belt clip and its head rotates 125 degrees.
GAMBER JOHNSON, www.gamberjohnson.com, (715) 344-3482
Self-adhesive waterproof repair
Trailer Medic self-adhesive waterproof repair for trailers is made to withstand 140 mph winds and has a reinforced aluminum surface. It can be applied to metal and fiberglass surfaces and is available in aluminum and white aluminum finishes.
COFAIR, www.cofair.com, (800) 333-6700
SW inverter
PROwatt SW inverters give users the ability to power alternating current variable-speed hand tools and other electronics. The North American 600-, 1,000- and 2,000-watt 12-volt models have UL 458, CSA and FCC regulatory approvals. An on/off remote panel adds a user-selectable ignition lockout feature to the PROwatt SW.
XANTREX, www.xantrex.com, (408) 987-6030
Cold-crank battery
The Extreme Cycler 200 battery is a Group 31 product engineered to handle demands of no-idle legislation. Available with 700 cold-cranking amps and 200 minutes reserve capacity, product is a bridge between the company's pre-existing Group 31 product lines and its RoadForce AGM-200 battery, a valve-regulated absorbed glass mat product. Design elements include flooded epoxy anchor bonding, a reinforced ribbed case, heavier terminal connections, screw-in caps with rubber manifold venting and oversized cast-on straps.
EXIDE, www.exide.com, (678) 566-9000
Heated wipers
The W.N. Miller Company has redesigned its Everblades-brand heated windshield wipers. The wiper material has been changed from EPDM to silicone, and the company said the wiper squeegee profile design has been redesigned for better durability, life and functionality.
EVERBLADES, www.everblades.com, (800) 746-0428, ENTER 155