Agency changes hours policy
The Federal Motor Carrier Safety Administration decided not to require any motor carriers to retain certain documents related to drivers' hours of service.
The agency will also relieve carriers that use electronic mobile communications/tracking technology of maintaining numerous other supporting documents to verify driver logs.
The new regulatory guidance and policy will benefit those carriers who have faced additional scrutiny since the agency on Dec. 24, 2008, adopted a policy of treating the data from electronic mobile communications/tracking systems as supporting documents that could be demanded in a compliance review.
In 1997, FMCSA's predecessor published a list of more than 30 types of supporting documents that carriers needed to retain to verify logs. In its new regulatory guidance, the agency said certain documents in that list are no longer used regularly by enforcement staff and will no longer be required by any motor carriers. Those documents include driver call-in records, international fuel tax agreement receipts and trip permits.
In general, FMCSA will continue to require other types of supporting documents that were listed in April 1997, but carriers using qualifying electronic mobile communication/tracking technology that capture time and/or position location information will be relieved of the requirement to retain many of the remaining supporting documents. For vehicles equipped with such systems, carriers no longer will need to keep documents such as weigh/scale tickets, toll receipts, traffic citations, credit card receipts and telephone billing statements.
In the regulatory guidance, the agency confirmed its plan to proceed with a regulation to establish requirements for HOS supporting documents. FMCSA plans to issue a proposed rule, which also would expand the mandate for electronic onboard recorders, by the end of this year and to adopt a final rule within two years.
— Avery Vise
Obama orders heavy-truck fuel standards
President Obama ordered the U.S. Department of Transportation's National Highway Traffic Safety Administration and the U.S. Environmental Protection Agency to jointly issue the nation's first fuel economy and greenhouse gas emissions standards on new medium- and heavy-duty trucks, beginning with model year 2014.
Obama said the fuel economy of commercial trucks could increase as much as 25 percent using technologies in place today. The announcement comes one year after the administration announced an agreement to increase fuel efficiency for cars and light trucks. Obama said that medium- and heavy-duty vehicles account for about one-fifth of all greenhouse gas emissions.
In 2007, Congress directed DOT to issue fuel economy standards on medium- and heavy-duty trucks following a study. The National Research Council issued that report almost two months ago.
As with the automobile standards announced earlier, the Obama administration has expanded the scope of the regulations to include not only fuel efficiency but greenhouse gas emissions, which is why EPA and NHTSA issued the new car and light-truck standards jointly earlier this year.
— Avery Vise
SHORT HAULS
SPOT MARKET FREIGHT availability increased 291 percent in April compared with the same month in 2009, according to TransCore's North American Freight Index. Load volume was nearly 25 percent higher than in March, more than double the average month-over-month increase for this season. April's spot freight volume was the highest in any single month since November 2005, which was a record year for spot market freight.
FTR ASSOCIATES released preliminary data showing May Class 8 truck total net orders for all major North American truck makers at 12,903 units, a 10 percent decline from April. Although May orders slowed from the previous month, year-over-year comparisons show a 75 percent improvement over May 2009.
GOVERNORS of Illinois and Indiana have signed legislation to jointly build the Illiana Expressway that would link I-55 south of Joliet, Ill., to I-65 near Lowell, Ind., and skirt the congested Chicago area. The proposed expressway will serve as an alternate route to the heavily traveled I-90/I-94 corridor.
Nominations open in merged contests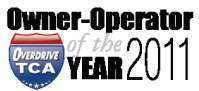 Overdrive and the Truckload Carriers Association have announced a new monthly and annual owner-operator recognition program. It will combine Overdrive's Trucker of the Year program and TCA's Owner-Operator of the Year program to recognize the industry's most outstanding owner-operator.
Nominees drawn from an annual solicitation will be featured as Overdrive TCA Owner-Operators of the Month. The annual winner will be drawn from those 12 finalists.
Nominees are judged on safety, professional accomplishment and contributions to the industry and their community.
The contest is open to all owner-operators who log a majority of their miles in the truckload segment. For nomination forms and information about rules and eligibility, visit www.overdriveonline.com/oo.
The nomination deadline is Aug. 15 for the 2011 Overdrive TCA Owner-Operator of the Year. That winner will be presented at TCA's annual convention, March 4-7, 2012, in Orlando, Fla.
Overdrive's sister publication, Truckers News, and TCA are hosting a comparable competition for company drivers.
The annual winners of both contests will receive prizes.
— Staff reports
OOIDA challenges recorder rule
The Owner-Operator Independent Drivers Association on June 3 filed a legal challenge of the impending electronic onboard recorder regulation.
OOIDA and three members filed a petition for review with the United States Court of Appeals for the Seventh Circuit. Plaintiffs include OOIDA members William J. Culligan, Adam D. Burnett and Douglas A. Oldham.
They are contesting mandates that motor carriers with a 10 percent or greater occurrence of non-compliance with hours of service regulations in a single compliance review will face mandated use of the EOBRs for two years.
OOIDA pointed out that the Federal Motor Carrier Safety Administration intends to propose that EOBRs be required for "considerably more motor carriers and drivers."
The association said that before FMCSA or Congress implements a broader mandate, questions such as whether the mandated use of EOBRs makes economic sense, the regulatory burden and effectiveness on highway safety must be answered.
The EOBR rule officially went into effect June 4. The compliance deadline for the regulation is June 4, 2012.
— Staff reports
Schneider National celebrates 75 years
Schneider National, one of the nation's largest truckload carriers with more than 11,000 trucks, celebrated its 75th anniversary June 10 at its Green Bay, Wis., headquarters.
CEO Chris Lofgren took the helm of the carrier in 2002, following Don Schneider, son of the company's founder. The company was founded in 1935 when Al Schneider sold the family car to buy his first truck.
"The fact that we can stand here today and celebrate our 75th anniversary is a tremendous testament to Al, to Don, and three generations of the Schneider family," Lofgren said, "along with the tens of thousands of associates committed to the ideals that we have held dear for 75 years: safety, respect, integrity and excellence."
Since launching the company's million-mile club in 1985 to recognize drivers with impeccable safety records, more than 2,200 Schneider National drivers have reached that milestone. Among those on hand was Bob Wyatt, the company's sole 4-million-mile driver.
— Todd Dills
Wal-Mart to control more of its freight
Where it can do it more cheaply, retail giant Wal-Mart is taking over delivery of supplies from manufacturers to its distribution centers and stores to cut costs.
Wal-Mart spokesman Lorenzo Lopez would say only that the conversion program began last year and will continue for up to a year.
In an interview with www.supplychainbrain.com, Kelly Abney, the retailer's vice president of corporate transportation, said 60 percent of Wal-Mart's non-grocery freight deliveries were controlled by manufacturers, while grocery suppliers managed 80 percent of deliveries. Currently, Wal-Mart directly transports supplies from its distribution centers to its 4,000 stores. "Visibility of in-bound transportation is really what it's all about," Abney said. "You can't manage, you can't optimize, control, what you can't see."
The Arkansas-based chain will increasingly contract with owner-operators directly and make more pickups with its own private fleet of 8,000 drivers and 7,000 trucks.
On Feb. 1, the retailer began charging a reimbursement charge of 3 percent of the cost of goods sold to each case not delivered and recorded in its system within the required delivery time.
— Jill Dunn
Roadside Medical opening new clinics
Roadside Medical Clinic + Lab and Pilot Travel Centers plan to open medical clinics at Pilot locations in East St. Louis, Ill., and Waco, Texas, this month.
A Oklahoma City location was to open in June, joining existing facilities at three Pilot centers. Roadside Medical plans to open six more sites this year.
The clinics provide U.S. DOT physicals and compliance services, wellness programs, sleep apnea screening, testing and treatment, and nutritional products.
— Staff reports
SHORT HAULS
TRADE USING surface transportation between the United States and Canada and Mexico was 37 percent higher in March than a year earlier, reaching $69.9 billion, according to U.S. Department of Transportation. The increase is the largest year-over-year rise on record, but freight value in March remained 1.2 percent less than the value in March 2008.
FREIGHT TRANSPORTATION Services Index rose 0.3 percent in April from March, increasing for the third consecutive month, the U.S. Department of Transportation's Bureau of Transportation Statistics reported June 9. BTS reported the Freight TSI index has risen 4.9 percent over the last 11 months. The index has increased in nine of the last 11 months.
AN INDEPENDENT PANEL is reviewing the Columbia River Crossing Project that would connect Portland, Ore., and Vancouver, Wash. A final report will go to the states' governors by July 31. The proposed bridge would accommodate vehicles, light rail and bike traffic and cost as much as $4 billion.
TO ANSWER QUESTIONS whether current hours-of-service regulations have hurt safety, the American Transportation Research Institute released a report concluding that trucking safety has improved since 2004. The Federal Motor Carrier Safety Administration's first major rewrite of hours rules took effect on Jan. 4, 2004. ATRI's analysis of data shows that the total collision rate dropped 11.7 percent from 2004 to 2009. Preventable collisions declined 30.6 percent, ATRI said.
Industry leaders to discuss trucking outlook
Those willing to come a day early to the Great American Trucking Show in Dallas can hear insights on the state of the recovery and what the industry must do to thrive in the fourth quarter and beyond.
The Commercial Vehicle Outlook Conference will be held from mid-day Aug. 25 to mid-day Aug. 26 at the Dallas Convention Center. The truck show opens at 10 a.m. Aug. 26 at the center and runs through Aug. 28.
Conference presenters include:
• Dan Sobic, executive vice president, Paccar
• Max Fuller, co-chairman, U.S. Xpress
• Rusty Rush, president and CEO, Rush Enterprises
• Jim O'Neal, president, O & S Trucking
• Eric Starks, president, FTR Associates
• Joe Plomin, vice president, Trucks, ArvinMeritor CVS
• Donald Broughton, managing director and senior research analyst, Avondale Partners
• Stu MacKay, president, MacKay & Company
• Scott Kress, vice president, sales, Volvo Trucks North America
• Leo Suggs, chairman and CEO, Greatwide Logistics Services
CVOC is presented by the Heavy Duty Manufacturers Association and Overdrive's publisher, Randall-Reilly Business Media and Information. It is sponsored by Castrol, O'Reilly Auto Parts and Utility Trailer.
For details, visit www.hdma.org, call (919) 406-8814 or e-mail info@hdma.org.
— Staff reports
Trucking jobs continue rebound
With strong gains in April and May, the trucking industry nearly has erased previous job losses for the year.
According to preliminary figures released June 4 by the U.S. Department of Labor's Bureau of Labor Statistics, the for-hire trucking industry added 2,000 jobs in May over April.
Meanwhile, the Bureau revised its earlier estimate of April trucking jobs upward by 2,600. Those gains offset a 4,200-job loss in February and a much smaller loss in March. Trucking employment in May was down 2.9 percent.
— Avery Vise
FedEx Ground sets new contractor rules
FedEx Ground has issued new standards for its owner-operators, including a requirement that independent contractors to be incorporated.
Division spokesman Patrick Fitzgerald says contractors were informed of the new rule in May. "We announced that in response to recent concerns by several states, we made a business decision to only contract with independent contractors that satisfy certain standards," Fitzgerald said.
Many of its 12,000 contractors already meet these standards, he said.
Current contractors will have at least 180 days to comply and those who do by the end of February 2011 are eligible for "monetary incentive," Dow Jones Newswires reported.
In 2009, FedEx Ground was involved in 50 class action lawsuits, including 21 that had been certified as class actions.
Most of the class-action lawsuits were consolidated for administration of the pre-trial proceedings by a single federal court, the U.S. District Court for the Northern District of Indiana.
— Jill Dunn
Man pleads guilty to cargo theft
John Raymond "Johnny Ray" Smith Jr., 50, of Mableton, Ga., pleaded guilty June 3 to three criminal charges for his role in a $3 million interstate cargo theft ring.
He faces up to 25 years in prison and fines of up to $750,000. Smith is scheduled to be sentenced on Aug. 17.
Smith pleaded guilty to a count of conspiracy; a count of buying, receiving and possessing goods stolen from an interstate cargo shipment; and a count of money laundering while taking part in the theft in cargo over a five-year period.
The ring targeted retail shipments for Office Depot, Wal-Mart, Target, Lowe's and Best Buy, stealing from trucks parked at motels, truck stops, rest areas and storage facilities, according to court papers.
According to court records, Smith and others still being sought by investigators bought stolen goods and sold them through retail facilities he operated in Georgia.
— Staff reports
CSA 2010 schedule revised
The Federal Motor Carrier Safety Administration has changed its schedule for rolling out Comprehensive Safety Analysis 2010. Here are the important dates:
• Now until Nov. 30 – Motor carriers can preview their own data by seeing their roadside inspections/violations and crash events organized by Behavior Analysis and Safety Improvement Category (BASIC).
• July – The four partial test states will join the five test states that have fully implemented CSA 2010.
• August – Motor carriers will be able to see an assessment of their violations based on the new Carrier Safety Measurement System (CSMS) that will replace SafeStat.
• Fall/Winter 2010 – SafeStat will be replaced by the CSMS. CSMS will be available to the public, including shippers and insurance companies. FMCSA/states will prioritize enforcement using the CSMS. FMCSA will begin to issue warning letters to carriers with deficient BASICs. Roadside inspectors will use the CSMS results to identify carriers for inspection.
• Winter 2010 – Safety Fitness Determination Notice of Proposed Rulemaking (NPRM) is scheduled to be released.
• 2011 – Enforcement staff will be trained, and new interventions will be implemented in each state.
Further information is available at csa2010.fmcsa.dot.gov.
— Staff reports
Pa. opens shore power facility
On June 4, the Pennsylvania Turnpike Commission opened the only truck stop electrification facility in the state at its New Stanton Service Plaza on the turnpike at milepost 77.
The TSE system, developed by CabAire, provides service towers equipped with modules that fit into truck cab windows and supply heat, air conditioning, Internet, TV and electrical power to trucks and other diesel powered vehicles while the engine is shut off. The cost to use TSE per hour is about the same as a gallon of diesel fuel.
Pennsylvania regulations prohibit motor vehicles weighing more than 5 tons from idling at rest stops.
The Pennsylvania Department of Environmental Protection funded construction of the electrification facility for $478,396 via a State Clean Diesel Grant.
CabAire LLC, a subsidiary of Control Module Industries of Enfield, Conn., will provide the equipment and operate and maintain the facility for 10 years. HMSHost Corp. and Sunoco will provide on-site support.
The Commission estimates 2 million trucks use the turnpike monthly and that 5,800 trucks use or drive past the New Stanton Service Plaza daily.
— John Baxter
HIGHWAY HAPPENINGS
ARIZONA. Work is under way on Interstate 40 between the Winona and Walnut Canyon interchanges (milepost 205 to 209). The project to reconstruct portions of westbound I-40 is expected to be complete by August. One lane in each direction of I-40 will be closed for approximately two weeks.
DELAWARE. Construction is under way to reconfigure the toll plaza on I-95 to accommodate new highway-speed E-ZPass lanes in northbound and southbound directions.
GEORGIA. Effective July 1, the state's anti-texting law makes texting while driving a primary offense, which allows police to stop drivers for that infraction by itself. Violators can face a penalty of $150.
KANSAS. Drivers caught texting will receive warnings until Jan. 1, 2011, after which law enforcement will issue $60 fines for violations. Because it is a primary law, police officers can stop motorists suspected of this offense alone.
NEW JERSEY. Expect delays on 12 miles of I-295 in Burlington County as all three lanes in each direction are reconstructed. Additional lane closures and detours are expected before the project is finished this year.
NORTH CAROLINA. Both eastbound lanes and one westbound lane of I-40 are open following the repair of the roadway severely damaged by a rockslide last October near the Tennessee state line. On some summer Sundays, all traffic will be delayed for up to 30 minutes as work continues on the one closed westbound lane.
TEXAS. Construction will delay traffic in the Houston area as the state builds two direct connector ramps from IH 10 westbound to SH 99 southbound and from SH 99 northbound to IH 10 eastbound.
VERMONT. Since June 1, the state prohibits drivers of all ages from texting under its new primary offense law. It imposes a $100 penalty for the first violation and a $250 penalty for repeat violations that occur within a two-year period.
VIRGINIA. Construction is under way on the first of three sections on westbound I-66 inside the beltway. The 1.9-mile segment, between Fairfax Drive and Sycamore Street in Arlington County, will take 18 months to complete.
Calif. expands truck funding
The California Air Resources Board announced changes to an existing $28 million financial assistance program intended to help more California independent truckers qualify for the purchase of a cleaner-running vehicle.
The changes to Voucher Initiative Program:
• Medium-duty trucks with a gross vehicle weight of 19,501 pounds and above now qualify.
• Trucks with mileage as low as 15,000 miles per year now are eligible.
• High-mileage trucks can get up to $45,000 in voucher money.
• Trucks with 2002 and older engines may qualify for a newer truck.
• A new funding option of up to $10,000 per truck for an exhaust retrofit is available.
For details go to www.arb.ca.gov/ and click on the "Truck Stop" section.
— Staff reports
MARK YOUR CALENDAR
JULY: The Missouri Department of Transportation is presenting three-hour classes on Comprehensive Safety Analysis 2010 this month. Go to www.modot.org/mcs and click on Training Opportunities or call (866) 831-6277, Ext. 6.
JULY 8-9: WALCOTT TRUCKERS JAMBOREE, Iowa 80 Truckstop, Walcott, Iowa, iowa80truckstop.com, (563) 284-6961.
AUG. 13-14: WAUPUN TRUCK-N-SHOW, Waupun, Wis., www.waupuntrucknshow.com, (920) 324-9985.
AUG. 13-15: GREAT SALT LAKE KIDNEY KAMP TRUCK SHOW, Thanksgiving Point, Utah, Lehi exit 284 from I-15, (800) 877-1320.
AUG. 14: MUSIC CITY CHAPTER Antique and Working Truck Show, American Truck Historical Society, Putnam County Fair, Cookeville, Tenn., (931) 235-1311.
AUG. 26-28: THE GREAT AMERICAN TRUCKING SHOW, Dallas, (888) 349-4287, www.gatsonline.com.
SEPT. 10-12: MIDWEST ALL-TRUCK NATIONALS, Riverside, Mo., www.alltrucknats.com.
SEPT. 12-18: CVSA BRAKE SAFETY WEEK, www.cvsa.org, or (202) 775-1623.
SEPT. 17-19: RICHARD CRANE MEMORIAL TRUCK SHOW, St. Ignace, Mich., Ed Reavie, (906) 643-8087.
SEPT. 24-25: MUSIC CITY CHAPTER 20th Annual Antique and Working Truck Show, American Truck Historical Society and Middle Tenn. Antique and Engine Tractor Show, Hyder-Burks Agriculture Pavilion, Cookeville Tenn., (931) 235-1311.
OCT. 1-2: GUILTY BY ASSOCIATION TRUCK SHOW & CUSTOMER EXPO, Chrome Shop Mafia/4 State Trucks, www.chromeshopmafia.com, (417) 624-2900.
OCT. 16-17: GOLDEN STATE TRUCKING EXPO, Fairplex, Pomona, Calif., www.thetruckshowlatino.com.
OCT. 23-24: TRUCKIN' FOR KIDS, Toyota Speedway, Irwindale, Calif., www.prideandpolish.com, click on Truckin' For Kids.
Widow Maker leads at Shell SuperRigs
Todd Roccapriore won Best in Show with Widow Maker, his custom-built 2004 Peterbilt 379, at the 28th Shell Rotella SuperRigs in Lexington, Va.
Show officials awarded the Hebron, Conn., resident $10,000 for his truck, which also led the Best Interior, Best Theme, Best Chrome, Best Lights and Best Engine categories. Best in Show places the truck in the 2011 Shell Rotella SuperRigs calendar.
Jerry Beaudoin of Southington, Conn., was first runner-up for Best of Show with his 2007 Peterbilt. Mike Manuel of Front Royal, Va., won first place in the Tractor Division with his 2006 Peterbilt 379 and Scott Diller of Bethel, Pa., took top honors in the Tractor/Trailer Division with his 2007 Kenworth W900L and 2008 Mac stepdeck.
Neil Messerley of Harrisonburg, Va., won for Best Mural with a train mural on his 1991 Mack MH613 Ultraliner. Jerry Kissinger of Stoughton, Wis., took first place in the Classic Division with his 1991 Mack Superliner and snagged the People's Choice Award.
— Jill Dunn n