Timely improvements
Peterbilt's regional-haul 384 model delivers efficiency gains, weight savings, aero advantages.
Peterbilt's Model 384 was named the American Truck Dealers' Commercial Truck of the Year for 2010, an honor reflecting numerous 2009 model year enhancements to improve aerodynamics.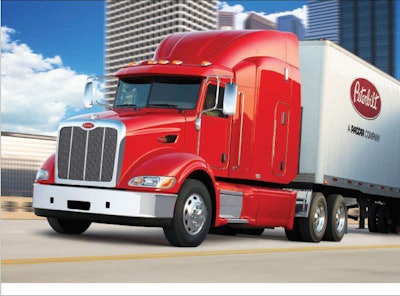 Owner-operators running long-haul irregular-route segments to shorter hauls on dedicated lanes will appreciate the 384's shorter bumper-to-back-of-cab length of 116 inches, compared to the heavy-duty Model 386. "The shorter BBC provides greater flexibility and maneuverability," says David Giroux, Peterbilt communications director.
"With the beginning of a move to shorter-distance hauls across many segments, not only among regional but normal truckload segments, the 384 is an ideal fit," says Tony McQuary, Peterbilt senior director of strategic business planning.
Operators in weight-sensitive tank, bulk and other applications can benefit, too, from the 384's relatively light GVW with increased payload capacity. "In the last year, with a number of our fleet customers who've started to run the 384 and have changed their traditional spec'ing packages," weight savings have driven interest, McQuary says.
One such customer is Nealey Foods. It has a 25-truck fleet of tractor-trailers and straight trucks to operate a wholesale food distribution in the Chicago area. Late last year, equipment buyer Eric Nealey spec'd a 384 daycab, powered by a 425-hp Cummins ISM (the ISX 11.9 is the comparable 2010 option) and Fuller 10-speed automated, to replace an aging Kenworth T800.
"Most of our trucking is stop-and-go, so we don't need the really big horses," Nealey says. The 384 is "the right combination of a not-too-big engine to keep the weight down, and a good turning radius," he says, nimble enough to navigate tight Chicago dock spaces and streets.
Depending on the specs, there's a difference of 400 to 500 pounds between the bigger, aerodynamic long-haul 387 and 384 with the same sleeper configuration, Giroux says.
All the same, says McQuary, some longer-haul customers are maximizing weight savings even more by choosing a smaller sleeper size than they'd typically run before, a choice owner-operators might consider to boost fuel-efficiency. Yet the available interior packages are identical to those in traditional long-haul Peterbilt tractors.
"The new SmartSound package reduces interior noise by 50 percent" from previous versions, McQuary adds.
The 2009 aerodynamic enhancements have helped the 384 become the third Peterbilt model, with the 387 and 386, to gain certification by the U.S. Environmental Protection Agency's SmartWay program as an environmentally friendly tractor. The proprietary aerodynamic updates resulted in a 12 percent fuel-efficiency gain, worth more than $6,000 yearly to an operator running 130,000 miles at 6 mpg.
Updates included a near-seamless sleeper-to-roof transition; composite sun visor; newly designed roof fairings, trim tabs and sleeper extenders; and enhanced chassis fairings. The 384's available, too, with a powertrain capable of delivering big horsepower with natural gas as fuel. In fact, the natural-gas version of the Cummins Westport ISL diesel with cooled EGR, says McQuary, has landed "on fleets' radar screen" in a big way.
"The Model 384 is getting a lot of attention with the Paccar MX [diesel]," he says, "but for those that are interested in exploring alternative fuels, a big interest today, the model 384 is always a truck of interest. We've actually seen the demand for the truck with natural gas power showing a nice increase in the first part of 2010, when we've built 400-plus natural-gas vehicles. Many have been the 384."
Niche haulers working in areas where governments are incentivizing NG power make up the bulk of the interest, "but there are many over-the-road-type fleets that are looking to give it a try, too," McQuary adds. As fleets look into the possibility of sharing refueling terminals, "a number of the large truck stop brands are starting to give strong consideration to establishing [NG] infrastructure."
If diesel prices rise to the $4-per-gallon range again, McQuary says, alternative fuels will return to the limelight and the 384 will be a model of choice, running on NG power or not. Either way, he says, "We see the model as becoming an increasingly vital part of our aerodynamic product mix." n
2010 Peterbilt 384
CHASSIS
• 116-in. bumper to back of cab
ENGINE
• Paccar MX, 380-450 hp
• Cummins ISX 11.9, 310-425 hp
• Caterpillar C13, 320-495 hp
• Natural gas: Cummins Westport ISL G, 250-320 hp
TRANSMISSION
• Eaton Fuller manual, 10-, 13-, 15- and 18-speed
• Eaton Fuller UltraShift Plus, 10- and 13-speed
• Allison automatics
AXLES
• Front, Dana Spicer or Meritor: 12,000-14,600 lbs.
• Rear, Dana Spicer or Meritor: Single, 25,000-26,000 lbs.; Tandem, 40,000-46,000 lbs.
SUSPENSION: REAR
• Single: Reyco 79KB or 102AR, Peterbilt AirTrac
• Tandem: Peterbilt FlexAir, Low Air Leaf, Air Leaf, AirTrac or Quadraflex; Reyco 102 Iron or Aluminum LMS
SLEEPER DIMENSIONS
• Low-roof available in 36-, 48- and 63-in.; UltraCab high-roof available in 48-, 63- and 70-in.