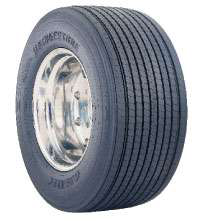 Wide-base trailer radial
The Greatec R125 wide-base trailer radial lessens rolling resistance and increases payload, the company says. The tire has sidewall ribs to protect its casing, and its design promotes even rib wear. Stress-relief sipes increase tire life. It uses a stone-rejecting platform to prevent trapped stones from pushing into the tread grooves and piercing the belt layer, the company says. The tire is approved for use on SmartWay-certified equipment.
BRIDGESTONE, www.bridgestone.com,
(615) 937-1000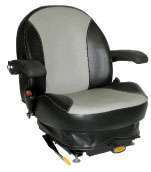 Suspension seat
The 1110 Low Profile Suspension seat has Elastomeric Vibration Control, which can dampen low amplitude vibration by up to 50 percent, the company says. The seat has an 8-in. seat index point for turf and industrial use. The seat is built with a steel tube frame and meets or exceeds SAE, FMVSS and OSHA regulations, the company says. Sewn covers can be personalized with different fabrics, colors, thread colors and stitch patterns. The 1110 has a 1.5-in. integrated suspension motion and fore-aft adjustment.
SEATS INC., www.seatsinc.com,
(800) 443-0615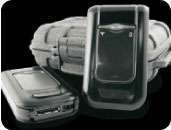 Cargo tracking system
The covert freight tracking service is available to owner-operators hauling high-value freight and sensitive loads. The system uses small, hidden devices and GPS technology to show a constant, in-transit view of a load. The Geo F1, whose magnetic case is shown, and Geo F2 location devices are small enough to be hidden inside freight pallets or beneath the trailer, the company says. The system can track single pallets or full trailer loads.
QUALCOMM, www.qualcomm.com
Air management
An air management package includes an air injection booster, an electronic air control dryer and a turbo-clutch air compressor, all designed to reduce fuel consumption and improve emissions, the company says. The system injects air from an auxiliary tank directly into the engine's air intake system.
BENDIX COMMERCIAL VEHICLE SYSTEMS, www.bendix.com,
(800) 247-2725,
Ice grip
The epoxy-based coating helps prevent chunks of ice from sliding off the trailer. The product must be mixed, poured and rolled onto the roof of the trailer.
RANDOLPH PRODUCTS CO.,
www.icegripnow.com, (413) 592-4191,
Hydraulic heavy hauler
The hydraulic removable gooseneck trailer is available in capacities ranging from 30 to 60 tons, with air ride and spring suspensions optional. Manufactured from high strength steel, it has four cambered, fabricated main frame beams for strength and durability.
KAUFMAN TRAILERS, kaufmantrailers.com, (336) 790-6880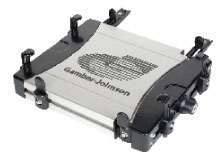 Universal computer cradle
The Notepad V features flanged side clips, keyed lock chassis, gusseted rear support brackets and a level clamping surface. The cradle has no sharp corners or catch points and is adjustable to fit a wide range of computer sizes. Its finish is anodized aluminum.
GAMBER-JOHNSON, www.gamberjohnson.com,
(888) 515-0072
Skirt fairings resist impact
AeroFlex fairings, made of thermoplastic olefin, resist impact and are UV stabilized. The fairings weigh 160 pounds and can be installed in a 5-degree angled configuration, creating a wedge to divert air flow along the trailer and saving fuel, the company says. Fairings have a 3-year limited warranty and are SmartWay-approved.
CARRIER TRANSICOLD,
www.transportparts.carrier.com, (800)227-7382
Composite air fittings
The push-to-connect composite air fittings are available in union, tee and elbow configurations and sized to fit dimensions common to trucking. They are 24 percent to 33 percent lighter than brass fittings and work for emergency situations, the company says, because they require no special tools.
PHILLIPS INDUSTRIES,
(800) 423-4512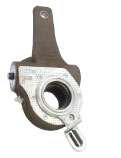 Rivetless covers
The covers for the self-setting automatic brake adjusters help maintain optimum brake lining-to-drum clearance to reduce stopping distances and increase control, the company says. The front and rear covers do not have rivets and are held in place with an adhesive compound.
HALDEX COMMERCIAL VEHICLE SYSTEMS,
(800) 643-2374

Fuel lock
The Fuel Lock is a high-security cylinder lock that when locked eliminates the removal of the fuel cap and prevents it from being tampered with, the company says. It comes in several sizes and includes a weather cap. Installation takes less than 30 seconds and requires a 7-in. clearance around the cap.
The Fuel Lock,
(605) 999-6976

Sleeper mattresses
The 7-in. thick innerspring mattress has a three-layer quilted design to prevent tearing. It has straight-cut foam on the top and bottom. The 5-in.-thick high-density foam mattress offers full body support from its design, the company says. Both mattresses are available in seven sizes and come in a tight-roll package that allows them to be transported.
TRP AFTERMARKET PARTS, www.trpparts.com,
(425) 392-2611
Aerodynamic trailer systems
The SmartTail system comprises polymer skins mounted to the rear doors. The WindTamer uses a low-profile, contoured cover mounted on the truck's undercarriage. The systems can improve fuel efficiency by 5.3 percent, the company says, and have the U.S. Environmental Protection Agency's SmartWay approval to meet California Air Resources Board requirements.
AUTOMATED TRAILER SYSTEMS, www.ats-green.com, (440) 543-2902
Crankcase ventilation technology
The crankcase ventilation system mounts easily onto the truck's engine and meets specifications for the U.S. Environmental Protection Agency and original equipment makers, the company says. It implements jet pump technology to allow for placement anywhere on the engine. The system will be used to support Navistar's 2010 line of MaxxForce 7 V8 engine platforms.
CUMMINS FILTRATION,
www.cumminsfiltration.com, (800) 343-7357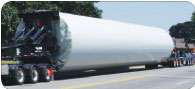 Wind energy equipment trailer
The 75-ton Double Schnabel trailer has a 13-axle configuration designed to haul an 80-meter wind tower base or mid-section and comes equipped with both mechanical and remote rear steer capabilities. The trailers are self-sustaining, and self-loading options are available with hydraulic-lift capabilities. The front Schnabel gooseneck is attached to a 3-axle dolly with a 60-in. sliding fifth wheel to help with load distribution, and the rear Schnabel gooseneck is attached to a 6-axle rear steer dolly rated for a 120,000-pound load. 
TALBERT MANUFACTURING, www.talbertmfg.com,
(800) 348-5232
Smart phone application
A mobile application for the iPhone and other smart phones offers drivers the ability to update trip status, confirm pick-up and deliveries and capture trip documents for submissions. The application offers a document submission method that can provide faster pay and reduce out-of-route miles, the company says.
TRIPPAK SERVICES,
(800) 489-4585
Motor Carriers Road Atlas
The 30th Edition Motor Carriers Road Atlas includes revised state and province maps, with updated mileages, additional suburb, town and small city names. The maps have updated highways that show trucking-designated highways from the Surface Transportation Assistance Act. Changes include truck-specific state contact information, such as operating authority contacts, emergency police and vehicle registration, the company says. The book includes a 22-page mileage directory with more than 40,000 truck-route-specific mileages.
RAND MCNALLY, www.randmcnally.com
Specialty trailer axles
Meritor's new MTA series of trailing-arm air ride trailer axles is designed specifically for North American platform, grain, tank, dump, bulk, lowboy, specialty and livestock trailers, among others. Six basic models will include top-mount (14-18-in.) and low-mount (6-18-in.) configurations.
MERITOR, meritortrailersuspensions.com,
(800) 535-5560
Fuel filtration system
The STS 6000-30GPM keeps fuel clean of microbial contamination by removing sludge and water from fuel tanks and drying fuel with a fully-automated programming and remote monitoring system, the company says. The controller also monitors fuel tank levels and uses high-fuel level alarms to prevent overflows and spills.
ALGAE-X, www.algae-x.net, (877) 425-4239